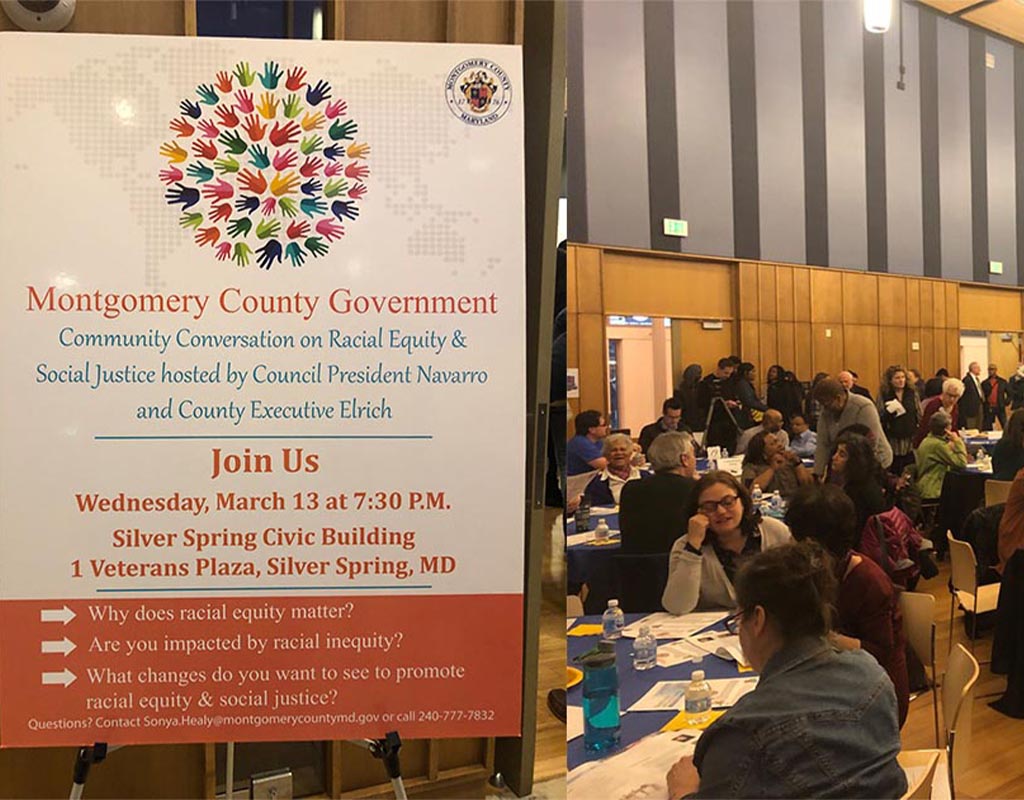 Here's What Happened at the Racial Equity Forum in Silver Spring
County Executive Marc Elrich and Council President Nancy Navarro officially started a conversation to address racial disparities that exist in the county Wednesday night at the Silver Spring Civic Building. The "Community Conversation on Racial Equity & Social Justice" event included the ideas of residents who were there to share  ideas with officials about how best to develop a racial equity policy in Montgomery County.
Check out the tweets below for a play by play about how the event unfolded. The tweets include clips of what the community discussed in small groups regarding racial disparities, as well as interviews with Councilmembers Gabe Albornoz and Evan Glass.
Here's an agenda for the event tonight. First up we have a welcoming message from @MoCoCouncilMD President @nancy_navarro and County Executive @Marc_Elrich. pic.twitter.com/53sYHb54KR

— Deirdre Byrne (@DeirdreByrneMCM) March 13, 2019
"I really don't want for us to have this conversation in 10, 20, 15 years," said @nancy_navarro.

Navarro said that @mocoboe's student member will also facilitate a forum like this one for her peers.

— Deirdre Byrne (@DeirdreByrneMCM) March 13, 2019
"This is not just diversity," said @Marc_Elrich.

Elrich said things people may have thought were problems that were solved have arisen again.

"Racism sticks with us," said Elrich. He invokes Dr. King and said that the county can't wait to put forth racial equity legislation.

— Deirdre Byrne (@DeirdreByrneMCM) March 13, 2019
The video points that the last census revealed big disparities in @MontgomeryCoMD.

These disparities include the following:
➡️ income
➡️ home ownership
➡️ education

— Deirdre Byrne (@DeirdreByrneMCM) March 13, 2019
Now Elaine Bonner-Tompkins from the Office of Legislation Oversight is giving a presentation about racial equity.

Racial Equity Means "Closing the gaps so that race does not predict one's success, while also improving outcomes for all," the presentation says.

— Deirdre Byrne (@DeirdreByrneMCM) March 14, 2019
Bonner-Tompkins reviews the difference between equality and equity.

Equality: "Treating everyone the same."

Equity: "Different people start in different places."

The presentation says that "'equity' is about equal outcomes."

— Deirdre Byrne (@DeirdreByrneMCM) March 14, 2019
Tiffany Ward, a racial equity community engagement manager for the county reviews rules for the discussion tonight.

There's a bigger outcome for tonight's event than planned; originally residents were going to discuss questions at a round table, but there's a big standing room.

— Deirdre Byrne (@DeirdreByrneMCM) March 14, 2019
Small groups are each going around the room discussing how their group address each of the questions. pic.twitter.com/SnZFVhBRqj

— Deirdre Byrne (@DeirdreByrneMCM) March 14, 2019
Here's another group representative talking about ideas his group discussed. pic.twitter.com/OUeGuHfAxt

— Deirdre Byrne (@DeirdreByrneMCM) March 14, 2019
One group had a couple of points. Here's part one of what the representative had to say about the teaching of history. pic.twitter.com/Qpv713g1uF

— Deirdre Byrne (@DeirdreByrneMCM) March 14, 2019
Here's part 3. pic.twitter.com/EUdK9oxNCI

— Deirdre Byrne (@DeirdreByrneMCM) March 14, 2019
I spoke to @MoCoCouncilMD's Councilmembers @albornoz_gabe and @EvanMGlass after tonight's racial equity and social justice community forum. Both councilmembers had positive things to say about the discussions that were had at the event.

— Deirdre Byrne (@DeirdreByrneMCM) March 14, 2019
Councilmember @EvanMGlass said that this event "is just the start of the process."

"The conversations and dialogue that started tonight will translate to policy changes—will translate into legislation, and I'm glad everyone has been here tonight to help us," said Glass. pic.twitter.com/k73ZaCtZpW

— Deirdre Byrne (@DeirdreByrneMCM) March 14, 2019