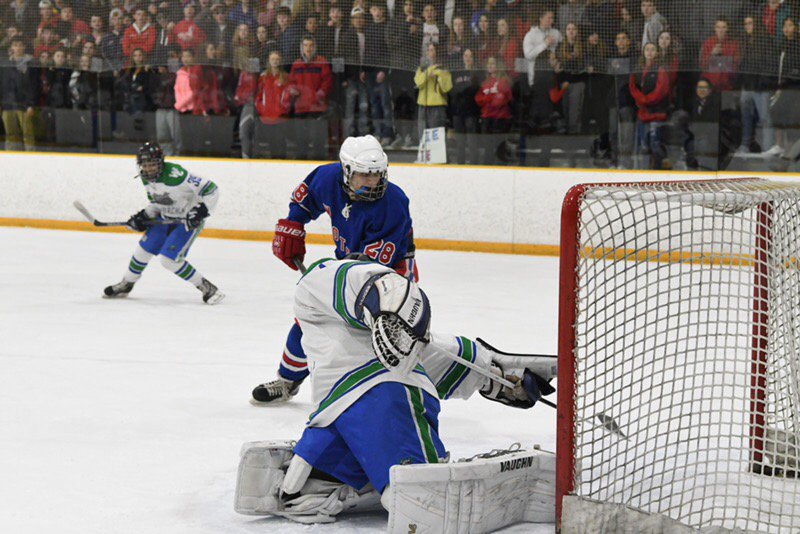 High School Ice Hockey: Churchill Over Wootton, 4-2, at Rockville Ice Arena
In high school ice hockey action on Friday night, it was the Churchill Bulldogs over the Wootton Patriots, 4-2, at the Rockville Ice Arena.
Churchill is ranked number one and Wootton number two in the Maryland Student Hockey League for their conference (Montgomery Hockey Conference Montgomery 1).
Next up for Churchill is a Feb. 7 match against Georgetown Prep at the Rockville Ice Arena.
Photographer Phil Fabrizio captured these photos of the game, below:
Final. Churchill 4 Wootton 2 in MSHL Montgomery 1 play. @DawgsSports @WoottonSports @WashPostHS pic.twitter.com/Nngc9qKWeG

— Phil Fabrizio (@Photoloaf) February 3, 2018
Wootton takes the lead over Churchill, 2-1. pic.twitter.com/fHu9TppLQ4

— MyMCMedia (@mymcmedia) February 3, 2018
With 5:39 left in the half, it is all tied up 1-1.@Photoloaf pic.twitter.com/KoslnG2EEF

— MyMCMedia (@mymcmedia) February 3, 2018
End of first period it's 0-0. @Photoloaf pic.twitter.com/y4ngmRSlcK

— MyMCMedia (@mymcmedia) February 3, 2018
0-0 with 6:17 left in the 1st period @mymcmedia pic.twitter.com/X8fv2kFV66

— Phil Fabrizio (@Photoloaf) February 3, 2018