Video Highlights of the Northwest vs. Quince Orchard Game
The Northwest Jaguars won their playoff game against the Quince Orchard Cougars on Nov. 21, by a score of 28-21, to become the state 4A West Region Champions.
Paul Flickinger captured all the video highlights from the sideline in this under five minute video. Take a look:
The Jaguars are scheduled to play the DuVal Tigers at home on Nov. 28 at 7 p.m. in Germantown.
Northwest is the defending 4A Class 2013 State Champions. The winner of the game between Northwest and DuVal will advance to the state championship game scheduled for Dec. 5 at 7:30 p.m. That game will be played at Ravens' field at M&T Bank Stadium in Baltimore.
Related: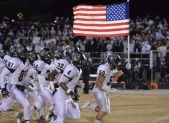 The Northwest Jaguars are the 4A West Region champs with their Friday night win against the Quince Orchard Cougars, 28-21. Next weekend, the Jaguars play in the state semifinals game. The winner of that game will play for the 2014 Maryland state championship at Ravens' field at M & T Bank Stadium Friday, Dec. 5. […]