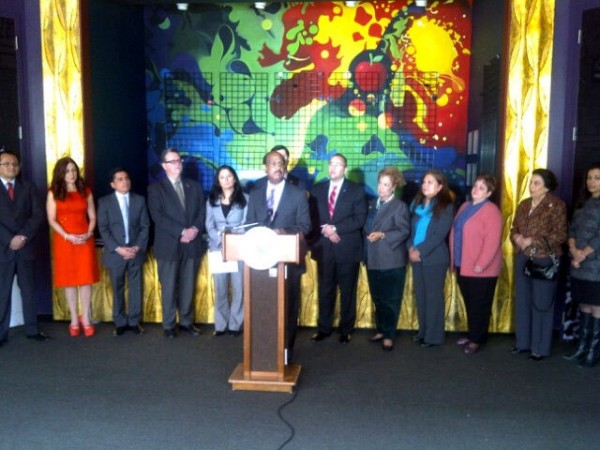 Hispanic Gala Set for Sept. 12 (Photo & Video)
The first annual Montgomery County Executive Hispanic Gala will take place at The Fillmore on Thursday, September 12, in Silver Spring.
"I am committed to be part of this endeavor," Montgomery County Executive Ike Leggett said. "I believe that with our united aspiration to build strong diverse communities, where we give priority to higher education, we can help forge a better skilled workforce that can lead this county into a brighter tomorrow."
This year's gala theme, "Latino Dreamers," celebrates Maryland's Dream Act. Funds raised will be directed to scholarships for Latino students enrolled in Montgomery County and Maryland higher education institutions.
The Executive's Hispanic Gala will also serve to kick off Hispanic Heritage Month in Montgomery County and the state of Maryland. The Gala brings together volunteer stakeholders and organizations that are committed to assist Hispanic youth to achieve a high level of education.
The Montgomery County Executive Hispanic Gala came into being when a group of hispanic county employees and community leaders instituted the event as a way to raise funds and visibility about developing highly educated Latino professionals while providing critical financial assistance that will increase graduation rates from post-secondary education in Montgomery County and the State of Maryland.
The organizing sponsors are the Executive's Latin American Advisory Group, National Hispanic Communications Group and Washington Hispanic Newspaper. For more information, visit: www.montgomeryhispanicgala.org.
The 2013 Montgomery County Executive Hispanic Gala Event Chair is Lorna Virgili, President/CEO of the National Hispanic Communications Group.
"This event and its objective is a step forward in acknowledging the need within our community to provide assistance to those youngsters that are committed to fulfill their dreams but may lack financial resources," Virgili said.