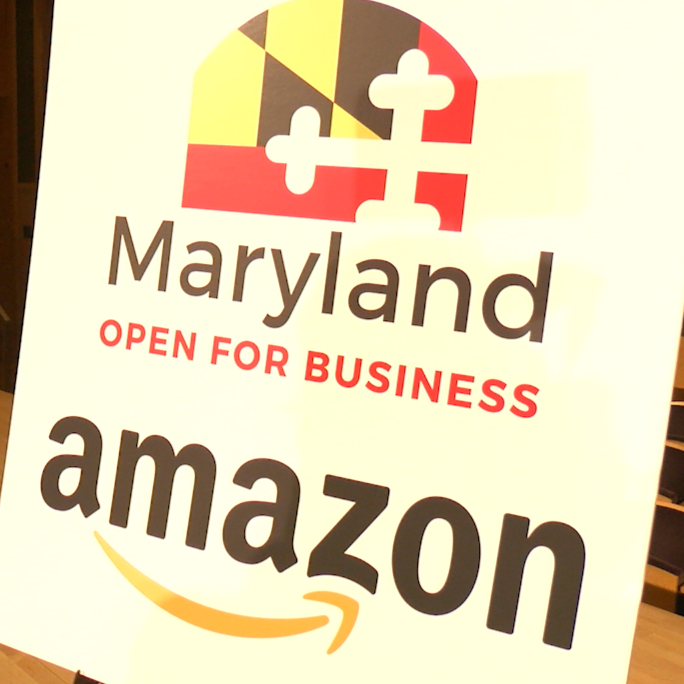 Hogan: Amazon Could Mean More Jobs Than Expected
Amazon is considering as many as 80,000 jobs for its "HQ2," Gov. Larry Hogan said Tuesday.
"The good news is they're talking about direct jobs [50,000] and 80,000. And our economist at Department of Commerce says there's at least 1-to-1 ratio, so 50,000 jobs means over a 100. Sixty or 80 means even more," the governor said.
The Seattle-based company wants to build a second headquarters, which will likely house 50,000 employees. In November, the company narrowed its 238 proposals down to 20 communities, including Montgomery County, Washington, D.C., and Northern Virginia.
Hogan was at Strathmore to sign the "PRIME" act, legislation that includes an estimated $3 billion in tax credits and exemptions if the company adds at least 40,000 jobs. The act also calls for significant transportation upgrades to the area around the potential site. Although officials refused to name the site selected for the Amazon bid, news organizations have said it is the former White Flint Mall property on Rockville Pike.
Hogan pointed out that the incentives don't mean taxpayer money will go to Amazon. The incentives instead are a way for the company to retain income if it meets certain benchmarks.
Amazon met with Hogan and other state officials three weeks ago at Strathmore.
"We spent most of the day, and I think they were impressed with the presentation," he said.
Although each jurisdiction has submitted its own bid for landing the coveted Amazon expansion, Maryland, D.C. and Virginia have been working together to help entice the company to the Washington area, Hogan said.
"If that was the decision that Amazon made to bring to Washington area and share among the jurisdictions, we would be supportive as well," he told reporters.
Although bidding communities have been asked to keep their proposals under wraps, New Jersey released its proposal Tuesday as the result of a lawsuit. It can be found here.