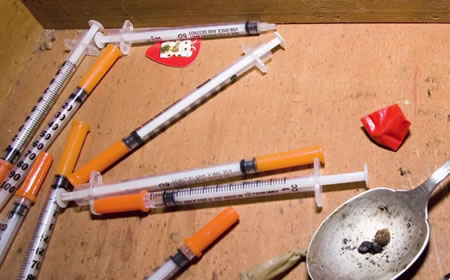 Hogan Announces More Than $22 Million to Fight Heroin and Opioid Epidemic
In an effort to fight the heroin and opioid epidemic, Maryland's Department of Health, Governor's Office of Crime Control & Prevention and the Opioid Operational Command Center, announced more than $22 million will be given to the state to help local jurisdictions fund prevention, enforcement and treatment efforts, according to a news release.
"Finding real solutions to the heroin and opioid crisis that is ravaging our communities is a top priority of our administration and a cause that myself and Lt. Governor [Boyd] Rutherford have been personally committed to since before we took office," Governor Larry Hogan released in a statement.  "This new funding will make real differences in people's lives as we work together to turn the tide in this deadly fight."
Funding for Fiscal Year 2018 includes the first $10 million of Governor Larry Hogan's $50 million commitment to address the crisis earlier this year, the first $10 million from the federal 21st Century Cures Act, and $2.1 million from the Governor's Office of Crime Control & Prevention.
"With this funding plan, Maryland reaffirms Governor Hogan's commitment to helping equip our local communities as we work together to battle this epidemic throughout the state," Maryland Department of Health Secretary Dennis Schrader said in a statement.
State officials are enhancing their efforts to allow education and prevention to go hand-in-hand with treatment and enforcement.
Efforts that will receive enhanced funding in FY 2018 include:
Prevention
$4 million total distributed to local Opioid Intervention Teams (as noted in table below) for each jurisdiction to determine how best to fight the heroin and opioid epidemic, which may expand on current prevention, enforcement, and treatment efforts
$1.4 million for a public awareness campaign to reduce stigma, increase patient-physician communication, and educate Maryland's school children on the dangers posed by opioids, as well as additional support for local jurisdictions' prevention efforts
$700,000 to train community teams on overdose response and linking to treatment
$200,000 to pilot a program that creates school-based teams for early identification of the problems related to substance use disorders
$200,000 to distribute opioid information to health care facilities and providers that offer treatment for opioid use disorder
Enforcement
$1.25 million to add to existing efforts to disrupt and dismantle drug trafficking organizations
$850,000 to continue heroin coordinator program, which helps to make the link between law enforcement and treatment
$450,000 to increase the Department of Health's regulatory oversight of controlled dangerous substances
Treatment
$3.2 million to expand treatment beds statewide, as well as a tracking system – the Maryland Healthcare Commission will aid in expediting the certificate of need application process for treatment beds
$2.7 million to improve access to naloxone statewide
$2 million to establish a 24-hour crisis center in Baltimore City
$1.6 million to expand use of peer recovery support specialists
$1 million to expand Screening, Brief Intervention, and Referral to Treatment (SBIRT) to hospitals and parole, probation, and correctional facilities
For more information about the state's initiative to combat the heroin and opioid crisis, click here.