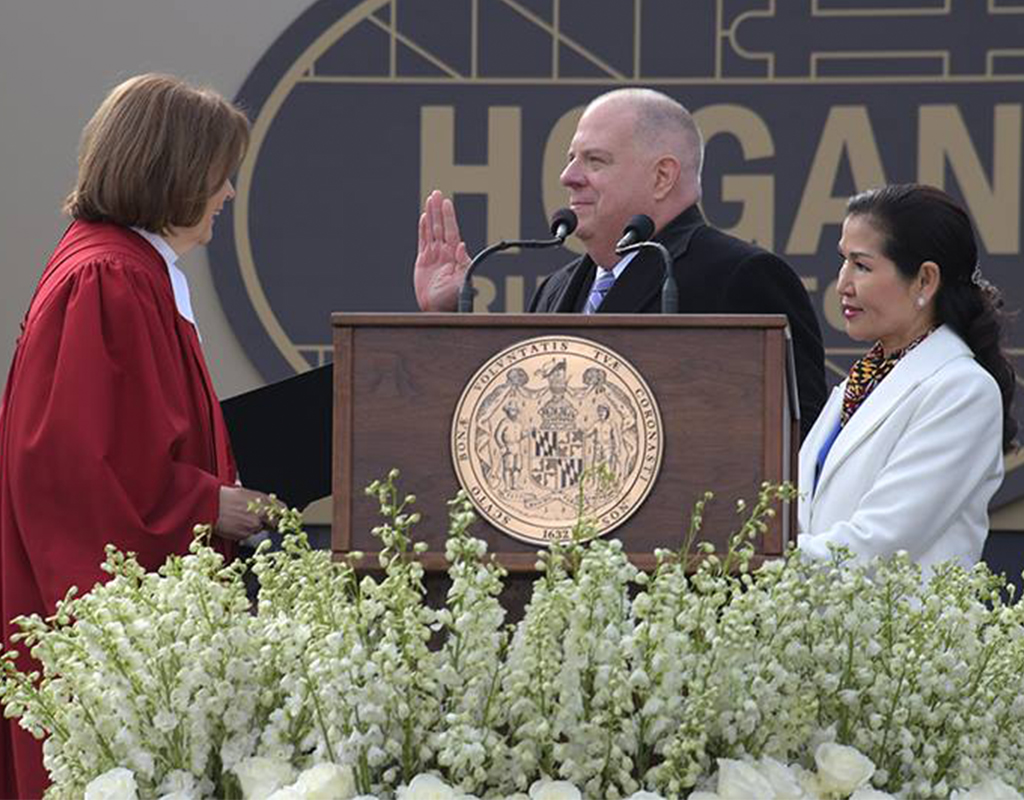 Hogan Invokes His Father: 'Not even the President of the United States is above the law'
During his gubernatorial inauguration speech in Annapolis, Gov. Larry Hogan paid homage to his late father.
"He showed us true meaning of honor, integrity, and meaning," Hogan said of his father, who died in April 2017.
Hogan's father, Lawrence J. Hogan Sr., served as U.S. Congressman, representing District 5 in Maryland. Like his son, Hogan Sr. was a Republican.
Hogan Sr. was the first Republican congressman to call for President Richard Nixon's impeachment in 1974, bucking members of his own party.
"[It] doesn't make any difference whether [Nixon] got in at the beginning or the middle or the end. He was a conspirator," Hogan Sr. told The Baltimore Sun, a week before Nixon resigned from office.
During his speech, Gov. Hogan invoked similar words from his father.
"Party loyalty and personal affection and precedents of the past must fall before the arbiter of men's actions: the law itself. No man, not even the President of the United States, is above the law," Hogan said, quoting his father.
Hogan appears to be distancing himself from Donald Trump's Republican Party, and instead embracing the Republican Party of George H.W. Bush and John McCain (both of whom, he invoked in his speech).
Bush Describes Hogan as the Leader America 'Needs Now'
While some have called for the impeachment of President Donald Trump, others, like former FBI Director James Comey (a former Republican, himself), have simply called for more Republicans to stand up to the president.
Because of his inauguration speech, and his "bipartisan-driven" rhetoric—especially during a time when there hasn't been any compromise made to reopen the government—speculation is continuing to grow about the prospect that Gov. Hogan could come forward as the Republican to challenge the president.
This is not okay, not normal. That the witness intimidation continues while hundreds of thousands of honest public servants are without pay moves it from just outrageous to unconscionable. Can Republicans hear the past asking, "At long last, have you left no sense of decency?"

— James Comey (@Comey) January 14, 2019
In his speech, Hogan emphasized a need for the country to "seek that middle ground where we can all stand together."
Hogan said, "Let's repudiate the debilitating politics practiced elsewhere — including just down the road in Washington — where insults substitute for debate, recriminations for negotiation."
While he was speaking at the gubernatorial inauguration, former Florida Governor Jeb Bush described Hogan as the antithesis to leaders in Washington. Bush said Hogan is someone who "embodies that strong independent leadership America needs now" in a time when "our culture has eroded."
"People in public life have a disproportionate say in our culture because they're in the public square. […] They have a greater responsibility to turn our culture into a more loving place," said Bush. "I think Governor Larry Hogan is the best example in public life today, making efforts each and every day to less coarsen our culture."
Like Hogan, Bush also invoked Hogan Sr. into his speech.
Bush said, "I know your governor has a good and righteous role model in his dad, just as I did with mine."