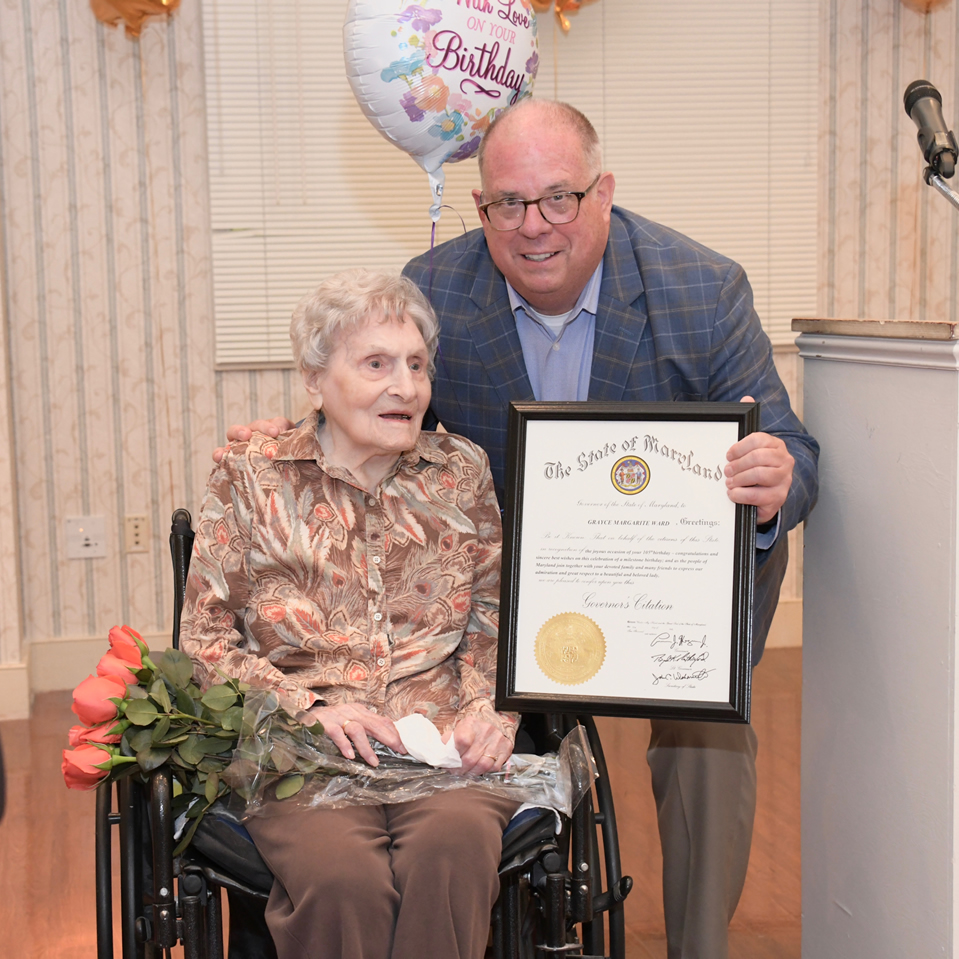 Hogan Optimistic He Can Win Blue Montgomery
Gov. Larry Hogan said Tuesday he could win Democrat-party-rich Montgomery County in the gubernatorial election in November.
"I think we have a shot at winning Montgomery County, which would be unheard for a Republican. But I think we're going to do it," Hogan said.
The comments came after attending a birthday party for a 105-year-old resident at Asbury Methodist Village in Gaithersburg.
Also attending the function was Gaithersburg Mayor Jud Ashman, one of about 50 Democrats serving in municipal offices who have endorsed Hogan.
"First and foremost, the guy's done a good job," Ashman said, referring to the governor.
Ashman said he appreciated how Hogan had distanced himself from President Trump, Senate Majority Leader Mitch McConnell and House Speaker Paul Ryan.
"For those of us who are really disappointed, not just disappointed, horrified by the direction of Republican party, one solution is to elect good Republican. This guy is a good Republican," Ashman said.
Ashman also called himself a "centrist … business-friendly Democrat."
"At this point in time in state of Maryland, fostering a healthy business is really, really important, and he's laser-focused on that," he said.
In speaking with reporters, Hogan said that if re-elected, his second term would be much like his first.
"There' s not going to be any major course corrections or changes in direction. We're going to keep trying to continue to make progress on things we have," he said.
He cited his record on education funding and job growth.
"The guy I'm running against wants to go in a different direction," he said. "With us, it's going to be more of the same."
Before his stop in Gaithersburg, Hogan was part of a fundraiser for Amie Hoeber, the Republican running for the 6th congressional district seat now held by Rep. John Delaney. Delaney has chosen not to seek re-election and instead is devoting his time seeking the Democratic nomination for the 2020 presidential election.
Hogan touted Hoeber's experience on national security and believed she could win the 6th District even though it was drawn to help a Democratic candidate. The governor also visited Blue Star SeniorTech, a Rockville company that markets technology products to senior citizens.
Hogan also had a fundraiser of his own in Positano Restaurant in Bethesda, which was attended by former member of the U.S. House of Representatives, Connie Morella. We caught up with her outside the restaurant: