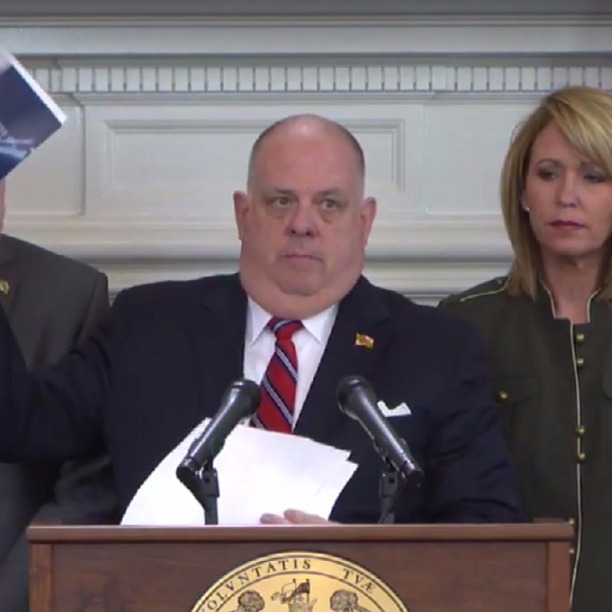 Hogan Proposes Paid Sick Leave Measure — Again
Watch the Paid Leave Compromise Act announcement live => https://t.co/jo48JVOuPI pic.twitter.com/HVl6Q8zw6W

— Larry Hogan (@LarryHogan) November 28, 2017
Gov. Larry Hogan picked up where he left off on an issue from the 2017 General Assembly session: paid sick leave.
The governor Tuesday said he would be introducing legislation at the start of the 2018 legislative session that would phase in paid sick leave for companies with at least 25 employees.
Hogan, a Republican, had proposed a paid sick leave measure last year that used tax incentives to encourage businesses to adopt paid sick leave. The Democratically controlled State House chose to ignore it, fashioning their own legislation mandating the change. Hogan vetoed the bill.
In a State House news conference broadcast on Facebook, Hogan said his new measure was created using the vetoed bill as a starting point. He said he simplified its rules.
"No small business owner should have to hire an HR director just to try to comply with one overly complex and burdensome law," Hogan said.
The bill would require businesses with 50 or more employees to provide sick leave in 2018; businesses with 40 or more employees would be required to provide it in 2019; and businesses with 25 or more would extend paid sick leave in 2020.
Employees would accrue one hour of sick leave for every 30 hours worked, up to 40 hours, he said.
Hogan decried the party-line politics that led to the Democrats passing last year's legislation.
"They chose to play politics — have an election year issue to campaign on — rather than a real solution that we could all get behind that would provide sick leave to more Marylanders without crushing small mom-and-pop businesses," he said.
As if to underscore the point, Hogan called his 2018 legislation the Paid Leave Compromise Act.
The legislation followed a study conducted by the departments of Labor, Commerce and Human Services; and the Office of Small, Minority and Women Business Affairs.
The governor also said he was not giving up on tax breaks for businesses. He said he was proposing another bill that would provide $100 million for small businesses to offset the cost of providing paid sick leave.