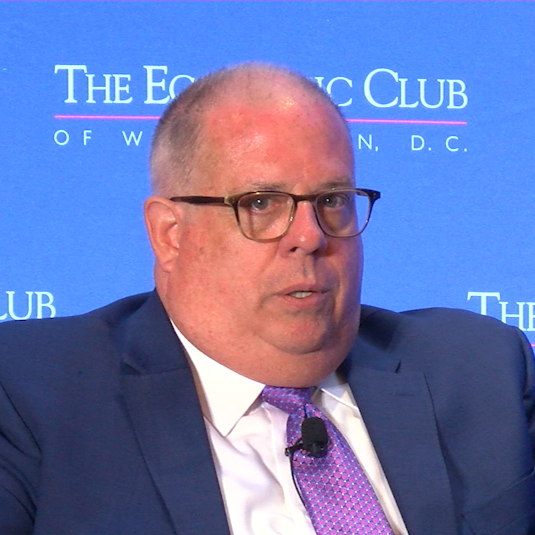 Hogan Would Support Changes to How Marylanders Vote in Primaries
Gov. Larry Hogan said he would support changes to the way political parties choose candidates for the general election either, saying he would support runoff elections where a candidate needs 50 percent of a party's support before moving on to the general election, or open primaries where independent votes could cast ballots.
"We need to look at what we can do to make the system work better, because it's definitely broken," Hogan said.
Hogan made the comment in a lunchtime event by the Economic Club of Washington, D.C. The nonprofit organization founded 32 years ago, in part, to provide a forum for global leaders. The luncheon was in a question-and-answer format at the Bethesda Marriott. The questioner was David Rubenstein, president of the Economic Club and co-founder and co-executive chairman of The Carlyle Group.
The governor cited the Democratic primaries for governor and Montgomery County executive.
"It shouldn't be a tiny minority of the Democratic party that comes out to vote in a primary and then it's split multiple ways. Then a guy with 5 to 10 percent of the overall vote wins the nomination. So I'm open to looking at it differently. The system doesn't seem to be working well," Hogan said.
The session hit several topics, including why the Republican Hogan decided to run for governor in heavily Democratic Maryland (he said his family thought he was crazy) and the likelihood of securing Amazon's "HQ2" in Montgomery County ("an excellent chance").
He also gave his view of the events that led to the Baltimore riots in April 2015. Hogan said he had two executive orders prepared. One said that at the mayor's request, he was declaring a state of emergency and mobilizing the Maryland National Guard. The other said that as governor, he was declaring a state of emergency and sending in the National Guard.
Either way, the National Guard was coming in because the state couldn't let its largest city burn down, Hogan said.
Hogan said he told then-Mayor Stephanie Rawlings Blake that the first order would be better. He said she replied, "Since you're holding a gun to my head, I guess I'll ask you to come in."
In his conversation with Rubenstein, Hogan also talked about his relationship with President Donald Trump: