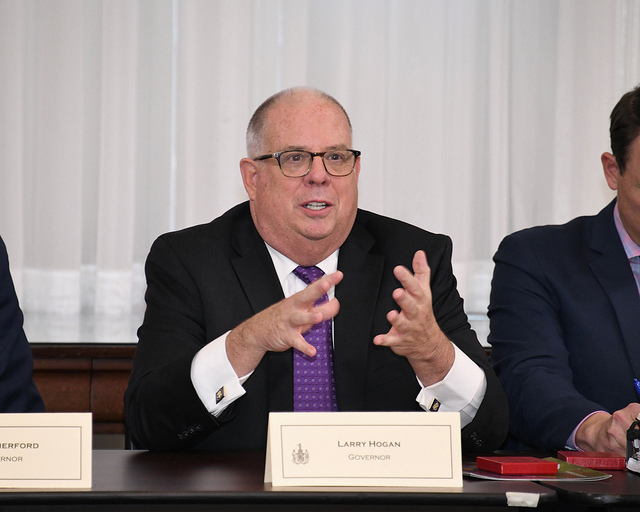 Hogan's Bipartisan Appeal to Address Climate Change
Governor Larry Hogan is continuing to ride his "purple surfboard" in a new bipartisan appeal to address climate change.
Hogan and Ralph Northam, the democratic governor of Virginia, published a column in The Washington Post earlier this week, calling on state officials "to put aside partisan interest and get to work" on addressing the climate crisis.
#ICYMI: Read my op-ed with @GovernorVA in @PostOpinions on how states like MD & VA are leading on clean air & environmental protection: https://t.co/AX01GyTfbL

— Governor Larry Hogan (@GovLarryHogan) December 12, 2018
Both Hogan and Northam are members of the U.S. Climate Alliance, which is a bipartisan group of governors committed to upholding the goals of the Paris Climate Agreement.
The group has 17 members; Hogan, Charlie Baker of Massachusetts, and Phil Scott of Vermont, are the only Republicans in the group.
In the column, Hogan and Northam said that the Trump Administration's policies undermine efforts to combat global warming.
Instead of dwelling on federal government's inaction in combating global warming, the governors said state officials need to act.
"[W]here the federal government refuses to lead, state governments will," said Hogan and Northam.
On this third anniversary of the #ParisAgreement, the negative impacts of a warming climate have only become more serious. @USClimate and state leaders are ready to lead the way to a cleaner future. https://t.co/giCZCvWc1F

— Ralph Northam (@GovernorVA) December 12, 2018
The two governors also discussed the initiatives they helped push forward in Maryland and Virginia to address climate change.
The governors said, "In our home states of Maryland and Virginia, we are experiencing rising seas, more extreme weather events, regular high-tide flooding and a changing Chesapeake Bay."
Because of the changing Bay, Maryland passed a to "reduce greenhouse-gas emissions by 40 percent." Hogan even sees Maryland as a leader in the Greenhouse Gas Initiative.
The two governors pledged to continue leading their states to develop "clean and renewable energy supplies."
Moreover, they promised to do their part in slowing the effects of climate change.
Hogan Receives Mixed Reaction to Climate Change Column
Hogan has received mixed reactions to the column.
At the Committee for Montgomery's 2018 Annual Legislative Breakfast, Montgomery County Executive Marc Elrich appeared to doubt Hogan's sincerity to try and slow the effects of climate change.
Elrich referenced Hogan's commitment to widen the beltway and I-270.
"You can't talk about global warming and you can't talk about our responsibility on climate change, and then say we have to make our roads bigger, bigger bigger," said Elrich.
But others saw the column as something that distinguishes Hogan from other Republicans.
After the column was published, conservative blogger and Trump critic, Jennifer Rubin published an op-ed in The Post making a case for Hogan to challenge President Trump in the 2020 Republican primaries.
She said Hogan's commitment to govern "based on bipartisanship"makes him "as far from Trump as one can get in the GOP."
Even so, Rubin is not sure this contrast is what Republican voters are looking for in their candidates.
It would behoove those still fighting to jettison Trump and cleanse the party of Trumpism to find a standard bearer — maybe a ticket (Hogan-Kasich? K-Hogan? They could flip for the top spot) —for saner, smarter and more relevant center-right agenda. https://t.co/0x9GbEAq7E

— Jennifer Rubin (@JRubinBlogger) December 13, 2018
She said, "The bigger question is whether there is a critical mass of Republicans who would vote for someone who isn't a climate-change denier, doesn't peddle in nativism and protectionism, and doesn't engage in nonstop divisive politics."