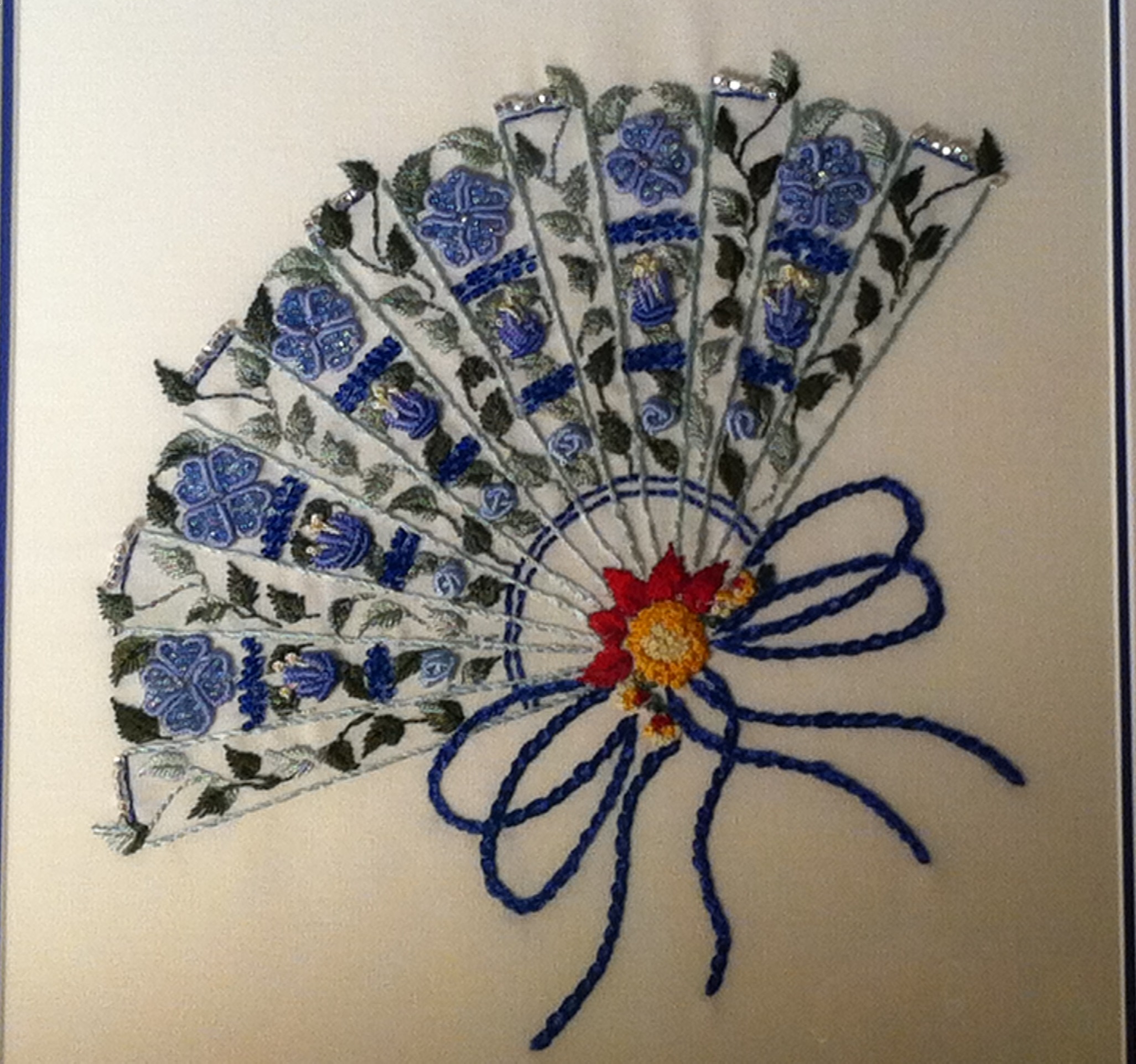 Home Arts Spotlight: Accessories and Embroidery (Videos)
Continuing our excursion through Home Arts, we arrive at Accessories.  And what a feast to the eye this department is!  Entries vary from bonnets and purses to tote bags, sewing kits, and baby gifts.  You will want to take your time here, as colorful items will be displayed on the walls and in glass counters.
Some tote bags will be embroidered and others quilted.  This one was made for a granddaughter who loves shoes.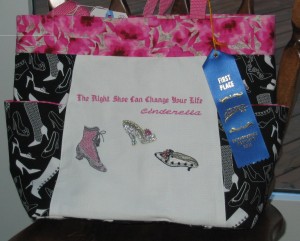 Collars are another category, and this one is machine embroidered, appliqued, and designed with Irish Carrackmacross Lace in mind.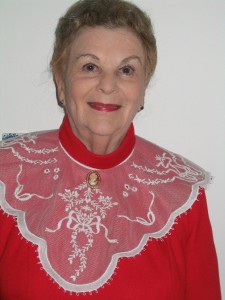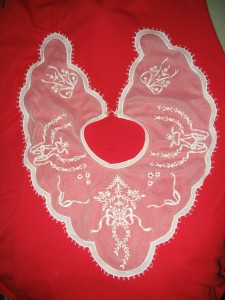 Holiday items are rich in their variety of subject and in techniques.  A machine embroidered and monogrammed Christmas stocking was worked in velvet with rayon threads. This granddaughter was studying Flamenco dancing; thus the motifs reflect this as well as the holiday.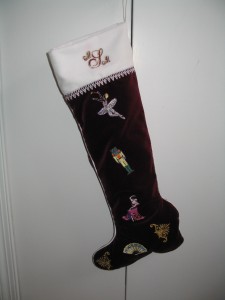 Pillows will abound, particularly in techniques.  This is hand stitched using the intersection of the one- inch gingham squares to make the design.  One side has three dimensional triangles, and the reverse side has a bubbled effect using a honeycomb design, also worked on the intersections of the gingham squares.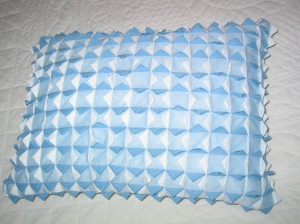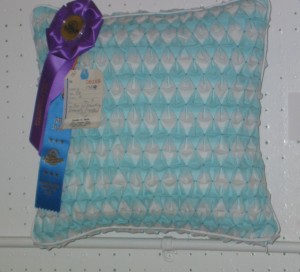 The pillow below was made to decorate a bedroom, and the Sulky rayon threads used were coordinated with the peacock- designed bed covers and the matching wall color.  Adobe color faux suede was used for the frame.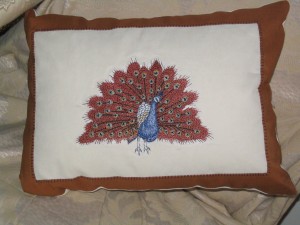 The Victorian ladies embroidered on these pillows are framed with prewashed, washable velvet.  They are European size, and decorate a granddaughter's bedroom.  She did a great job selecting the glossy rayon embroidery threads to coordinate with her room.  These took over six hours to stitch out on the computer embroidery machine which was completed before the pillow was constructed.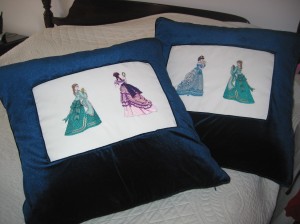 Wedding and Memory Pillows are also very popular in this department.  The following one has a replica of the original invitation.  The invitation was transferred to treated cotton fabric and copied on an inkjet printer.  Mexican style tucks (narrow tucks flowing in opposite directions) embellish the sides of the pillow.  Delicate machine embroideries of fans and scrolls above and below the pillow complete the design.  The pillow cover is washable and closes with an invisible zipper.
The second memory pillow has a replica of a photo of the engaged couple, along with symbols of good fortune and Faith.
This sun bonnet…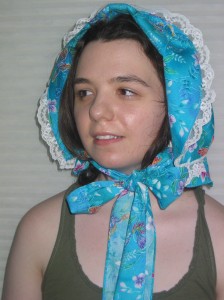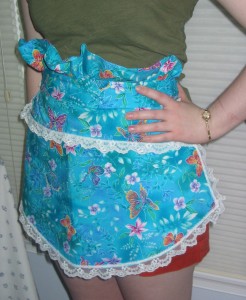 unbuttons to become an apron.  The accessible pockets can be filled with the produce from the garden.
The sewing category in Accessories has numerous helpful items to make sewing more convenient.  This sewing kit was designed for a college student who knows how to sew.  Since she may not have much time, the safety pins were also included.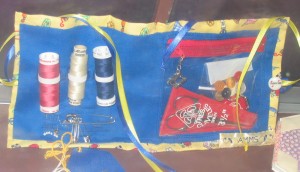 This Sun Bonnet Sue style needle case of faux suede has flannel pages stitched with the names of various types of hand sewing needles.
This cover of this Etui' slides under the sewing machine and keeps the front handy.  The clear vinyl front makes it easy to see the notions stored within reach of the machine stitcher.  A zipper pocket holds additional items.  When the cover is folded over, the Etui' can be rolled up, tied, and transported to the next site for sewing.
This kit holds a small scissors, two spools of thread, needle, and snaps shut.  It is in the cathedral quilt style of folded squares, in scarlet and gold.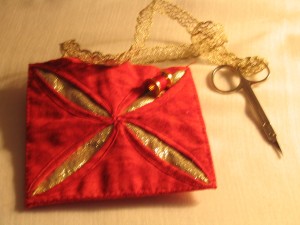 The assortment below is a display of other entries in Accessories: smocked velvet scarf lined in silk and trimmed with crystals; a shirred silk chiffon scarf trimmed in crystals, purses of lace and velvet, and bracelet bags of velvet and silk satin with shadow flowers.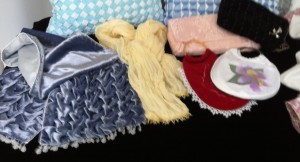 Here is a close up of the hand smocked velvet scarf: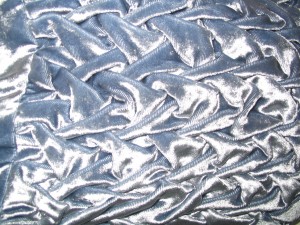 Moving on to the embroidery department, we will see techniques including needlepoint, X stitch, candlewicking, punch needle, crewel, and surface embroidery, to name a few.  Many of these pieces take an enormous amount of time and focus, and the results are gorgeous.  Others require less hours but are still beautiful.
Here are examples of surface embroidery by hand on a pillow case, using rayon threads.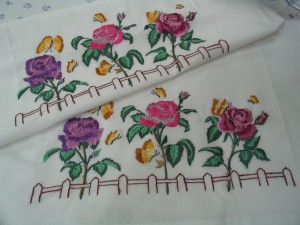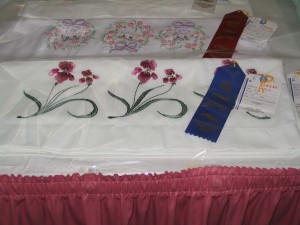 This bed cover/spread is double sized and lined.  I knit a cotton fringe edging for the perimeter using thick yarn. The surface embroidery includes stitches like bullion, satin, stem, buttonhole, and French knots.  I sketched the design on the white fabric with chalk pencil.  I did not have a pattern but used scraps of my mother's ragged spread (that we were permitted to use if we were awfully 'good'), and from memory. As a child, I would trace the design with my fingers when it covered me. Thus much of it must have been imbedded in my mind.  Recreating this was a joy.  I then traced another for my sister (to stitch).  She had competed with me for the honor of using the original when we were young.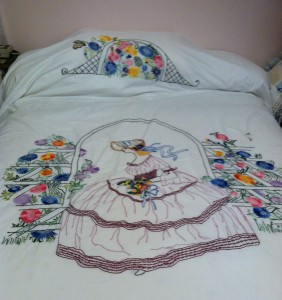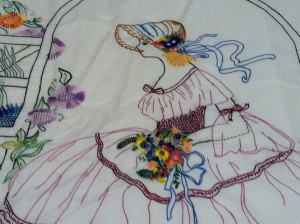 Brazilian Embroidery is a three dimensional embroidery involving various twist, textures, and sizes of specially prepared rayon threads.  The stitches are intricate and include bullions, satin stitch, leaf stitch, herringbone, and cast-on, to name just a few.  The stitches and threads together create beautiful depth- filled motifs, especially flowers.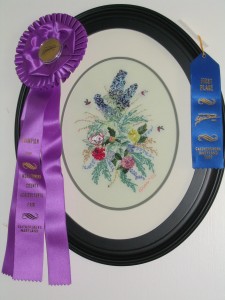 This one is called 'Kitten in the Flowers'.  Hint: she is outlined in pink.
This fan is also beaded, giving luster to the flowers.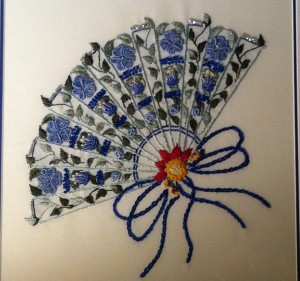 This floral heart bursts with blooms, and lights up the entire room with its beauty.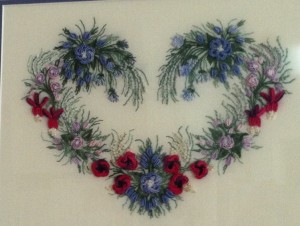 I am reminded of my first attempts at embroidery.  About six years old, I was given a printed tablecloth the size of my play table and chairs.  The thread came also, so I took a needle from my mother's basket and started embroidering the cloth with the man wearing a sombrero and surrounded by flowers.  There were also diagonal lines traversing the cloth.  I hurriedly took giant stitches across the diagonal lines, but soon discovered the thread didn't stay on the printed line, and the cups and saucers would catch on the loose threads. (Later I found out in quilting that those long stitches are called 'toe catchers'.)  Then my mom showed me simple stitches which would do the design justice.  And I discovered it would not be completed in a day – a defining moment.
During this virtual visit, we didn't 'stop' at the spinning department – I haven't done that myself and don't have photographs.  But it is well worth a visit.  In that department there is a 'sheep to shawl' competition in which the wool comes from sheep owned by the exhibitor.  The whole process is completed by the exhibitor; this is a mighty endeavor.
It is certainly time to talk about why I am doing this Blog.  The purpose is to interest additional people in attending the AND in exhibiting in the Home Arts Department.  Look around and see what you have stitched or baked or canned this year and check out the catalog, available on the website www.mcagfair.com .  There is still time to prepare an entry.  Make certain you read all the information about the category that interests you.  The Fair keeps a level playing field for entrants, so there are guidelines such as pies need to be in disposable pans, cakes on cardboard sheets, jelly in a particular size jar, and garments entered on wire hangers.  You will also see the special awards for which your entry may qualify.  The monetary rewards are modest. The enjoyment in entering, seeing your project displayed, and perhaps the award with it – is huge.  Give it a try this year!
The next Blog Post, #5,  will address Clothing – which even includes costumes.  You are in for a treat!