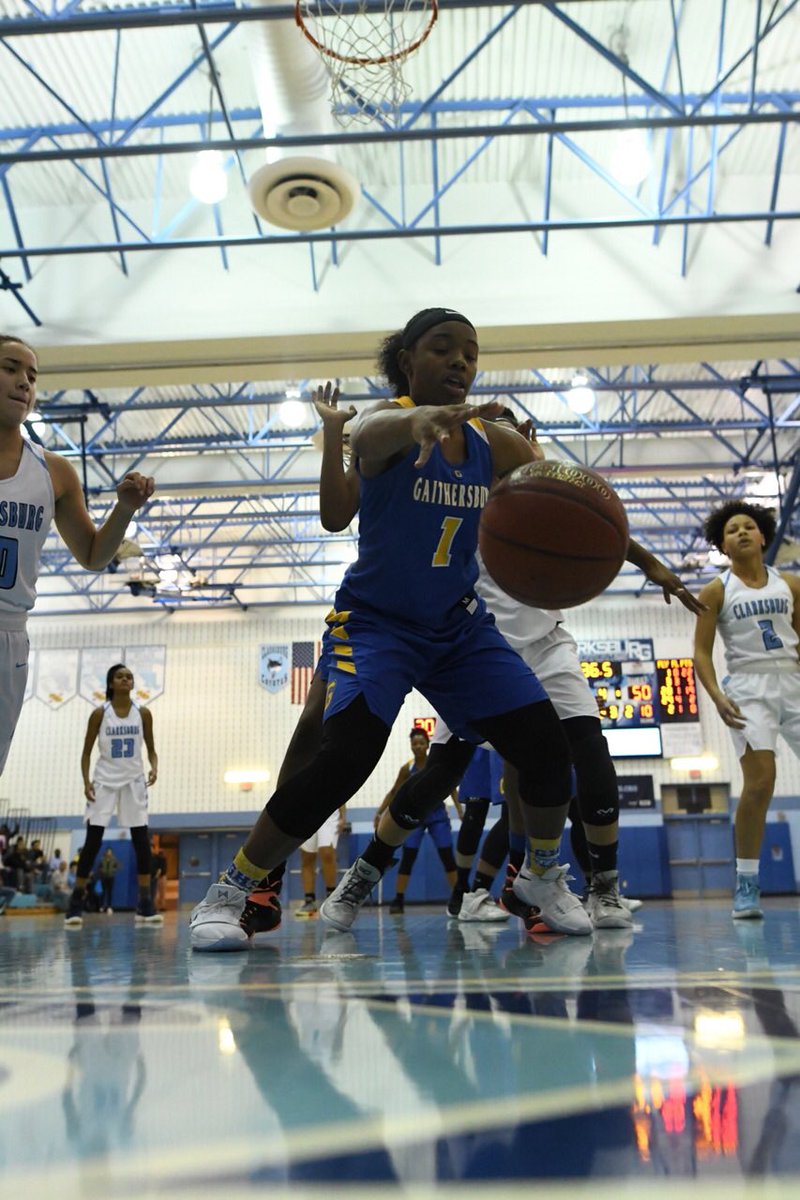 Hoops Action: Gaithersburg Outscores Clarksburg in Girls' Basketball, 54-45
It was a close basketball game Friday night but when time ran out, it was the Gaithersburg Trojans outscoring the Clarksburg Coyotes, 54-45.
The Lady Trojans were on the road with a 11-5 overall record and recent (Jan. 23) 65-57 loss to Clarksburg. The Lady Coyotes had the home crowd advantage and a better record with 14 wins and only two losses.
It was a fast paced game early in the first quarter with Gaithersburg taking the lead. At the end of the first quarter, Gaithersburg led 18-15.
Clarksburg rallied in the second quarter to pull out in front and finish the half with a two point lead, 24-26, Clarksburg.
At the end of the third, Gaithersburg had regained the lead with the score 42-37, Trojans.
The game ended with a 54-45 score.
The next game for both teams is Monday, Jan. 29 when Gaithersburg hosts Richard Montgomery and Clarksburg is on the road at Wootton.
Photographer Phil Fabrizio captured the hoops action, below:
#1 Odom leads Gaithersburg with 26 points in their 54-45 upset win over 14-2 Clarksburg @mymcmedia @Gburgathletics @CHSAthletics_ pic.twitter.com/d8lyzgImmg

— Phil Fabrizio (@Photoloaf) January 27, 2018
Sunny Paul goes down under Gburg basket with an injury as game halts. 2:13 left in the game. 48-45 Trojans. @mymcmedia pic.twitter.com/tRmzcp6hoD

— Phil Fabrizio (@Photoloaf) January 27, 2018
42-37 Trojans at the end of 3. @mymcmedia pic.twitter.com/z1ykvvDjeM

— Phil Fabrizio (@Photoloaf) January 27, 2018
33-31 in a close contest here in Clarksburg Coyotes lead with 3:36 left in the quarter. @mymcmedia pic.twitter.com/C26yaWcTPF

— Phil Fabrizio (@Photoloaf) January 27, 2018
At the half it's Clarksburg 26 and Gaithesburg 24 @mymcmedia @CHSCoyotes pic.twitter.com/n53QfBA8cc

— Phil Fabrizio (@Photoloaf) January 27, 2018
Trojans call a TO as Coyotes rally now lead 21-18 @mymcmedia pic.twitter.com/6HoZ7fSYJ6

— Phil Fabrizio (@Photoloaf) January 27, 2018
End of 1 it's Gburg 18 Clksbg 15 @mymcmedia pic.twitter.com/T5NFtaEvdL

— Phil Fabrizio (@Photoloaf) January 27, 2018
Fast paced game 8-7 Gburg lead with 4:50 off the clock in the 1St. @mymcmedia pic.twitter.com/QT3hL36cDN

— Phil Fabrizio (@Photoloaf) January 27, 2018