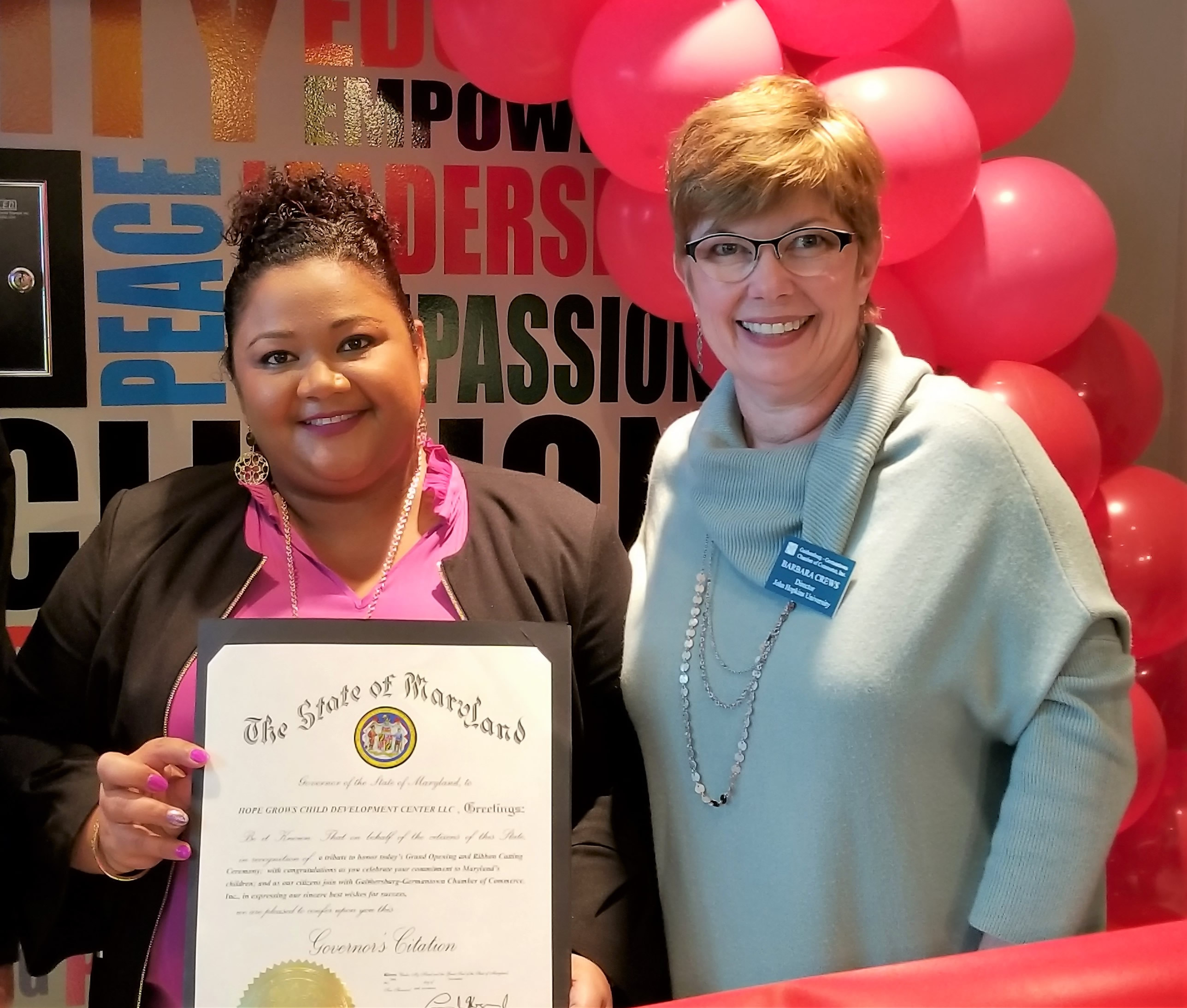 Hope Grows Child Development Center Opens Second Location in Germantown
A pirate ship playground; vibrant, bold, inviting colors; an exquisite room dedicated to infants with cribs, bright mirrors, warm rugs sensory tables and more; several other classrooms full of arts and crafts supplies; clothes for dress-up and pretend play, musical instruments to explore and spaces to play, to learn and explore; and an area built for the children who are in the program before and after school, allowing them to have the opportunity to do homework as well as enjoy a broad range of engaging hands-on activities; this is what welcomes you to the new Hope Grows Child Development Center.
The Gaithersburg-Germantown Chamber of Commerce (GGCC) supported Hope Grows Child Development Center and celebrated the grand opening of their child care center by conducting a "Ribbon Cutting" Ceremony on Friday, November 10. They are located at 20111 Century Boulevard, Suite A, Germantown. This is the second location for Hope Grows. They are also located on Lost Knife Road in Montgomery Village.
Hope Grows Child Development Center seeks to nurture the development of intellect and character of every child while promoting physical, mental, and emotional health. They have embraced the principles of progressive education. Their program nurtures children's development, encourages respect for others and fosters students' ability to observe, question, evaluate and make decisions. Hope Grows Child Development Center is a team of qualified, diverse educators who value working with children, ages 6 weeks to 12 years, in a nurturing and safe environment. The center is NAEYC accredited and participates in Maryland EXCELS which is a quality rating and improvement system. Learn more about them at: www.hopegrowschilddevelopmentcenter.com.
The GGCC is active in providing business-to-business networking opportunities throughout the year: a collective voice in local, regional, and state legislative affairs, professional development opportunities and other services that enhance the business environment.
The GGCC is located at 910 Clopper Road, Suite 205N, Gaithersburg. To learn more about the GGCC visit us at www.ggchamber.org.
Find us on Facebook at: http://www.facebook.com/pages/Gaithersburg-Germantown-Chamber-of-Commerce/64339954570. Or on Twitter at: @GGCCNEWS.