House Fire Displaces Silver Spring Residents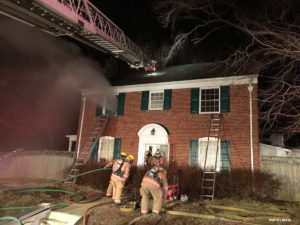 Firefighters battled a house fire on Flower Avenue in Silver Spring early Wednesday morning. The fire displaced two residents, a Montgomery County official said.
According to Fire and Rescue Service spokesperson Pete Piringer, the fire started in a second floor bedroom and involved a space heater and power strip. Smoke alarms alerted the residents to the fire.
Both residents were treated for smoke inhalation at the scene by the Emergency Medical Technicians, Piringer said.
Damages are estimated at $55,000, according to Piringer.
Update (~230a) 9000blk Flower Av, SS, 2-sty single-family House; Cause, electrical, space heater & power strip; Area of Origin, 2nd floor bedroom; Damage, >$55K; 2 Civ evaluated w/ smoke inhalation, NLT; SMOKE ALARMS ALERTED residents, numerous pets got out, 1 family displaced pic.twitter.com/NuslY1yZzY

— Pete Piringer (@mcfrsPIO) February 14, 2018
Units working at a House Fire 9300 blk Flower Ave. Fire out, 2 adults treated Smoke Inhalation. Cause under investigation. pic.twitter.com/zFHfRAYAlU

— MCFRSNews (@MCFRSNews) February 14, 2018
Update – Flower Av, 2-sty house, smoke showing, all occupants out, fire on 2nd floor https://t.co/vO2oz6lYFe

— Pete Piringer (@mcfrsPIO) February 14, 2018
9000blk Flower Ave., Silver Spring, house fire

— Pete Piringer (@mcfrsPIO) February 14, 2018