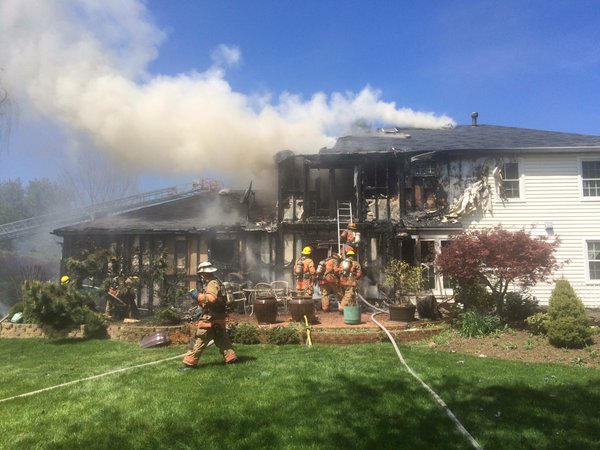 House Fire in Burtonsville (PHOTOS & VIDEO)
UPDATED It took 65 firefighters to put out a house fire at 1909 Mayflower Drive in Burtonsville today.
Fire and Rescue Spokesperson Piringer said firefighters arrived to heavy fire conditions at the single family house.
According to Piringer, the 1900 block of Briggs Cheney Road was closed during the fire department's response.
There were no injuries, Piringer said.
U/D – 1909 Mayflower Dr, all occupants escaped, >65 FFs OS, incl RID (Rapid Intervention) & TF (Task Force), no inj pic.twitter.com/SuSEp3Adnb

— Pete Piringer (@mcfrsPIO) April 18, 2016
1900blk Mayflower Dr, >65 MCFRS FFs OS, corner of Briggs Chaney Rd & Mayflower Dr pic.twitter.com/R57McLQQ1a

— Pete Piringer (@mcfrsPIO) April 18, 2016
Traffic advisory – 1900 block Briggs Cheney Road Closed/Blocked at Mayflower Drive, FD activity pic.twitter.com/aGzZJGtsk9

— Pete Piringer (@mcfrsPIO) April 18, 2016
Update – Mayflower Dr., Burtonsville, house fire, heavy fire conditions single-family home pic.twitter.com/y0BIMmwxt1

— Pete Piringer (@mcfrsPIO) April 18, 2016