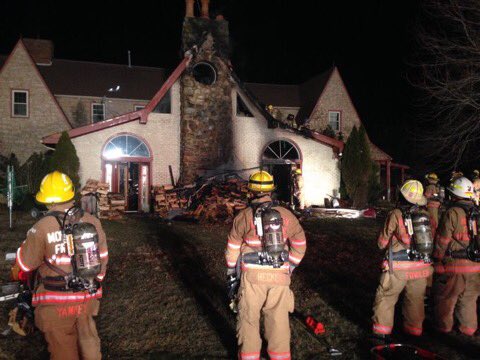 House Fire in Dickerson Causes About $100,000 in Damages (PHOTO)
A house fire in Dickerson caused an estimated $100,000 in damages overnight, according to a Montgomery County fire official.
Fire and Rescue Services spokesperson Pete Piringer said dozens of firefighters responded to the blaze at around 2 a.m. at 19201 Martinsburg Road.
According to Piringer, a neighbor called 9-1-1 to report the fire, and the neighbor helped alert the occupant who was able to safely evacuate the structure.
As for the cause, Piringer said the fire was sparked by some embers from an overloaded chimney that spread to a nearby wood pile.
According to Piringer, there were no injuries and firefighters plan to return to the area this afternoon to talk to neighbors about the importance of smoke alarms, etc.
Update – 19201 Martinsburg Rd, fire under control, FFs checking for extension, no injuries reported, ~45 FFs OS

— Pete Piringer (@mcfrsPIO) February 2, 2017
Update – Martinsburg Rd, Dickerson; Cause, overloaded FP, embers from chimney; Damage ~$100k; no inj; neighbor called 911 & alerted resident pic.twitter.com/3ZKgk9jqPr

— Pete Piringer (@mcfrsPIO) February 2, 2017