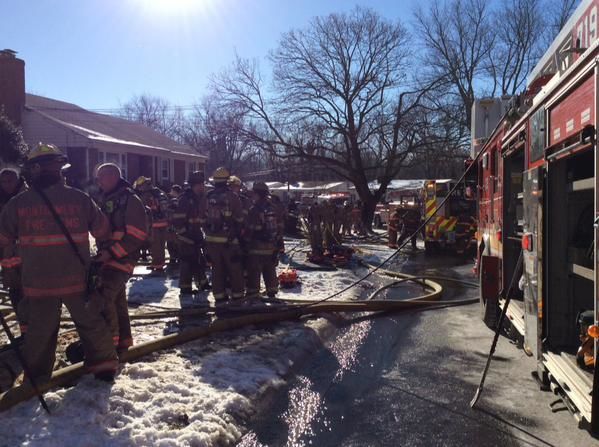 House Fire in Silver Spring (PHOTOS)
UPDATED An accidental electrical fire caused approximately $250,000 in damage to a house at 9711 Admiralty Drive in Silver Spring on Sunday.
Montgomery County Fire and Rescue Services Spokesperson Pete Piringer said nearly 75 firefighters responded to the scene around 9 a.m. on Jan. 11.
According to Piringer, there were heavy fire conditions showing when first units arrived at the scene. The fire originated in the ceiling of the basement, Piringer said.
On his Twitter account, Piringer reported that everyone was out of the house and there were no injuries. He described damage as "significant" especially in the basement and first floor of the house.
Piringer said three adults were displaced by the blaze and two cats are missing.
9711 Admiralty Dr, SS; Cause, accidental, electrical; Area of Origin, bsmt ceiling; Damage, $250K; 3 adults displaced pic.twitter.com/odCVOncZB6

— Pete Piringer (@mcfrsPIO) January 11, 2015
More…Admiralty Dr, occupants were not home, neighbor noticed smoke/fire & called 911; 2 cats missing & unaccounted pic.twitter.com/NOX7cYWbRf

— Pete Piringer (@mcfrsPIO) January 11, 2015
9711 Admiralty Dr, near Forest Glen Rd, single-family house, FFs on scene heavy fire from basement, addl fire/rescue units assisting

— Pete Piringer (@mcfrsPIO) January 11, 2015
U/D – Forest Glen area (near Holy Cross Hospital) 9711 Admiralty Dr, heavy fire conditions in single family house…checking occupant status — Pete Piringer (@mcfrsPIO) January 11, 2015
U/D – Admiralty Dr, ALL occupants accounted for, FFs engaged in firefight, no injuries reported, Temp in Silver Spring 12 degrees

— Pete Piringer (@mcfrsPIO) January 11, 2015
U/D – 'Task Force' (addl FFs & equip) being dispatched to assist at Admiralty Dr, occupants out, some of fire in bsmt & 1st floor knocked — Pete Piringer (@mcfrsPIO) January 11, 2015
Traffic Advisory – Forest Glen Rd CLOSED/BLOCKED between Forest Grove Dr & Dameron Dr, near Holy Cross Hospital pic.twitter.com/uArCz0CHb0

— Pete Piringer (@mcfrsPIO) January 11, 2015
9a Forest Glen house fire on Admiralty Dr, about 75 FFs responded, no injuries, no one was home, significant damage pic.twitter.com/xHm5X0tOeW — Pete Piringer (@mcfrsPIO) January 11, 2015