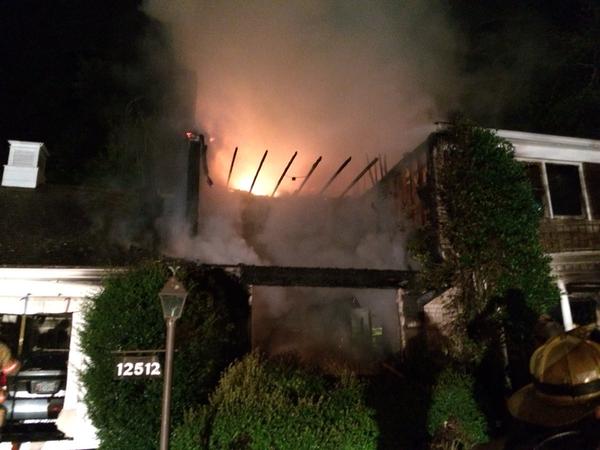 House Fire on White Drive in Silver Spring (PHOTOS)
An overnight house fire resulted in major structural damage and roof collapse of a home in the Springbrook neighborhood in Silver Spring. The occupants were not home at the time of the fire according to a Montgomery County fire official.
Fire and Rescue Services Spokesperson Pete Piringer said 75 firefighters responded to the blaze in the early morning hours of July 8 in the 12500 block of White Drive.
He said firefighters reported heavy fire and partial collapse when they first pulled up to the scene early this morning.
Family of four, who lived at the house, were out of town. The fire caused an estimated $600,000 in damage, according to fire officials.
One firefighter was evaluated for heat exhaustion.
12512 White Dr, N Springbrook; Cause, undetermined; Damage, >$500K; family not home; EMS eval 1FF w/ heat exhaustion pic.twitter.com/GNAULbk2Xo

— Pete Piringer (@mcfrsPIO) July 8, 2015
@MCFRSNews Batt Chief Kelvin Thomas briefs media RE early morning White Dr house fire & fact family was located pic.twitter.com/oMC0zFBQV1

— Pete Piringer (@mcfrsPIO) July 8, 2015
Update White Dr., North Springbrook, fire investigators have accounted for the family they are out of town pic.twitter.com/MRA2flQHli

— Pete Piringer (@mcfrsPIO) July 8, 2015
12500blk White Dr, N Springbrook, occupants/family of 4 remain unaccounted, Major structure damage, 75 FFs, no injury pic.twitter.com/5K9kqyUXnq

— Pete Piringer (@mcfrsPIO) July 8, 2015
U/D White Dr, N Springbrook, bulk of fire knocked, significant damage, cars in driveway, occupants remain unaccounted pic.twitter.com/1Vmle41vL2

— Pete Piringer (@mcfrsPIO) July 8, 2015
Update – White Dr., Colesville, bulk of the fire is knocked down, W/ many hotspots

— Pete Piringer (@mcfrsPIO) July 8, 2015
Update- White Dr, 2-sty single family house, heavy fire upon arrival, partial collapse, most of house searched & status of occupants unknown

— Pete Piringer (@mcfrsPIO) July 8, 2015
12512 White Dr, Colesville, single family house, heavy fire, roof collapse, occupants unaccounted pic.twitter.com/2Eh8CjQskJ

— Pete Piringer (@mcfrsPIO) July 8, 2015
CORRECTION – 12514 White Dr, Silver Spring, Springbrook area, FFs engaged in firefight, heavy fire conditions

— Pete Piringer (@mcfrsPIO) July 8, 2015