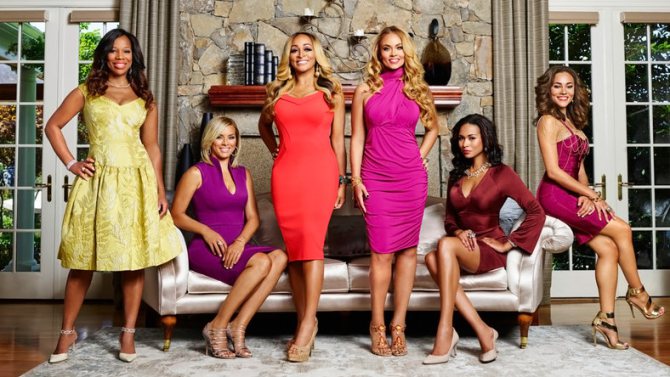 Housewives Have Feelings Too (Sort of): Real Housewives of Potomac Week 5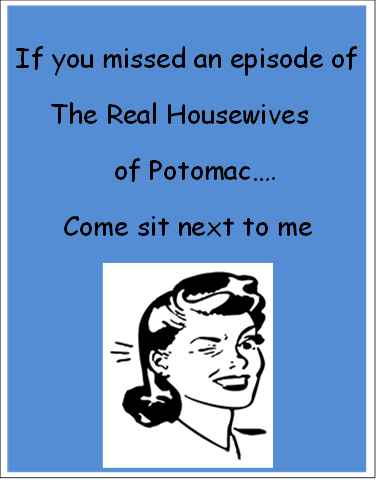 Week 5 of RHOPo and we are pretty sure Karen's whole pilot's license idea from last episode flew the coop. The only air she's getting is under the high kicks from the self-defense class she attended with daughter, Raven.
After they both were declared bad asses, Karen deteriorated into a weepy mess right there on the bench of that stinky gym.
She got all sensitive and clutched her amply enhanced bosom as the camera closed in on her sad, mama face. Then she proceeded to utter the phrase handed down from centuries of moms sending their babies off to college.
"Honey, (wipes away a tear) I got you a stun gun. It's hot pink."
I don't remember seeing that item on the Bed, Bath and Beyond stock your dorm list. My friends, this is why I watch, there is so much wisdom in the 20854.
For the 1000th time since the premiere, Ashley told us she is opening a restaurant. Not just any old restaurant, mind you. Modern Australian, mate. Since the only Australian food I've heard of is vegemite from an 80's song, I googled it.
After some reading, I concluded that vegemite paste is actually the highlight. Unless you rule out the possibility that there are hordes of people clambering for Witchetty grubs and emu.
Anyhoo, Ashley is determined to make her own money and not "piggyback" off her husband. She is an independent woman, dammit. Who cares if he's fronting the money for the restaurant that is going to make her independently wealthy? Right?
Poor Ashley, featured in the Washington Post yesterday, just can't understand where all that gold digger nonsense comes from. So unjust.
Ashley and her hubby took us on the wild ride known as the interview for Ashley's personal assistant. Not only were these poor people required to make a drink on the spot, but we got a glimpse of the business savvy Ashley is about to unleash on the unsuspecting world of fine emu dining.
We immediately intuit that Ashley is a seasoned professional and can handle an interview just fine thankyouverymuch. Actual interview questions included:
"Taylor Swift or Katy Perry?"
"Do you have bunions from your heels?"
"What's the wildest thing you've ever done?"
Ummm…
Then it got worse. A dance session, admissions of public PDA in an alley and passing around an authentic Australian didgeridoo horn instrument for everyone to blow into.
The same one, people. They all played the same one.
So, each of the applicants basically swapped spit and may not even get a job out of it—only an infectious disease which insurance won't cover because they are unemployed.
Now it was Ashley's turn to show her soft, squishy side. We got to meet her brother as well as their single mom (AKA the beneficiaries of Ashley's new independent wealth that her husband financed).
They played some billiards and had a real Hallmark moment right there.
Except, mom doesn't need Ashley. She's a bona fide pool shark. Minnesota Fats, in a sundress from Sears, swiggin' Patrone and using slang from the Urban Dictionary.
I might like mom better than Ashley.
Meanwhile, back at Karen's, Gizelle stopped by for a little gossip session. Katie's out-of-body, middle- finger-waving break down at Ashley's gauche cash bar birthday bash had the ladies stumped.
Karen speculated about the "D" word.
Aren't they kind, not saying out loud they think Katie is dumb?
Ooops, I take that back. Turns out they were talking about drugs.
Oh, THAT "D" word.
Is it possible I am dumber than Katie for not getting this?
Apparently, Mother Nature doesn't like gossip. Each disparaging remark was interrupted by a massive thunder clap, darkening the room and the trashy mood.
BRAVO are you listening? The universe is saying enough with these Housewives already.
So, under threat of being literally struck by lightning, Gizelle decided they should sit down with Katie soon face to face.
Ahh, the intervention; another Housewive franchise staple.
Robyn and the vowel challenged, Charrisse, had their own bonding moment sans interference from the Doppler. Seems Mother Nature was totally on board with bashing men and lamenting the state of their marriages. Charrisee proudly displayed the text she sent her husband notifying him of divorce proceedings.
Ouch.
So what were the husbandless Robyn and Charrisse to do with a couple's only invite on a yacht with Karen and the black Bill Gates? It didn't matter because the only thing anyone will remember is that Ashley's husband tried to take off his pants on that yacht deck in the middle of all the champagne and fanciness.
The etiquette gods and Karen, their Zeus, were not pleased. Heads would roll, zippers would be fastened and the balance of the world would be restored.
Our little Katie prattled on about her love of those zany Australians with no shout out to Crocodile Dundee or anything.
Now that's rude.
Buckle up! Next week is the infamous series vacation with the promised intervention, a pop in from an uninvited husband, surfing in Bethany and more.