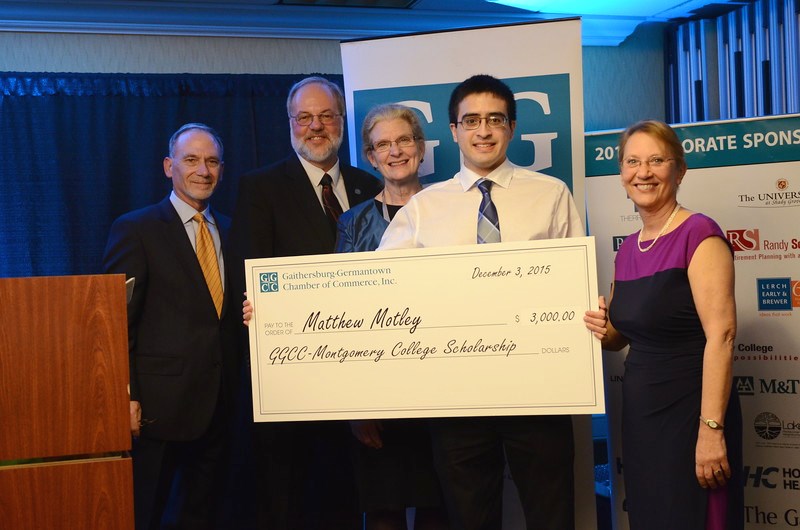 How the Gaithersburg-Germantown Chamber Supports Its Local Community
"The world is hugged by the faithful arms of volunteers." -Terri Guillemets
The Gaithersburg-Germantown Chamber of Commerce (GGCC) is a non-profit organization dedicated to giving back and supporting the community. Helping those in need has long been seen as an altruistic behavioral model and a model the GGCC values.
Through cash donations and various collections, the GGCC supports Nourish Now & Manna. During the winter, we collect new toys for the U.S Marine Corps Toys for Tots Foundation, which aids less fortunate children in the area.
In December 2015, scholarships totaling $12,000 were award to four Montgomery College students through the Montgomery College Scholarship Foundation. For 15 years, the GGCC, in support with Chamber Member companies, has supported tomorrow's future leaders with means to help them aspire and reach their dreams. Additionally, we have an endowment with the college that currently stands at $65,900 towards our goal of $100,000.
We have been able to provide area teens with a priceless opportunity to gain meaningful work experience. Through the Montgomery County Summer Jobs Program & the Northwest High School's Internship program. And we volunteer to teach financial literacy to middle school students through Junior Achievement of Greater Washington Area & volunteer annually as a judge in their essay competition.
We have an established Non-Profit Sector Group, a network of non-profits & business partners dedicated to supporting GGCC's non-profit members. This program provides our non-profit members an opportunity to gather and share best practices, discuss common concerns and find ways to partner so that each group increases the value of their unique offering while creating a stronger and more effective local community.
Annually, we host our Public Safety Awards, which honors the brave actions of our local law enforcement and fire and rescue personnel. This year, we honored 53 of the County's finest public safety officials. This program provides the business community with an opportunity to publicly thank those who help maintain the quality of life in the Gaithersburg and Germantown areas.
Every fall we host a non-profit showcase where our non-profit members have the opportunity to show our members the great work they do in our community and to solicit support from our Chamber members.
Through the CVC-MC, we actively participate in the Montgomery County Public Schools Department of Family and Community Partnerships Back to School Drive. We believe it is essential for students to have the appropriate equipment to be successful.
In addition to the direct service and support provided by the Chamber, the Chamber takes an active role and volunteers its time with the following County projects: Fix 270 Now Coalition, the Corridor Cities Transitway Coalition, the Great Seneca Science Corridor Implementation Advisory Committee & Montgomery Moving Forward Leadership Group in effort to preserve the economic health of our community and to create a more business friendly environment for Montgomery County and the State of Maryland.
The Chamber's Executive Director also volunteers her time as the Committee for Montgomery Board Vice-Chair; on the Montgomery County Arts & Humanities Council Board of Directors; as the Secretary and Treasurer of the Germantown Alliance Board; she participates on the Asbury Methodist Village Board of Governors / Asbury Community Governance Committee & the Quality Council-Holy Cross Germantown Hospital.
The Chamber's Director of Marketing has been a CVC-MC Board Member since 2008, serving as the VP of Communications for five of those years. She also sits on the MCPS Business Management and Finance Advisory Board & has been an active member of the Gaithersburg Book Festival committee for eight years.
We believe anyone who volunteers will feel better emotionally, physically, and psychologically. The GGCC is grateful to have the opportunity to support these organizations and share our story with you.
Learn more about us at www.ggchamber.org.