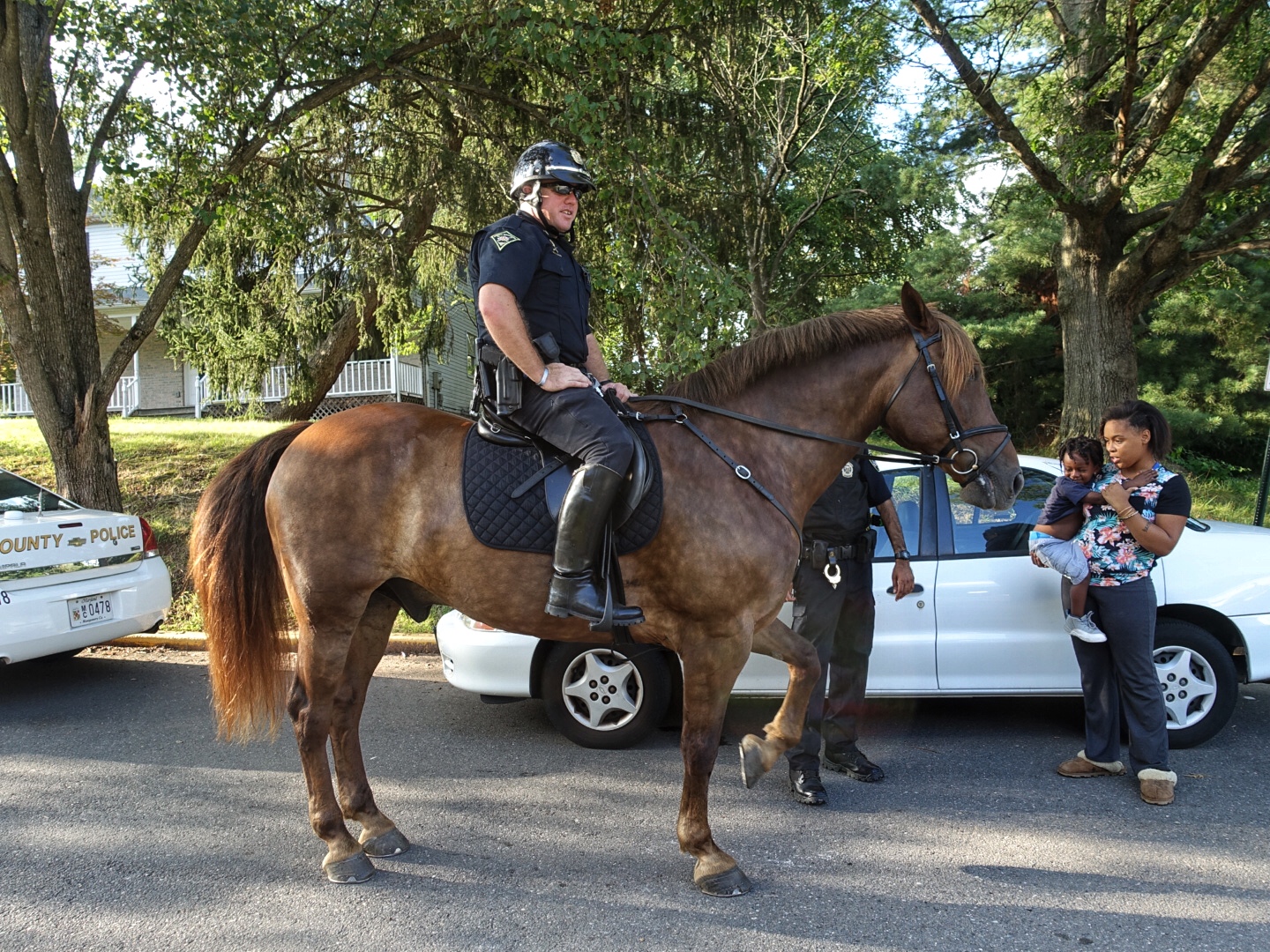 Hundreds Celebrate National Night Out in Montgomery County (VIDEO & PHOTOS)
Hundreds of residents celebrated National Night Out with police officers around Montgomery County on August 2nd.
Police Spokesperson Lucille Baur said County Executive Ike Leggett, Police Chief Tom Manger and Fire Chief Scott Goldstein traveled to five different communities as part of a caravan on Tuesday night.
The county officials began their community visits in Olney, which Baur said had huge crowds, as always. In Saybrooke, she said, community members shared messages of support on poster boards for both the county and city of Gaithersburg police.
According to Baur, community members who participate at local National Night Out events are supportive of the police and the work officers do to keep our local communities safe.
County Executive Leggett visiting members of Keeping Seniors Safe Team at Fair Hill Plaza in Olney #NationalNightOut pic.twitter.com/GfoAo1TBcH

— Montgomery Co Police (@mcpnews) August 2, 2016
Officers from 4th District visiting with kids at Mid-County Community Rec Center in Aspen Hill #NationalNightOut pic.twitter.com/RfeWmoZBJA

— Montgomery Co Police (@mcpnews) August 2, 2016
Kids are loving McGruff who's taking a bite out of crime in East County pic.twitter.com/FfqgiiLG5j

— Marcus Jones (@3dcaptain) August 2, 2016
Great 2 be w/ @tomhucker @marc_b_elrich @MontgomeryParks @MontgomeryCoMD & others 2 enjoy Natl Night Out in E County pic.twitter.com/JzpUdgyaS2

— Jackie DeCarlo (@jacqdecarlo) August 2, 2016
Coffield Community Center with a great down county turnout for National Night Out!! pic.twitter.com/Luuht5Ntbs

— MCFRSNews (@MCFRSNews) August 3, 2016
Washington Grove / HOC National Night Out w/ @MCFRSNews and McGruff. Have fun kids! pic.twitter.com/qPstq4v2Rs

— 6D Commander (@MCPD6DCommander) August 2, 2016
National Night Out, Gaithersburg MD, great turn out on a beautiful night. pic.twitter.com/j9AwDj4EMI

— MCFRSNews (@MCFRSNews) August 2, 2016
Quince Orchard section of MoCo see a great turn out for National Night Out. pic.twitter.com/ee35gB8m7t

— MCFRSNews (@MCFRSNews) August 2, 2016
National Night Out in Scotland community of Potomac. #NNO2016 pic.twitter.com/l1rslRAd03

— MyMCMedia (@mymcmedia) August 3, 2016
Community policing at its best during tonight's National Night Out events in #Rockville #NNO2016 pic.twitter.com/b4c1vOEvMT

— Rockville 11 (@Rockville11) August 3, 2016
We are now at Saybrooke visiting with folks. Come on out! #NNO2016 pic.twitter.com/yKimsfuKrO

— Gaithersburg Police (@GPDNews) August 2, 2016