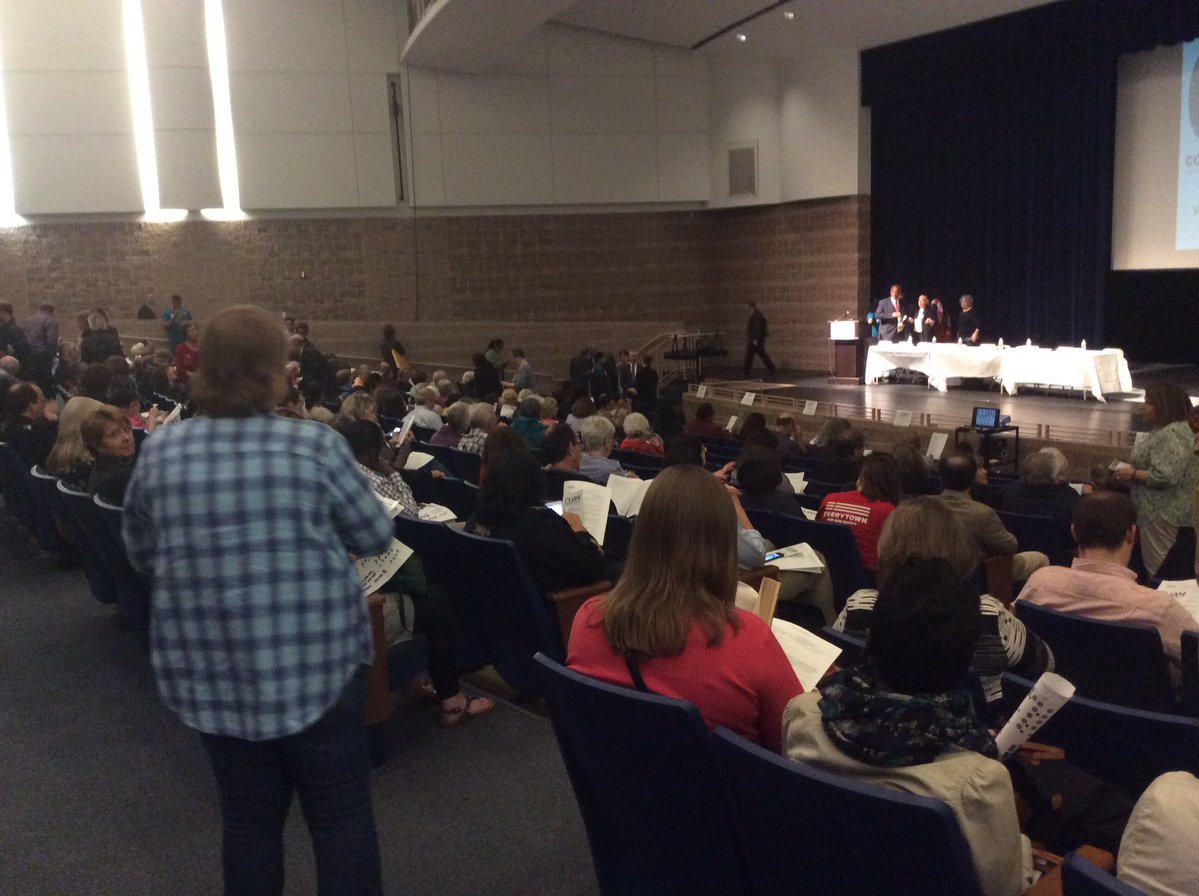 Hundreds Gather in Bethesda for the Launch of Communities United Against Hate (VIDEO)
On the same day that some residents remembered the millions of lives lost during the Holocaust, a new group standing up against bigotry launched.
The Communities United Against Hate (CUAH) of Montgomery County held its first rally at Bethesda-Chevy Chase High School on Sunday evening.
"We're bringing people together," said Paul Tiao,  president of CUAH Montgomery County. "People who have been deeply involved in fighting discrimination, addressing hate incidents and hate crimes; we're putting them together to work collaboratively to fight this problem more effectively."
According to Tiao, CUAH was inspired by the recent hate-based threats and incidents in the community.
"In the last five months, there's been a significant increase in the number of biased incidents in the County," said Tiao. "It's affected many members of the community whether it's bomb threats to Jewish institutions, whites only signs, attacks on Sikhs in different parts of the country, attacks on Muslims and hostility towards the LGBTQIA persons."
Elected officials from across the state and county were also in attendance including Maryland Attorney General Brian Frosh who was the keynote speaker.
"There has been an increase in hate-based incidents since the November election and our office has addressed it in a number of different ways," Frosh said. "I'm here to about what can be done, what we're doing and what hopefully, these people can help with."
Here at Bethesda-Chevy Chase HS for the launch of @cuahmcmd @mymcmedia pic.twitter.com/ll3W6h3mOA

— Mitti Hicks (@MittiMegan) April 23, 2017
Here's a look at the room for the launch of @cuahmcmd @mymcmedia pic.twitter.com/JtuRk2TmAs

— Mitti Hicks (@MittiMegan) April 23, 2017
Maryland Atty. General @BrianFrosh will deliver the keynote address and then a panel discussion featuring various #MoCo orgs @mymcmedia pic.twitter.com/OICtUIQ4yY

— Mitti Hicks (@MittiMegan) April 23, 2017
Panel discussion happening now about the importance of @cuahmcmd @mymcmedia pic.twitter.com/7i1cdQi4zW

— Mitti Hicks (@MittiMegan) April 23, 2017
Just finished the panel discussion now attendees will have the chance to network with the dozens of orgs that make up @cuahmcmd @mymcmedia pic.twitter.com/SlIbywGoQM

— Mitti Hicks (@MittiMegan) April 23, 2017
.@cuahmcmd organizers say more than 50 community-based groups have joined. @mymcmedia pic.twitter.com/OduMdRnWGS

— Mitti Hicks (@MittiMegan) April 23, 2017