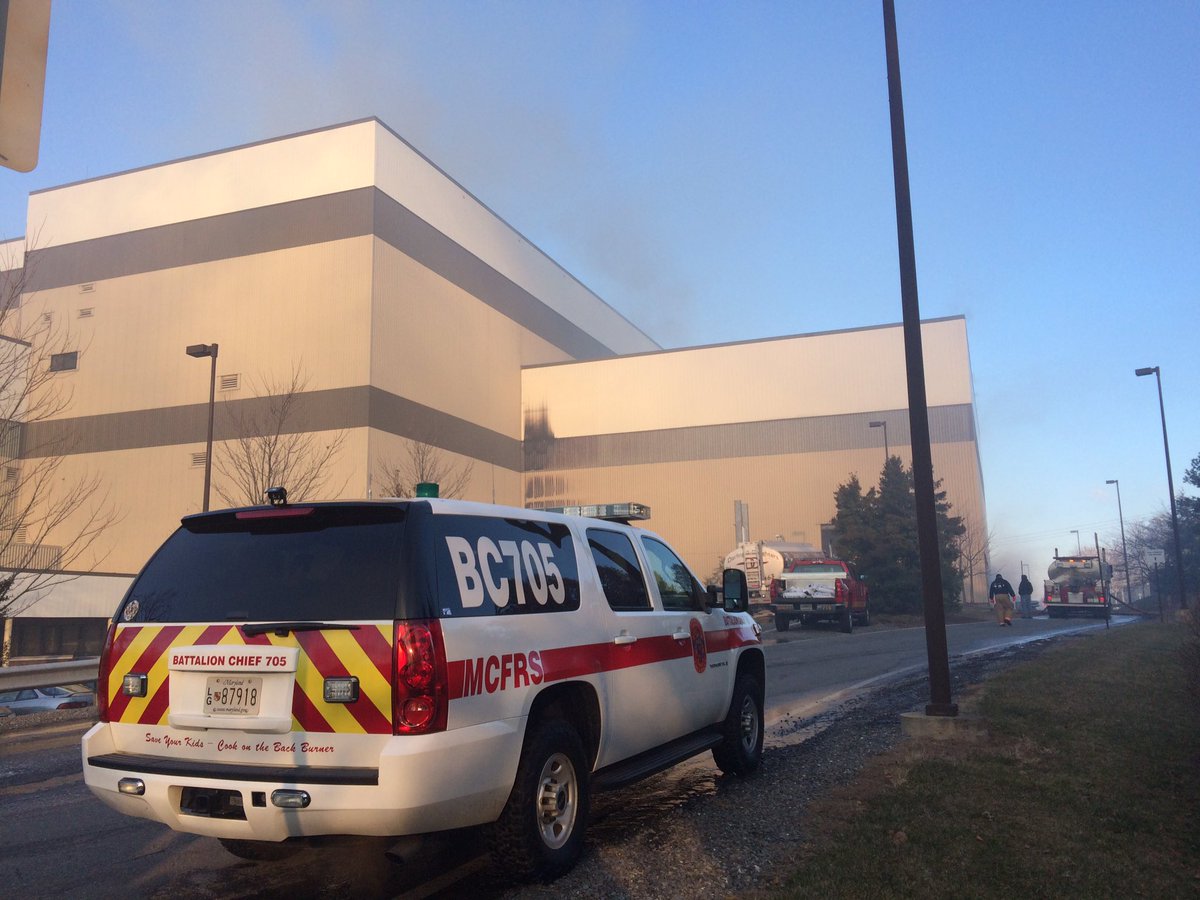 Hundreds of Firefighters Battle Blaze at Incinerator Plant in Dickerson
Hundreds of firefighters, from every battalion in Montgomery County, have been working for days to extinguish a fire at the Resource Recovery Facility, located at 21204 Martinsburg Road in Dickerson.
The fire began on Dec. 8th in the tipping building, which is the area where trucks drive in to dump the waste and then drive out. Although the fire is contained, Fire and Rescue Services spokesperson Pete Piringer said it may take several more days before it is put out.
That means residents may see smoke in the sky.
County officials are advising people in the immediate vicinity of the facility, who are experiencing asthma, chronic lung or heart conditions to minimize exposure by either staying indoors or to avoid the area. If you experience increased symptoms, you should contact your health care provider.
The fire is not impacting single-family residential curbside trash pick-up, however, commercial customers (including for multi-family properties) will temporarily be diverted to other facilities. The Shady Grove Processing and Transfer Station located on Shady Grove Road will continue to be available for resident use.
For more information, residents can visit the Division of Solid Waste Services website or call MC311 by calling 3.1.1 or 240.777.0311.
Sunday Update – RRF Dickerson, MCFRS FFs continue firewatch, monitoring & containment working w/ DEP & facility mgt on protracted incident pic.twitter.com/ifHGtL53rL

— Pete Piringer (@mcfrsPIO) December 11, 2016
Saturday – >2doz MCFRS FFs are assisted by MoCo DEP & facility mgt staff containing fire, monitoring conditions & planning for extended ops pic.twitter.com/nAsK8wgg1k

— Pete Piringer (@mcfrsPIO) December 10, 2016
Resource Recovery Facility & Incinerator Plant – MCFRS crews have been on scene since Thus 12/8 & expect to be here for an extended period pic.twitter.com/ukpXrkE4VE

— Pete Piringer (@mcfrsPIO) December 10, 2016
U/D – Dickerson, portions of building have been removed to aid in ventilation, in effort to redistribute trash piles to aid extinguishment pic.twitter.com/wt68mjcjN7

— Pete Piringer (@mcfrsPIO) December 10, 2016
More..Dickerson RFF Martinsburg Rd, >40hrs continuous MCFRS operation since Thus eve (12/8)…MoCo DEP (environmental protection) monitoring pic.twitter.com/hXHmPGpdBk

— Pete Piringer (@mcfrsPIO) December 10, 2016
Update – RRF Martinsburg Rd, Dickerson 1p – >2 doz MCFRS FFs working on containment & extinguishment efforts today, protracted operation pic.twitter.com/0Fz0uVFNSB

— Pete Piringer (@mcfrsPIO) December 10, 2016
Martinsburg Rd – Collectively hundreds of MCFRS FFs (rotating) have been engaged for >36hrs containing & extinguishing trash fire at RRF pic.twitter.com/9n8nBGiGyu

— Pete Piringer (@mcfrsPIO) December 10, 2016
Martinsburg Rd, RRF, portions of exterior siding removed for exterior fire suppression to support crane operations & increase visibility pic.twitter.com/nZHzIAAQXd

— Pete Piringer (@mcfrsPIO) December 10, 2016
Martinsburg Rd – UPDATE – Collectively hundreds of MCFRS FFs have been engaged for >24 hrs containing & extinguishing trash fire at RFF pic.twitter.com/7DCdPfwUv2

— Pete Piringer (@mcfrsPIO) December 10, 2016