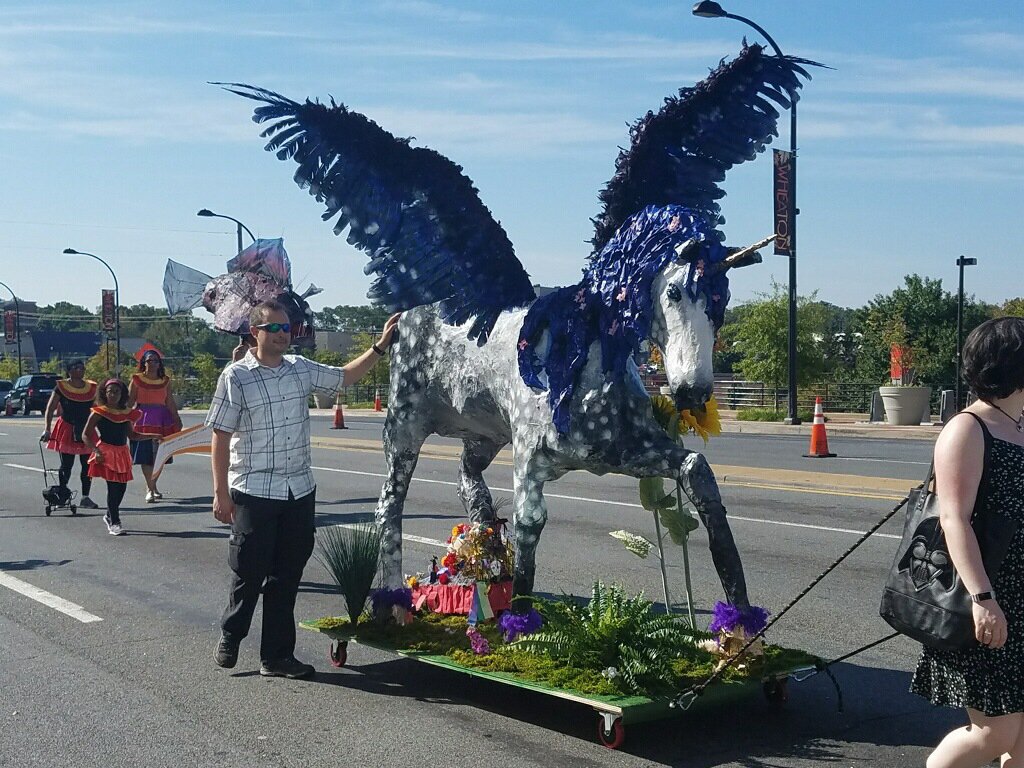 Hundreds Turnout for Wheaton's First Arts Parade
UPDATED: Organizers with Wheaton Arts Parade said it wasn't easy to convince the Maryland Department of Transportation to shutdown a portion of Georgia Avenue but in the end, they succeeded.
Hundreds of residents and artists from the community gathered in downtown Wheaton on Sunday for Wheaton's first arts parade.
"You never know when you do something for the first time how it will turn out," Dan Thompson, parade co-organizer, said. "To look down Georgia Avenue […] it was amazing."
The goal of the parade, according to organizers, was to celebrate the arts and entertainment in Wheaton, and the diversity of artists in the area.
There were more than 50 entries which included poets, painters, dance groups, writers, and singers.
In order for parade participants to "march for art," there was a catch. Artists were required to carry, push, or wear art.
The parade began on the intersection of Georgia Avenue and Pritchard Street and ended at the Wheaton Veterans Urban Park where onlookers were greeted by more performances thanks to two stages and a tent to screen local films set up.
"For a first time event, it was an incredible experience," Jim Epstein, parade co-organizer, said. "Wheaton is an arts and entertainment district and we have a desire for an Arts Center. We hope we can make this an annual Fall event for the community so in 2020 when the [Wheaton] Triangle is complete, we will be ready."
Plans for next year's festival is already in the works. Anyone interested in volunteering or participating in the parade can email organizers at wheatonartsparade@gmail.com.
Homage to Frida Kahlo at the Wheaton Arts Parade! pic.twitter.com/C3kYFZxhOf

— George Leventhal (@georgeleventhal) September 24, 2017
What a parade!! Great outpouring of artistic talent & community pride in @WheatonMD during Wheaton Arts Parade Sunday. Loved Frida's Bed! pic.twitter.com/RPNwGn18oR

— One Montgomery Green (@OneMontgomeryG) September 25, 2017
Creativity was on display at the Wheaton Arts Parade today. Take a look: pic.twitter.com/uUh5CwLKXo

— Montgomery County MD (@MontgomeryCoMD) September 24, 2017
Excited to walk in the Wheaton Arts Parade this morning. festival runs till 6pm #WAP17 pic.twitter.com/QjbuOI1hD6

— Al Carr (@alfredcarr) September 24, 2017
HAPPENING NOW: Wheaton Arts Parade in Wheaton! #WAP17 #ArtsParade pic.twitter.com/DeRs6KVBNj

— Montgomery Parks (@MontgomeryParks) September 24, 2017