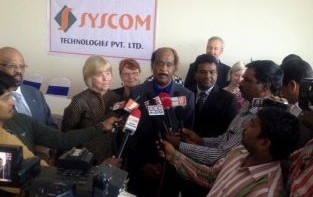 Ike Leggett in India (PHOTO)
Montgomery County Executive Ike Leggett is interviewed by India media after cutting the ribbon for the new office dedication of a Montgomery County company, Syscom Technologies, Inc., in Hyderabad, India.
Joining him are County Councilmember Nancy Floreen, Deputy Director of the Department of Economic Development Sally Sternbach and the CEO of Syscom, Lax Chepuri.
You can find more information about the delegation's business trip to India on the county's website.