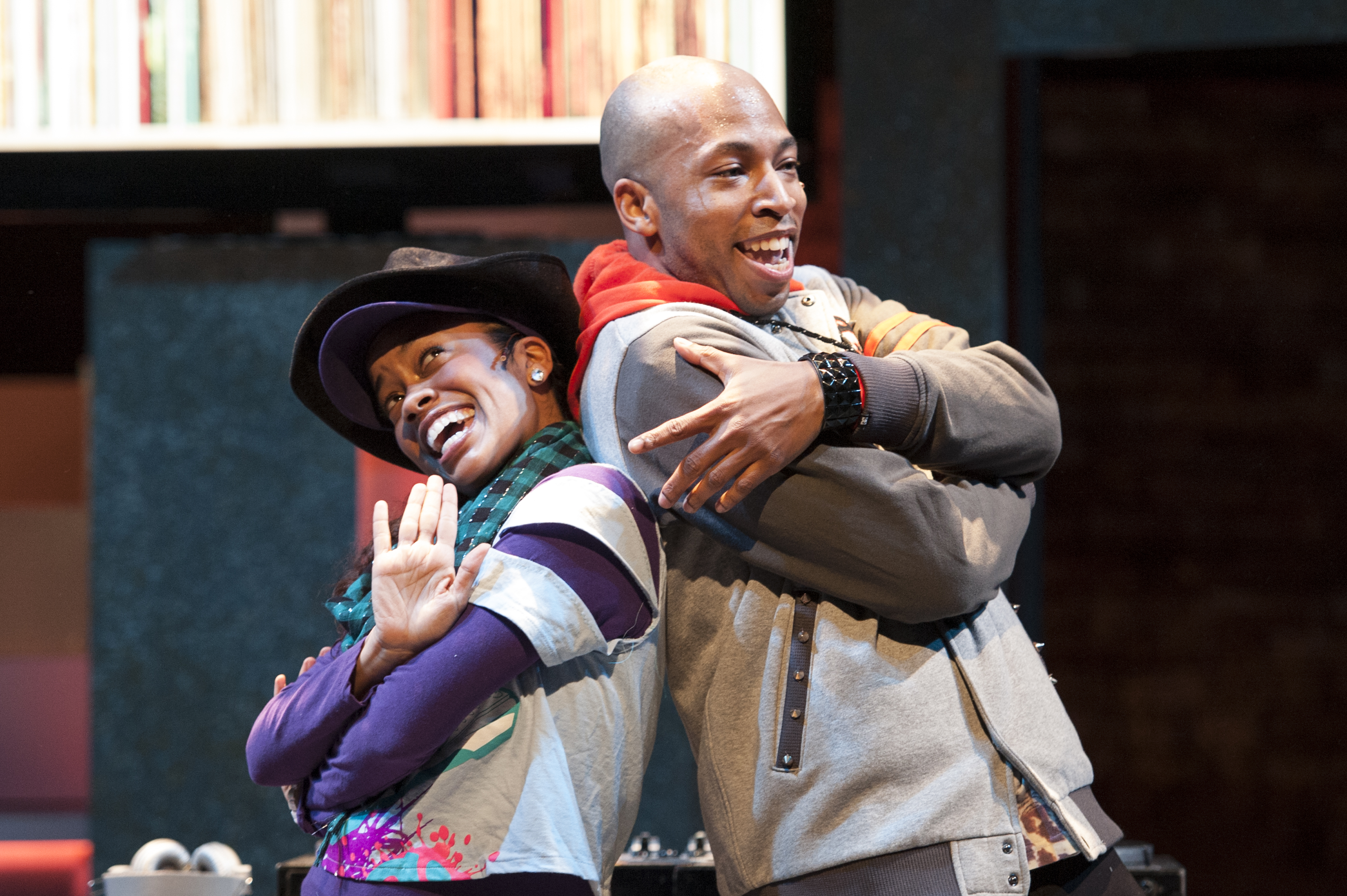 Imagination Stage Presents Cinderella: The Remix (Photos & Video)
Imagination Stage presents the world premiere of Cinderella: The Remix. The play runs now through May 25 on Saturdays and Sundays at 1:30 and 4:30 p.m., with occasional 11 a.m. performances. Appropriate for ages 5-10. Tickets start at $10 and may be purchased by calling 301.280.1660 or online at www.imaginationstage.org.
Cinderella: The Remix is the story of a young girl living in the basement of her step-mama's house, mixing beats and dreaming of becoming a DJ. But in Hip-Hop Hollywood, girls are not allowed to DJ and "fronting" – using pretense to impress – is a crime. When the super-famous J Prince announces auditions for his Jam, Cinderella disguises herself as a boy to get the gig. With some help from her Fairy Godmother Hoperah, Cinderella DJs the Jam (at least until midnight). Will she ever be allowed to spin as her true self? Or will Cinderella be convicted of fronting and sentenced to solitary confinement with only the music of Kenny G for company?
Imagination Stage received a $25,000 grant from the National Endowment for the Arts to support the creation and presentation of Cinderella: The Remix. This is the second NEA grant given for a collaboration between Imagination Stage and playwright Psalmayene 24 (his P.Nokio: A Hip-Hop Musical also earned a $25,000 award).
Photos courtesy Imagination Stage.

Enjoy this short video from Imagination Stage

Schedule of performances:
Public performances on Saturdays and Sundays at 1:30 and 4 p.m., with occasional 11 a.m. performances (April 19, May 3, May 10, and May 24)
Tuesday-Friday field trip performances
Special Opportunities:
Sensory-friendly performance: April 27 at 11 a.m.
ASL-interpreted performance: April 27 at 4 p.m.
The Children's Ball: May 10 at 4:30 p.m.
Friday night performance and dance party: May 16 at 7 p.m.
A limited number of $10 tickets are available for each performance by calling the Box Office, courtesy of the Jim and Carol Trawick Foundation. These tickets go on sale Monday mornings at 10:00 a.m. for that week's performances.
Directed by playwright Psalmayene 24 who has been recognized as one of the pioneers of hip-hop theatre. Psalm performed at the first NYC Hip-Hop Theatre Festival in 2000. His influential solo play, Free Jujube Brown!, was published in the first hip-hop theatre anthology, Plays from the Boo Box Galaxy: Theater from the Hip-Hop Generation. His first play for young audiences was Zomo the Rabbit: A Hip-Hop Creation Myth (2009), followed by P.Nokio: A Hip-Hop Musical (2012). These two productions, plus Cinderella: The Remix, make up The Hip-Hop Children's Trilogy.
Music composed and directed by Nick Hernandez.
Set designed by Ethan Sinnott.
Lighting designed by Zachare Gilbert.
Costumes designed by Kendra Rai.
Sound designed by Christopher Baine.