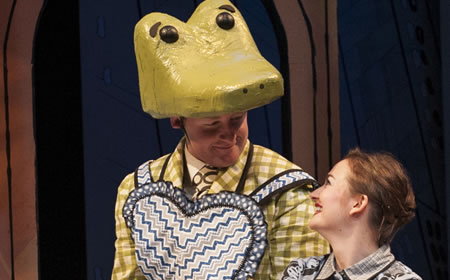 Imagination Stage Presents Lyle the Crocodile (Photos & Video)
Lyle the Crocodile
is playing now through January 10, 2014 at Imagination Stage, 4908 Auburn Avenue, Bethesda. An extraordinary crocodile that can tap dance, perform household chores, and rescue cats from burning buildings stars in the musical
Lyle the Crocodile
at Imagination Stage. Directed by Kathryn Chase Bryer and adapted by humorist Kevin Kling, this production featuring music by Richard Gray is wonderfully warm and witty and will win the hearts of young people this holiday season. Best for ages 4-12.
Lyle the Crocodile is based on the books by author and illustrator Bernard Waber. The Primm family moves into their New York City apartment only to find a crocodile in their bathtub! Lyle quickly becomes part of the family, but nasty neighbor Mr. Grumps has it out for the reptile, simply because Lyle is different. After a parade, a trip to the department store, and a stint in the zoo, Lyle saves the day and earns his place as a beloved friend and neighbor.
Enjoy this short video from Imagination Stage

Tickets start at $12 and may be purchased online at Imagination Stage or by calling 301.280.1660 or visiting the box office 10 a.m. – 5 p.m. daily.
Photo Credit: Margot Schulman
A musical by Kevin Kling and Richard Gray; Directed by Kathryn Chase Bryer
Cast:
Linden Tailor
Mathew Schleigh
Jobari Parker-Namdar
Ashley Fuoghty
David Landstrom
Brynn Tucker
Michael John Casey
Christopher Wilson
Phillip Reid
Production Team:
Kevin Kling & Richard Gray, Music & Lyrics
Kathryn Chase Bryer, Director
Deborah Jacobson, Music Director
Brittany Diliberto, Lighting Designer
Costume Designer Frank Labovitz
Choreographer Kurt Boehm
Sound Designer Neil McFadden