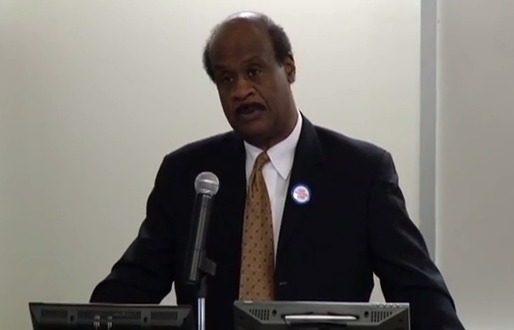 Improved Educational Services for County Veterans
Montgomery County Executive Isiah Leggett recently announced the launch of the Montgomery County Veterans Education and Benefits Partnership. The new initiative will provide improvements to education, social services, career development, benefits support and counseling to U.S. armed forces' veterans enrolled at Montgomery College campuses, the Universities at Shady Grove and Montgomery County's Johns Hopkins campus.
There are more than 54,000 veterans who call Montgomery County home. We owe them, and their families, the tools to successfully transition to and succeed in the country they have served and whose freedoms they have helped to preserve. As a combat veteran in Vietnam, I know firsthand the issues and needs facing the men, women and families of those who have served and fought.  Together as partners, we will do whatever we can to not only ease their transition, but to help them succeed, " said Leggett.
The Veterans Education and Benefits Partnership is an outreach program which will bring access to those individuals who need benefits and services at higher education campuses in Montgomery County. In addition, the Universities at Shady Grove recently opened the Office of Veterans Resources to provide additional support for veterans and their families. Montgomery College's Combat2College program provides academic and social opportunities, as well as support services for veterans, and active/reserve service members.
"One of our goals at the Commission on Veterans Affairs is to strive to make Montgomery County the most veteran-friendly jurisdiction in the nation – for both veterans and their families," said Montgomery County Commission on Veterans Affairs Chair Jerry Godwin.  "This education initiative is a key piece.  It will allow veterans to seamlessly integrate into academics and use their VA education benefits to do so.  Veterans of the Armed Forces are trained to be mission-ready, mission-focused and goal oriented.  By enrolling in school we have established a new mission for ourselves and this initiative will provide additional tools for veterans to meet that goal, complete the mission and graduate.  The Commission is very grateful to County Executive Leggett, who initiates and supports these initiatives and who leads by example."
Joining Leggett at the announcement were the following: University System of Maryland Associate Vice-Chancellor for Academic Affairs Dr. Stewart Edelstein, Maryland Department of Veterans Affairs Secretary Edward Chou, Montgomery College President Dr. DeRionne P. Pollard, Universities at Shady Grove Veterans Organization President Sgt. Walter A. Ramirez and Montgomery County Commission on Veterans Affairs Chair Jerry Godwin.
For more information about the program, contact Michael Subin in the Office of the County Executive at 240.777.2530.