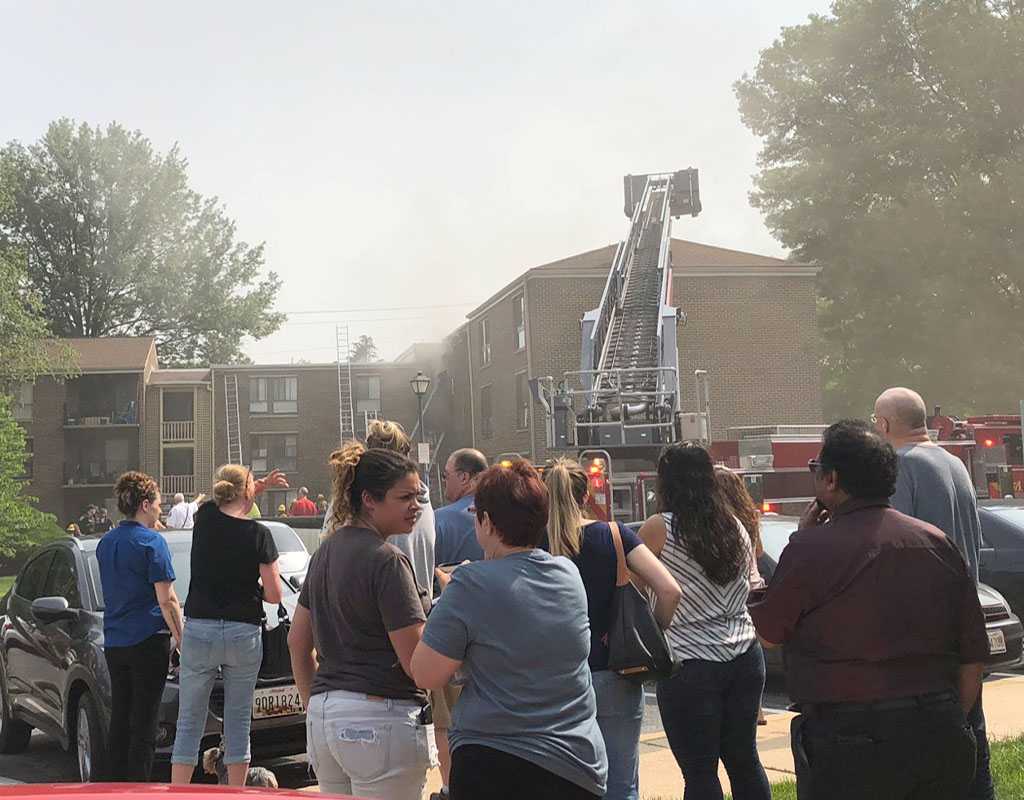 Incendio causado por un estéreo recalentado deja decenas de desplazados en Olney
Un incendio eléctrico, en un complejo de apartamentos ubicado en el 3226 de la calle Spartan en Olney, dejó decenas de desplazados de sus hogares, entre ellos más de 20 adultos, 10 niños, y varias mascotas, según lo confirmó Peter Piringer, portavoz del Departamento de Bomberos y Rescate del Condado de Montgomery.  
Por su parte, el jefe del Departamento de Bomberos, Scott Goldstein, dijo en su cuenta de Twitter que el sistema de emergencia 9-11 fue alertado sobre el humo en el edificio a eso de las 9 a.m. del día sábado, y tras el llamado más de 100 bomberos respondieron a la emergencia. 
UPDATE – 3226 Spartan Rd, Olney; Cause, overheated electronics/stereo, insufficient clearance; Area of Origin, floor level, main bedroom (stereo system on shelf surrounded by ordinary combustibles); Damage nearly $1M; Displaced, 20 adult/10 children/pets; 1civ & 1 FF NLT injury pic.twitter.com/TYg8JGvDWQ

— Pete Piringer (@mcfrsPIO) June 1, 2019
Piringer dijo que el incendio se dio en un dormitorio del primer piso del complejo de apartamentos, y la causa fue una avería en un aparato estéreo, el cual estaba ubicado en un espacio pequeño sobre un estante rodeado de combustibles.  
MORE…. Olney, MD @MontgomeryCoMD several passerby's saw smoke & assisted residents from the apartment prior to arrival of @mcfrs units, dozens of people likely to be displaced,@MCFRS_EMIHS transported several persons, incl 1 Ff all w/ NLT injuries – hear what Scott Teague says pic.twitter.com/aUU7SQQHZe

— Pete Piringer (@mcfrsPIO) June 1, 2019
Piringer dijo que varios residentes fueron examinados por el servicio médico EMS para determinar si tenían algún problema inhalación de humo. Según el portavoz del Departamento de Bomberos, un bombero y un civil sufrieron lesiones menores debido al incendio, y están siendo tratados. Así mismo, La Cruz Roja socorró a los residentes, y la compañía eléctrica PEPCO también estaba en la escena.  
Los daños provocados por este incendio se estiman en aproximadamente un millón de dólares, según Piringer. 
Incendio en Olney
Aquí hay una mirada en tiempo real del caos que provocó el incendio a la comunidad de Olney, el sábado por la mañana. El incendio causó cierres de carreteras en las zonas circundantes.
Traffic Advisory – Rt108 Olney Laytonsville Rd & Spartan Rd, Olney, @mcfrs FD activity, PD directing, Portions of road closed, some lanes BLOCKED pic.twitter.com/UUX7E5jVVY

— Pete Piringer (@mcfrsPIO) June 1, 2019
Camelback Village Apts, Spartan Rd, Olney, 3-Alarm Fire, 3-Stay apt bldg, electrical in nature, several NLT injuries, ~100 @mcfrs FFs on scene, Red Cross assisting, > 3 dozen residents displaced, Portions of Rt108 & Spartan Rd CLOSED pic.twitter.com/uKmJOEmBdv

— Pete Piringer (@mcfrsPIO) June 1, 2019
— Pete Piringer (@mcfrsPIO) June 1, 2019
Update – 3rd Alarm – Spartan Rd. Olney, apt bldg, electrical fire pic.twitter.com/vPmlrjeMEF

— Pete Piringer (@mcfrsPIO) June 1, 2019
— Pete Piringer (@mcfrsPIO) June 1, 2019
2nd Alarm Spartan Rd, Olney https://t.co/yMwhgLSWRv

— Pete Piringer (@mcfrsPIO) June 1, 2019
Update -2nd Alarm – 3200blk Spartan Rd, residential apartment building pic.twitter.com/1hOS1IjeIM

— Pete Piringer (@mcfrsPIO) June 1, 2019