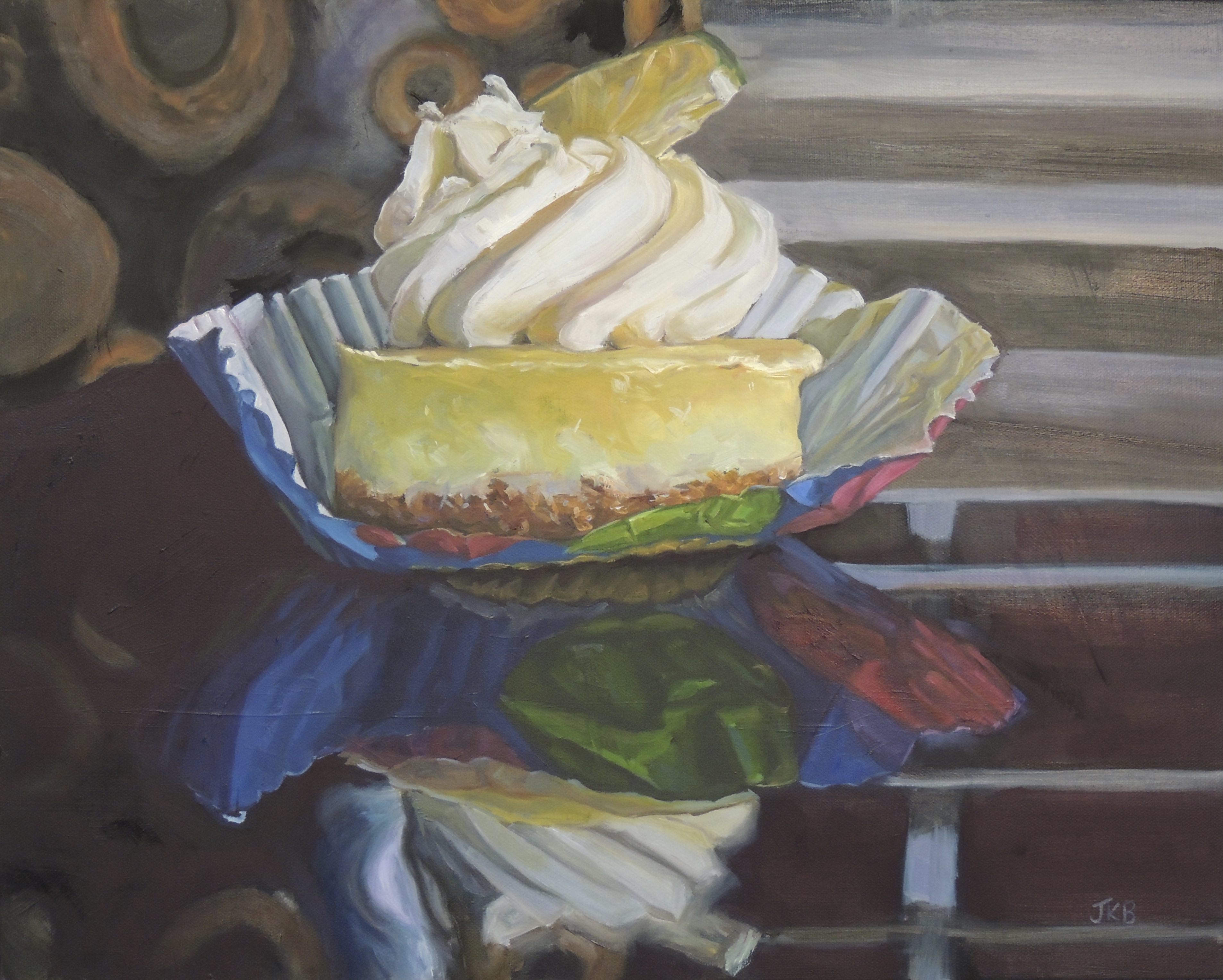 Inspiration Strikes in Aisle Two
Do I wait until inspiration strikes?  No way!  Instead, I go food shopping.
Every artist has his/her trigger, the item that gets the creative juices flowing.  I suppose I am lucky that I don't have to hike to the summit of a mountain or cross the desert to find inspiration.  I just need to take a trip to the Giant or Whole Foods.  If I am feeling fancy, I visit a local farmer's market or bakery.
Honestly, the lusciousness of food, in all of its gorgeous varieties is an endless form of inspiration.  From fresh, crisp produce to gooey, sweet baked goods, the bright colors and varied textures are dreams to paint.  My highest compliment comes from someone telling me, "your painting made me hungry."  This means that I was able to stimulate other senses, such as taste, touch, and smell with only a 2-D canvas and the color and texture of paint to guide me.
I am pretty sure I don't approach the grocery store or trending bakery with the same eyes as a left-brained person. Let me guess, you go in to the supermarket and blindly pull items off the shelves, while obediently crossing them off your list? Then you check out, both monetarily and mentally. Which, if it is not your thing, you should move on – done for the day, congrats, move on!
As a fine art food illustrator, I look at every shopping opportunity as a chance for inspiration for my next work of art. Yes, some days I am more open to inspiration than others. With that, certain stores awaken my vision, while others just have me grab what I need and leave.
So, what do I look for? Of course there is no pattern; however, there are ingredients that are always necessary for a great painting…color, contrast, texture, lighting, shadows the object creates. Does the subject matter make MY mouth water? My run-of-the-mill grocery trip could lead me to a great painting. Over the summer I was in Whole Foods Market and fell in love with the in-season, luscious heirloom tomatoes of all different sizes and colors.
Anytime I am somewhere new, either in my local area or abroad, I make it a point to scout out the latest local specialty bakeries and cuisine. Next month I am going to visit Napa Valley, Ca and I already can't wait to taste the wine and other local delicacies.  Perhaps a wine painting will come out of it, or I will find another fabulous Californian treat to render on canvas.
The best surprises are when friends or family momentarily share my vision and inspiration and show up at my door with an item that reminded them of me and think I would want to paint. I have had many great paintings that started that way, "Take a Chance" and "R.S.V.P" to name a few.
So, bottom line, next time your are doing your weekly grocery run, take a look around and see if something inspires you! And if you think it would make an excellent painting, please email me!  I love suggestions!