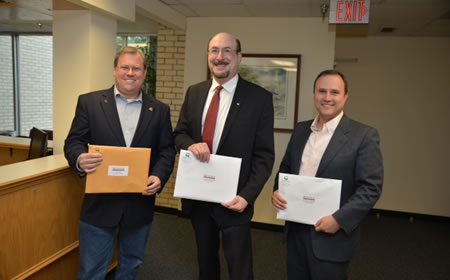 Interest in the Gaithersburg Election (PHOTOS)
Newcomers and some incumbents have picked up the information they need to become candidates in the upcoming race for the Gaithersburg City Council or to serve as the city's next mayor.
The city's election is set for Nov. 3rd.
Gaithersburg officials made the candidate packets available starting June 5, however the information can also be downloaded from the city's website.
The packet contains the petition for candidacy, which includes a form requiring the signature of 100 registered city voters to be considered a candidate. The first person to pick up a packet Friday morning was Darline Bell-Zuccarelli of Woodland Road in Gaithersburg. According to City Elections Clerk Lauren Klingler, Bell-Zuccarelli requested the candidate packet with information on running for mayor.
In March, Bell-Zuccarelli had a lawsuit against the city dismissed in federal court. In it she claimed the city violated her civil rights. The suit stemmed from the city's decision to condemn a 192-square-foot accessory structure located on her property she had wanted to make into a tiny house for her daughter. She sued the city in federal court and in March that suit was dismissed by the United States District Judge Peter J. Messitte.
Bell-Zuccarelli could not be reached for comment.
Another challenger who picked up a candidate packet for a seat on the city council is Robert Wu of 328 Grand Street in Gaithersburg. Wu had applied in 2014 for the seat now filled by Neil Harris. According to the application in 2014 for that post, Wu is an attorney and has served as Watkins Mill Town Center Homeowners Association.
According to Klingler,  Robert McKleer also picked up packets for the offices of both council and mayor.
A former candidate for District 17 delegate, Laurie Ann Sayles tells MyMCMedia she plans to run for Gaithersburg City Council. Sayles said she plans to announce her candidacy on Sunday at the Celebrate Gaithersburg festival. She picked up her candidate's packet on June 5th.
Also picking up candidate packets for the office of Council this week: Joseph and Jennifer Allen.
The Allens are married and reside in Lakelands with their two daughters. Joe Allen said both he and his wife are collecting signatures separately. He said they will go on a listening tour from now thru September and then they will decide which one is the strongest candidate to be on the ballot in November.  "I think there are a lot of issues,"  Jennifer Allen said, as she described how she enjoys giving others a "voice."
The terms of councilmembers Ryan Spiegel, Cathy Drzyzgula and Neil Harris are set to expire in November. Also up for grabs is the mayor's seat, currently held by Jud Ashman. Drzyzgula is not seeking reelection but the other three incumbents (Ashman, Harris and Spiegel) said they plan to run to keep their elected seats. The incumbents picked up their packets on June 5th.
You may remember Ashman, a former Councilmember, was appointed to the mayor's seat late last year after former Mayor Sidney Katz was elected to the County Council.  Harris, a Kentlands resident, was then appointed to fill Ashman's seat on the Council.
Councilmember Henry Marraffa's seat is not up in this election but he plans to enter the race. Marraffa said he's running for mayor. He picked up his candidate packet on June 9th.
Mandatory candidate training begins on June 11. The last day to file for candidacy is Sept. 18.
Election Day is Nov. 3. The polls will be open from 7 a.m. to 8 p.m. For more information about the city of Gaithersburg's election, visit the city's website here.
For voter registration information, contact the Montgomery County Board of Elections at 240.777.VOTE (8683) or visit www.montgomerycountymd.gov/elections.