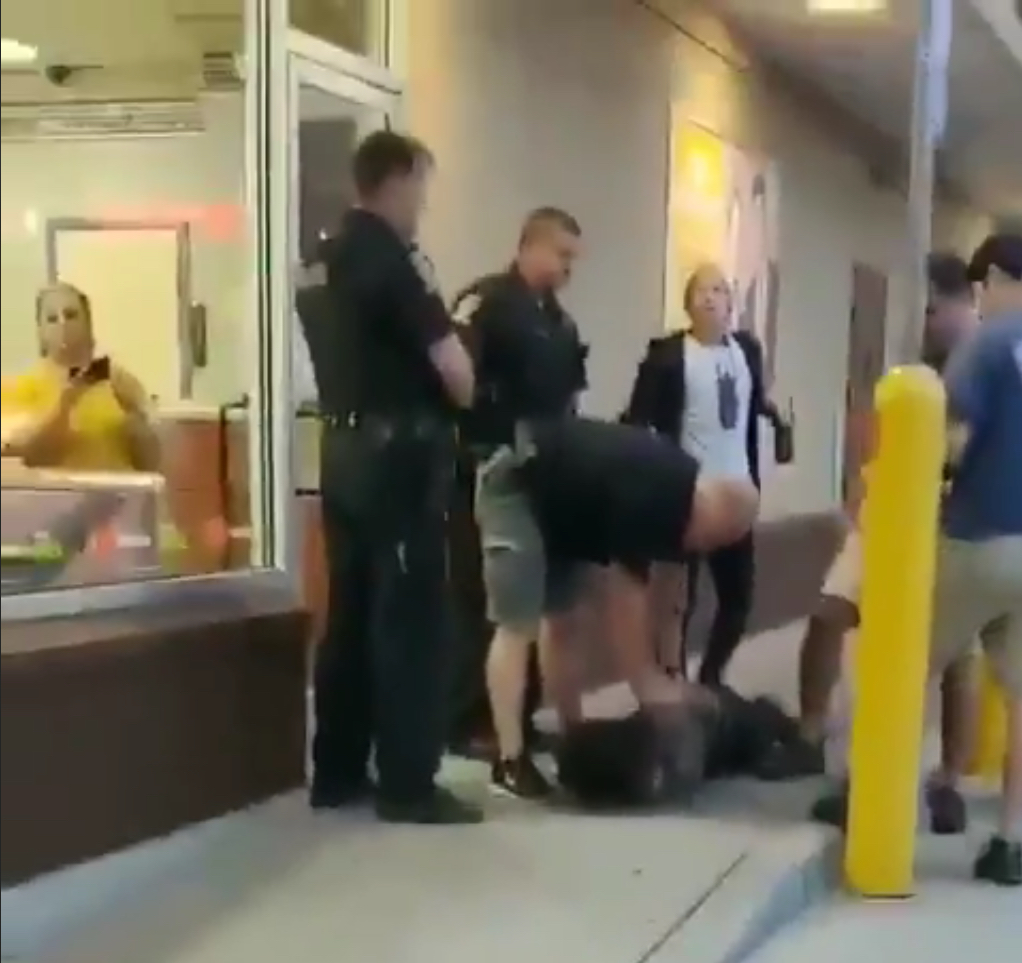 Investigación por video publicado en Twitter escala al Fiscal Estatal
La Policía del Condado de Montgomery discutirá, junto al Fiscal del Estado de Maryland, el uso de la fuerza durante un arresto en Aspen Hill.
Un video, grabado con un teléfono celular, muestra a un oficial de policía colocando la rodilla sobre un hombre postrado sobre la acera. En el video, también se puede escuchar la palabra "N" y otros epítetos verbales.
"Puede haber cargos criminales por esto," dijo el Capitán Thomas Jordan, portavoz de la policía, el viernes por la mañana. Quien añadió que "en su revisión preliminar no parece que el [oficial] usa la palabra N". Sin embargo, la policía revisará la escena del arresto con las imágenes grabadas de la cámara del cuerpo del oficial, dijo Jordan.
Otro video de un teléfono celular, publicado en Twitter por Kevin Lewis de ABC7, muestra aproximadamente un minuto y medio de la interacción del joven con la policía dentro de un restaurante McDonalds.
Nota: Algunos espectadores pueden encontrar el contenido del video molesto.
NEW: Yesterday video surfaced on Twitter showing an altercation between MoCo Police and a male suspect at the McDonald's in Aspen Hill, Md. In it, a male officer is seen driving his knee into the suspect's head.

I just obtained this clip, showing more of what led to that moment. pic.twitter.com/fRptFXsLQD

— Kevin Lewis (@ABC7Kevin) July 4, 2019
I've seen two highly disturbing videos of the Aspen Hill arrest & spoken w Acting Chief Jones. The incident is referred to Internal Affairs for investigation & referred to MoCo State's Atty for possible criminal violations.
I'll follow this closely. Witnesses: 240-773-6000 https://t.co/MkiQLVTwGK

— Tom Hucker (@tomhucker) July 4, 2019
"El Departamento de Policía del Condado de Montgomery toma en serio cualquier queja o evidencia de fuerza excesiva. Se ha abierto una investigación sobre este asunto y se investigará a fondo. Se proporcionará información adicional a medida que esté disponible ", escribió la policía en Twitter.
Por otra parte, el Concejal del Condado de Montgomery, Will Jawando, publicó que: "Es difícil imaginar qué circunstancias podrían hacer que el oficial use ese nivel de fuerza con un sospechoso que ya está en el suelo y restringido. He hablado con el Jefe Jones, y el departamento ya abrió una investigación interna".
Aquí la declaración oficial por parte de La Presidenta del Concejo del Condado de Montgomery Nancy Navarro, y el Vice-Presidente del Concejo Sidney Katz.
El video se encuentra en el siguiente tweet. Tenga en cuenta que algunos lectores pueden encontrar ofensivos los contenidos del video y el tweet.
Aye y'all get this viral for me my bro peso got slam for no reason fuck y'all MOCO police I swear y'all niggas pussy y'all wanna treat us like dogs we gonna treat y'all like dogs we gonna show y'all how we do police @mcpnews pic.twitter.com/rTixtw0wOf

— PLU$XANZ (@zxjustin_) July 4, 2019
We are aware of the video that was posted on Twitter regarding the use of force during an arrest by officers from the Montgomery County Police. The event occurred in the Aspen Hill Shopping Center in the 4th District. The officers involved have been identified.

— Montgomery County Department of Police (@mcpnews) July 4, 2019
It's hard to imagine what circumstances would prompt the officer to use that level of force with a suspect who is already on the ground and restrained. I've spoken to Chief Jones, and the department has already opened an internal investigation. https://t.co/3iXI1rj48N

— Will Jawando (@willjawando) July 4, 2019