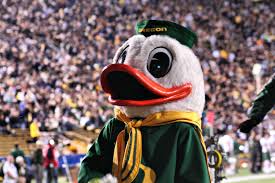 It Comes Down To This
College football is all about the new year. In the new year you have your biggest bowl games that everyone has been waiting for. This year, the new year meant something a little bit different but just as exciting. This year marks the inaugural College Football Playoff (CFP). Four teams were selected to play in two single elimination games to determine the first true college football champion. The teams that got selected are Alabama, Oregon, Florida State (FSU) and Ohio State. Oregon played Florida State on New Year's Day in the Rose Bowl game while Alabama played Ohio State later that evening in the Sugar Bowl.
In the Rose Bowl, Oregon drubbed FSU in a 59-20 win. Florida State turned the ball over 5 times and only scored 7 points in the second half. Going into halftime the Seminoles only trailed by 5, but the mistakes of the second half doomed them. The coincidence in all of this is that FSU has been plagued by turnovers all year but they have never played a team good enough to make them pay for it. Oregon not only converted the turnovers into points, but did it in historic fashion. The Oregon offense set a Rose Bowl record for points and total yards as they shattered the Seminoles 29 game win streak. The 59 points was the most Florida State allowed in a bowl game in school history!!!! The 39 point deficit was the most that a defending National Champion had lost by in the BCS era! The huge loss is making fans and analysts wonder if this whole season was a fluke for the Seminoles. After the game, very few Seminoles stayed on the field to shake hands. Most showed very poor sportsmanship and went straight to the locker room with their heads down. Oregon quarterback, Marcus Mariota, finished with 338 yards and two touchdowns.
In the Sugar Bowl, Ohio State erased a 15 point deficit against Alabama to advance to the National Championship. Ohio State was led by running back Ezekiel Elliot who totaled over 200 yards on the ground and had multiple touchdowns. Alabama was plagued by mistakes late in the game on offense and defense. Despite being favored coming into the game, Alabama played like they were the team with less talent. Ohio State had to start third string quarterback Cardale Jones because of injuries to J.T. Barrett and Braxton Miller. Jones played like he was a starter as he threw for 243 yards and a touchdown. On the other side of the ball, the Buckeyes were pesky all night. They were constantly getting in the back field and blowing up Alabama's running scheme. The Buckeye defense forced three interceptions and kept Amari Cooper under 100 yards receiving. Cooper was one of the Heisman candidates in the 2015 Heisman voting. Ohio State's secondary held him to his second lowest yards per catch average all year. Ohio State had complete control over Alabama as soon as the second half started. OSU head coach Urban Meyer now improves to 3-1 vs. Alabama. After the game Urban Meyer was asked how he will prepare for Oregon's 40 point win over FSU. He responded by saying, "Oregon won by 40? Whoa I gotta go, we gotta go get ready for that one." Now the media edited it a little because Oregon actually won by 39 but I believe it's just as impressive.
We finally have our National Championship set as Oregon and Ohio State get ready for battle. You can already tell this will be a great one. Yes, greater than Ohio State's Sugar Bowl win over the Crimson Tide 42-35. Yes, greater than the 59-20 Quack Attack displayed by Oregon. Hopefully Ohio State can prepare and execute better than Florida State so we can see a good game and not a blowout. Both of these teams are hungry for a championship and the only thing left to ask is "Who will be the first true national champion?"
The game is scheduled for Jan. 12 at 8:30 p.m.