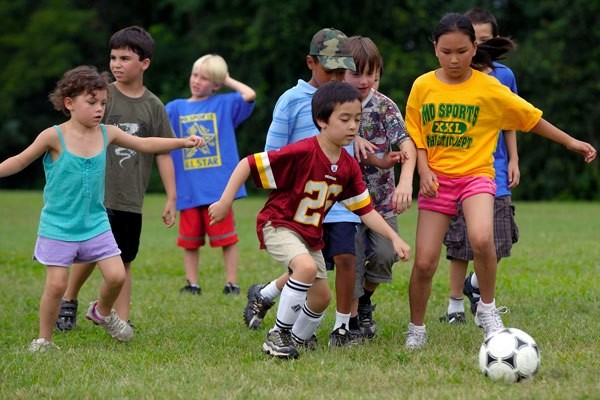 It's Not Too Late to Register for Camp in August!
The following are available now for registration:
Dramatic Kids for Ages 6-11
#347182 August 12-16 at Jane E. Lawton Community Recreation Center from 9:00 am – 3:00 pm $275. Kids will learn about theater and fine arts as they participate in storytelling, character development, costume design and other educational topics.
Horseback Riding Camp for Ages 8-15
#349074 August 12-16 at Camp Olympia from 9:15 am – 3:30 pm $430. Campers will enjoy riding twice a day, four times a week and will also swim every day. They will learn to lead, unsaddle, groom and bathe horses, as well as learn to clean tack and other various barn duties.
Horseback Riding: Sports, Horses and More for Ages 8-14
#349089 August 12-16 at Camp Olympia from 9:15 am – 3:30 pm $335. In addition to horseback riding, campers will swim, and participate in organized sports including soccer, basketball, gymnastics, and track and field.
Club Holiday Endless Summer for Ages 3-12
#347723 August 12-16 at Bauer Drive Community Recreation Center from 9:30 – 3:30 pm $175. #347725 August 19-23 at Potomac Community Recreation Center from 9:30 am – 3:30 pm $175
Keep the fun going with organized activities, sports, arts and crafts, games, special surprises and more. Bring a bag lunch, water bottle, and get ready to make new friends. Half day options and extended day are available.
Theatrical Teens for Ages 11-15
#347187 August 12-16 at Jane E. Lawton Community Recreation Center from 9:00 am – 3:00 pm $275. Teens will write their own dramatic sketches, learn improvisational techniques, and learn about designing sets and creating costumes. A $15 material fee due at the start of camp.
The Ultimate Boxing and Boot Camp for Ages 10-15
#347262 August 12 – 15 at Mid County Community Recreation Center from 10:00 am – 1:00 pm $150
#347264 from August 19 – 22 at White Oak Community Recreation Center from 10:00 am – 1:00 pm $150
From beginner students to advanced, campers will work on basic boxing technique, hand and foot coordination, and they will get a great boxer's workout while they learn discipline and gain confidence. There is no physical contact in this camp.
NEW! – Miracle League Soccer
#364284 September 8 –at South Germantown Recreation Park from 11:00 am – 1:00 pm (7 weeks skipping 9/15 for $55)
The Miracle League gives all children with challenges or special needs the chance to play soccer. Kids are assigned 'buddies' who assist them during the game where they each have the opportunity to kick the ball and score a goal.
Teens and Adult Soccer League TR
#360761 Sundays starting September 22 at the Montgomery County Recreation Offices from 12:00 – 3:00 pm (6 Sessions $40)
Soccer League For Teens and Adults, ages 18 & older, with Developmental Disabilities. Team pre-registration required. (Minimum 8, maximum 15 per team) for each Agency. A Registration Form must be submitted for each participant. Each agency must provide a Team Manager/Coach to oversee individual practices and Official League Game Days
Girls Field Hockey Clinic Now Available
Starting September 7, girls ages 6-13 can learn all about Field Hockey through the Koa Sports League Field Hockey clinic. Experienced field hockey coaches will lead this seven-week skills clinic for girls in grades 2 through 7. Players will meet for one hour on Saturdays to work on skills, drills and scrimmage opportunities. This clinic is perfect for beginners who need a review of the equipment, rules, and penalties, and for players with some experience. Participants will focus on fun, safety, and good sportsmanship. All players will need an outdoor stick, shin guards and a mouth guard. Field hockey approved eyewear is optional. Fee for 7 sessions is $125 and location will be announced.
#364165 for 2nd and 3rd Graders, Saturdays from 9:00 – 10:15 am
#364166 for 4th and 5th Graders, Saturdays from 9:00 – 10:15 am
#364167 for 6th and 7th Graders, Saturdays from 9:00 – 10:15 am
 For more information please visit www.montgomerycountymd/rec
Or call 240-777-6840 – Hablamos Español 240-777-6839