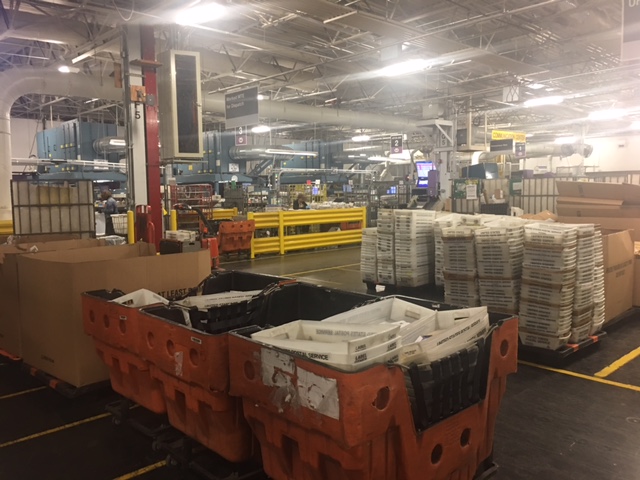 It's The Busiest Time of the Year at Shady Grove Post Office (VIDEO& PHOTOS)
Employees at the United States Postal Services (USPS) processed more than 600 million pieces of mail on Dec. 20 and projecting nearly 16 billion cards and letters and 750 million packages this holiday season.  This is an estimated 12 percent increase in package volume compared to last year's holiday season, according to a news release.
"We've seen almost a triple increase in volume," said Dupree Cypress, manager of distribution, United States Postal Service (USPS). "Last night we've canceled almost 1.8 million pieces of mail in one single day."
The reason for the increase in mail is due to the holiday season and customers mailing gifts to family and friends. To put 1. 8 million pieces of mail in perspective, USPS employees say roughly 300,000 pieces of mail are processed daily on average.
"People put their love and cards in our hands. It's our responsibility to see that we carry it home for them," said Daniel Downs, senior manager, United States Postal Service. "It really means a lot to me get everything out on time and get it in their hands by Christmas Eve."
Dec. 20 was the last day that customers could mail out their holiday gifts to ensure a delivery date by Christmas Eve. Officials say they expect Dec. 21 to be the busiest day for mail carriers delivering packages.
Yesterday was the busiest day here at the post office on Shady Grove Rd. Roughly 1.8 million letters were processed @mymcmedia pic.twitter.com/6MTStzuXVP

— Mitti Hicks (@MittiMegan) December 20, 2016
Not Santa's helpers but something like it. 1.5 million letters have been processed here at the post office on Shady Grove Rd. @mymcmedia pic.twitter.com/Qun5Nm8U4M

— Mitti Hicks (@MittiMegan) December 21, 2016
Behind the scenes during one of the busiest times of year at the post office @mymcmedia pic.twitter.com/aoKJhNbP32

— Mitti Hicks (@MittiMegan) December 21, 2016