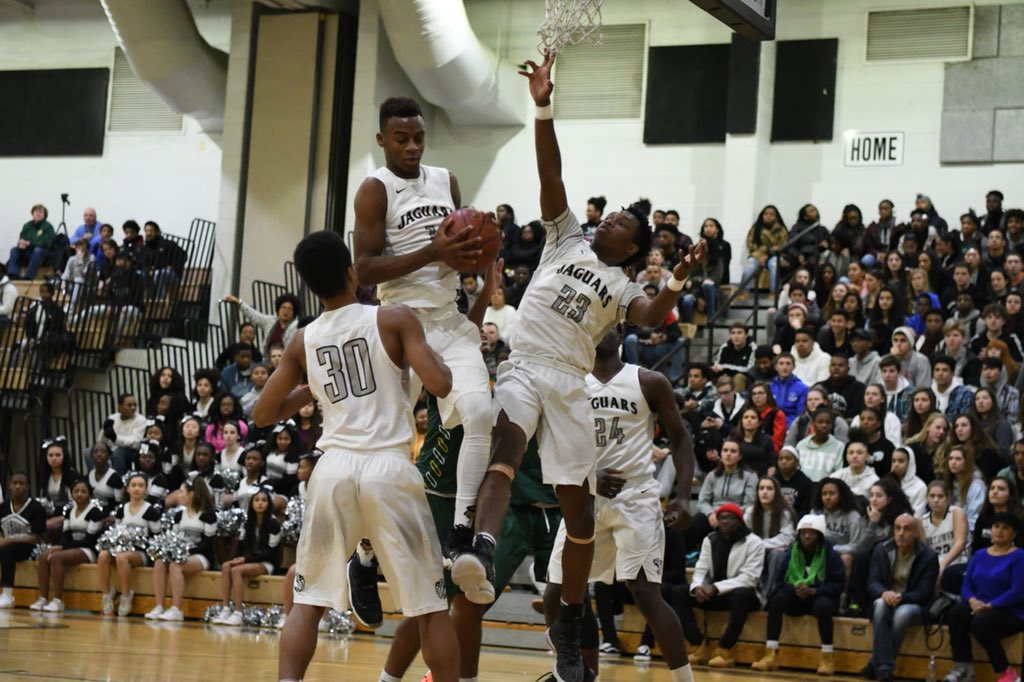 Jaguars Over Cougars, 70-67, in Hoops Action (PHOTOS)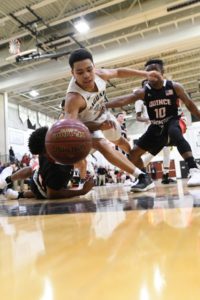 The Northwest (NW) Jaguars are celebrating a close one after they defeated the Quince Orchard Cougars, 70-67, at home Friday night.
Northwest took the lead, 9-7, early in the game. At the end of the first quarter, the score was Northwest 23 and Quince Orchard 16. Northwest's senior, #25 Adrian Thomas, scored 3 from 60 feet with less than 2 seconds in the quarter.
The half ended with Northwest up 37 – 28 over Quince Orchard. The second half continued to be a tight game with the lead going back and forth. In the end, the home crowd cheered their team onto victory. Northwest 70, Quince Orchard 67.
Next up for Northwest is a home game against Damascus Jan. 6 at noon that was rescheduled from Thursday. Quince Orchard hosts Walt Whitman Jan. 8 at 5:30 p.m.
Photos by Phil Fabrizio
Final NW 70 QO 67.@Photoloaf pic.twitter.com/yxzkdIuE0W

— MyMCMedia (@mymcmedia) January 6, 2018
Tight game. Back and forth. 64-61 NW as home crowd goes wild. @Photoloaf pic.twitter.com/AeXBOZXVUs

— MyMCMedia (@mymcmedia) January 6, 2018
Rebound and follow thru. 57-56 NW. @photoloaf pic.twitter.com/O313J61le7

— MyMCMedia (@mymcmedia) January 6, 2018
55-54 Jags on this foul. @mymcmedia pic.twitter.com/ehIDkcg1rE

— Phil Fabrizio (@Photoloaf) January 6, 2018
QO takes the lead 52-51 with 5:26 left @mymcmedia. pic.twitter.com/npMMQqIZYW

— Phil Fabrizio (@Photoloaf) January 6, 2018
End of 3 it's NW 51 and QO 45 @mymcmedia. pic.twitter.com/WpeKkhgRK3

— Phil Fabrizio (@Photoloaf) January 6, 2018
2nd half begins 37 -30 NW leads QO @mymcmedia. pic.twitter.com/fuFxGTKM4a

— Phil Fabrizio (@Photoloaf) January 6, 2018
Half ends with NW up 37 – 28 over QO @mymcmedia @cszscores pic.twitter.com/CLrXRM5Hi8

— Phil Fabrizio (@Photoloaf) January 6, 2018
First half action from Germantown 34-29 Eagles over Jags @mymcmedia @cszscores pic.twitter.com/UoQkiNBFnJ

— Phil Fabrizio (@Photoloaf) January 6, 2018
Break in the action as NW takes a TO with score 24 all. @mymcmedia pic.twitter.com/SA7VvOqymG

— Phil Fabrizio (@Photoloaf) January 6, 2018
End of 1 it's NW 23 and QO 16 as NW hits a 3 from 60 feet and 1.3 on the clock. @mymcmedia. pic.twitter.com/03nZNUkqVs

— Phil Fabrizio (@Photoloaf) January 6, 2018
For 3. NW up 9-7 early over QO @mymcmedia pic.twitter.com/0ZIyTfwDYH

— Phil Fabrizio (@Photoloaf) January 6, 2018
Game time in Germantown @mymcmedia pic.twitter.com/ulfvfbDuT1

— Phil Fabrizio (@Photoloaf) January 6, 2018