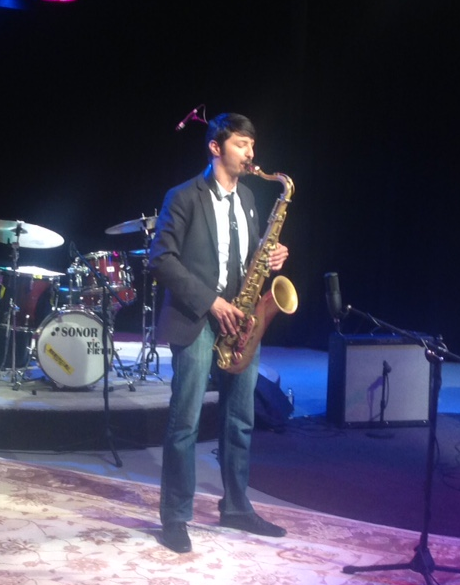 Award-Winner Jazz Saxophonist and Former MCPS Student Visits MCM Studios (VIDEO & PHOTOS)
He has played all over the country. He has shared the stage with Jazz legends such as George Duke, Eric Benét, Chuck Brown and more. Elijah Balbed, a former MCPS student, celebrated the release of his new album Lessons From the Streets on May 4 at the MCM studios.
Balbed is a composer and saxophonist- who grew up in Silver Spring- and has been named best tenor saxophonist and best new jazz musician by the Washington City Paper.
"Music-and any art form- takes a lot of diligence," Balbed said when sending a message to other young musicians.
Balbed was in fourth grade when he saw his friends carrying instruments cases around school. He got curious. His mother bought him his first saxophone, but it was not until he almost lost it in middle school that committed to learning well.
"So we walked to the bus stop. I sat the sax[phone] down. I got on my school bus and my mom walked back home, but neither of us had the saxophone," he said.
He panicked. Both mother and son went back to the bus stop after school to look for the instrument, and it was gone.
Until three weeks later, when he came back to the same bus stop, a homeless man looks at him and says "This is yours. … It was kind of then that my mom tells the story that she didn't have to tell when to practice after that," he added.
While attending Einstein High School in Kensington, he auditioned for the school's jazz band and got this feedback from his MCPS teacher "'It sounds like you don't listen to jazz' and at first that kind of hurt my soul a little, but I got what she was saying," he said.
Balbed then practiced more, did research about Jazz musicians, and picked up some "gigs" while in high school. He also made into the school's jazz band.
The young musician worked at former Dale Music store in Silver Spring to save money for a new instrument and pay for private lessons. At Dale, he met his mentor Fred Foss.
"Very polite, very nice kid. Never mentioned he played. I went to somewhere and he was playing and he was really playing and I was like 'Man, you didn't tell me you could play' and we've been friends ever since," Foss said.
Balbed also shared the stage with jazz legend and the Godfather of Go-go Chuck Brown.
But he added that his teachers and mentors are the ones who played an instrumental part in his career.
"That's one thing that I'm really blessed in my life is to run into good mentors and good teachers from when it was something little from Ms. Rackey [his high school teacher] saying 'you need to listen to more jazz' to studying privately with different teachers," Balbed added.