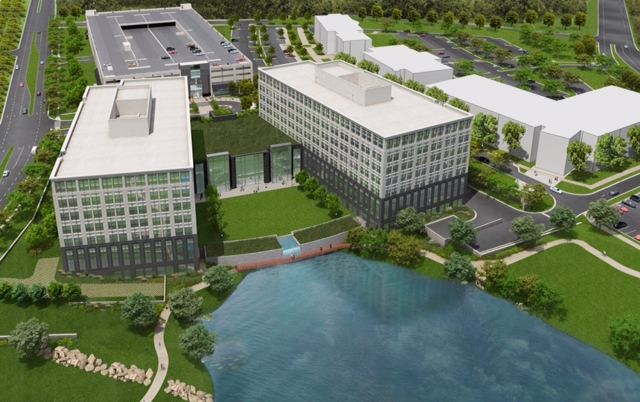 JBG Earns LEEP Award For Energy Savings (Photo)
National green building and energy conservation leaders have recognized The JBG Companies for its use of an innovative lighting system at the National Cancer Institute in Rockville, that is resulting in significant energy savings.
The Lighting Energy Efficiency in Parking (LEEP) Campaign recognized 12 organizations as the first-ever LEEP Award winners. The parking garage at the NCI Shady Grove campus took top honors in two new construction categories:
Highest Absolute Annual Savings in a Single Parking Structure (532,142 kWh)
Highest Percentage Savings in a Single Parking Structure (84 percent)
JBG developed, owns and manages NCI Shady Grove, located at 9609 Medical Center Drive. It installed the LimeLight Twist HDM wireless lighting system in the NCI garage, which is about 627,500 square feet with 2,028 parking spaces and 762 lighting fixtures.
The LimeLight system is wireless and programmable and uses advanced lighting technology and live feedback to automatically adjust light levels as needed. At night the system can keep lighting low and immediately react to vehicular or pedestrian motion to restore full lighting. The system can be zoned and is operated and monitored via a web portal that manages schedules, reporting, light output and maintenance.
"Through the Lighting Energy Efficiency in Parking campaign, the Department of Energy is working with organizations committed to more energy efficient exterior lighting technologies and systems," said Deputy Assistant Secretary of Energy Efficiency Kathleen Hogan. "These highly innovative and cost-competitive lighting solutions are helping transform how our nation lights its parking lots and garages."
Parking lots and structures are significant consumers of electricity, nationally using 52 billion kilowatts per year, or 7 percent of the country's total lighting use, according to the LEEP Campaign. The 12 LEEP Award winners represent 500,000 parking spaces combined and are saving a total of nearly 45 million kilowatt-hours and $4 million per year through their upgrades to high-efficiency lighting.
"The recent evolution in parking lighting, with wireless controls for highly customized operation, is prime technology for adoption across our portfolio of diverse projects," said Eileen Nacev, JBG's director of sustainability. "JBG is committed to sustainable practices that grow value and conserve energy. This recognition from the LEEP Campaign validates the work we are doing in this area."
JBG also installed the LimeLight system when it constructed the parking garage at North Bethesda Market and recently retrofitted the 44-year-old parking garage at L'Enfant Plaza in Southwest Washington, D.C., with the technology, replacing lighting fixtures that operated 24/7. This retrofit is expected to result in a 40 percent energy savings.
The LEEP Campaign is co-organized by the Building Owners and Managers Association (BOMA) International, the Green Parking Council, and the International Facility Management Association (IFMA) in partnership with the Department of Energy. To learn more about LEEP, visit www.leepcampaign.org.