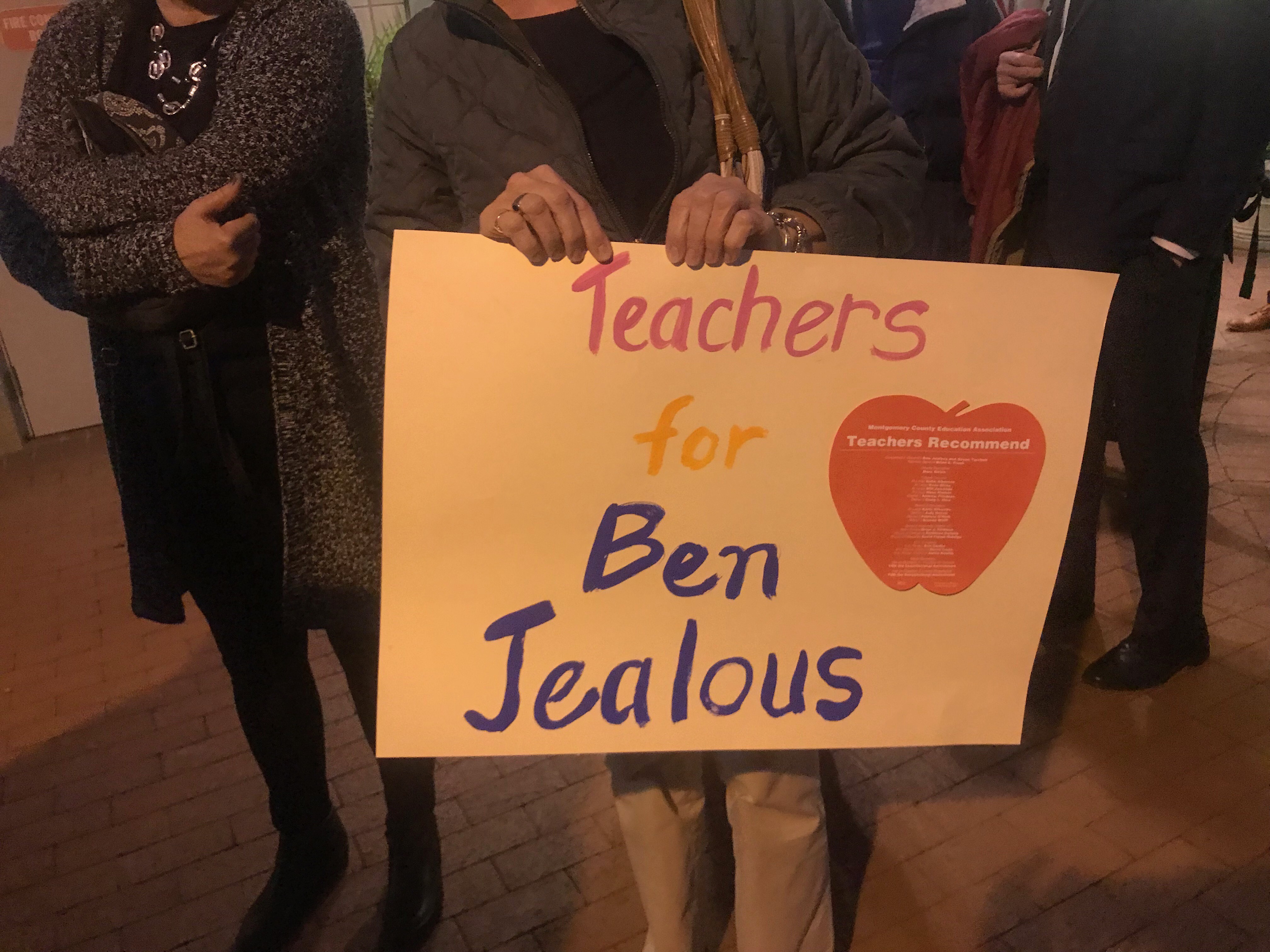 Jealous Draws Large Crowd During Rally in Bethesda
Hundreds of people gathered in a line that wrapped behind the building of Bethesda Blues and Jazz Supper Club Tuesday evening for a "Get Out the Vote Rally" with Ben Jealous, the Democratic-candidate for Maryland Governor.
"I really believe in Ben Jealous and I wanted to come out and show my support for him," said Gaithersburg Resident Adrianne Hall. " A lot of the issues that he talks about, like health care and education, really hit home for me."
Joining Jealous were U.S. Senator Bernie Sanders, an independent from Vermont,  Maryland's Attorney General Brian Frosh, Congressman Jamie Raskin (D-MD), and other Democratic leaders who focused on funding public schools and healthcare.
But for Richard Hoye, who stood with a tourniquet attached to his side in the event of an emergency, said gun safety law reform was his reasoning for attending the rally.
Tourniquets are devices used for stopping the flow of blood through a vein or artery, typically by compressing a limb with a cord or tight bandage.
Hoye, who is a retired fire captain, said he keeps one on attached to him because, "you never know when it will be needed," he stated.
"We didn't worry about violence in public places much when I was younger," said Hoye. "Nowadays, you never know.  Something has to change."
A Montgomery County Public Schools Teacher, who asked not to be identified, agreed with Hoye.
"I'm here because I want change," she said. "Hogan is a dictator.  He dictates when we start school […] we start really late."
A Goucher Poll released earlier this month revealed that Governor Larry held a more than 20-point lead over Jealous.
Here's the line at Bethesda Blues and Jazz Supper Club where people are here to listen to @BenJealous and @SenSanders. @mymcmedia pic.twitter.com/kdSXVMIgIQ

— Mitti Hicks (@MittiMegan) October 30, 2018