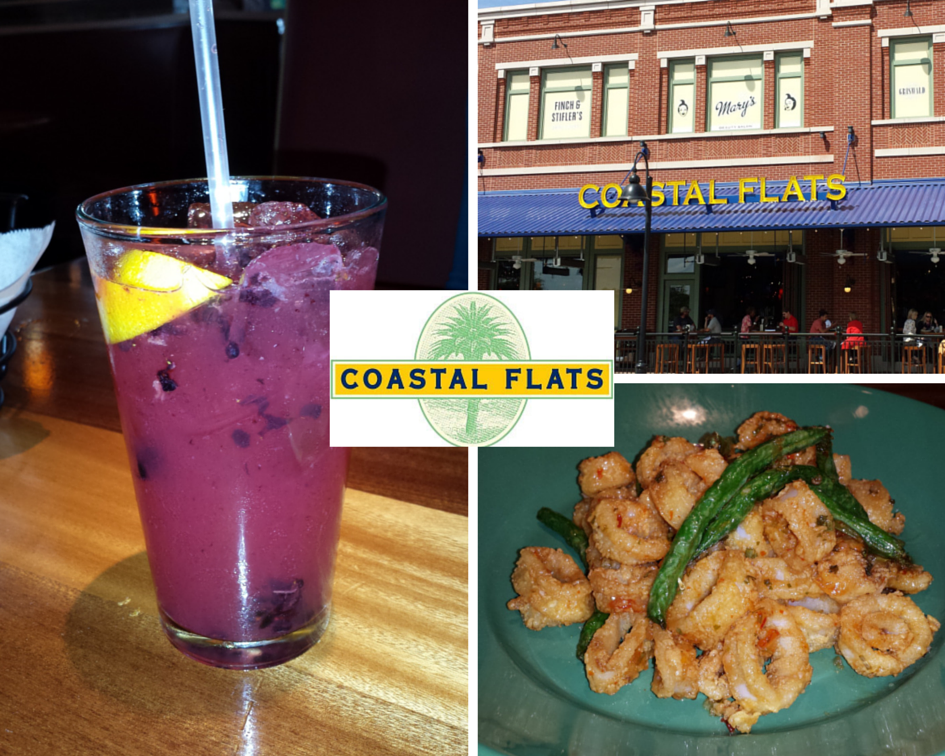 Jewel in Downtown Crown: Coastal Flats is a Hit!
There's little not to love about Montgomery County's latest restaurant addition. Coastal Flats has launched amidst the construction bustle of the new Downtown Crown development in Gaithersburg. The first table service eatery in this new multi-use community, Coastal Flats is the third edition of the expanding restaurant chain that sports popular outlets in Tysons and Fairfax. But this is their first foray into Montgomery County, and based on the quality of the food and service, it will soon be a hit here as well.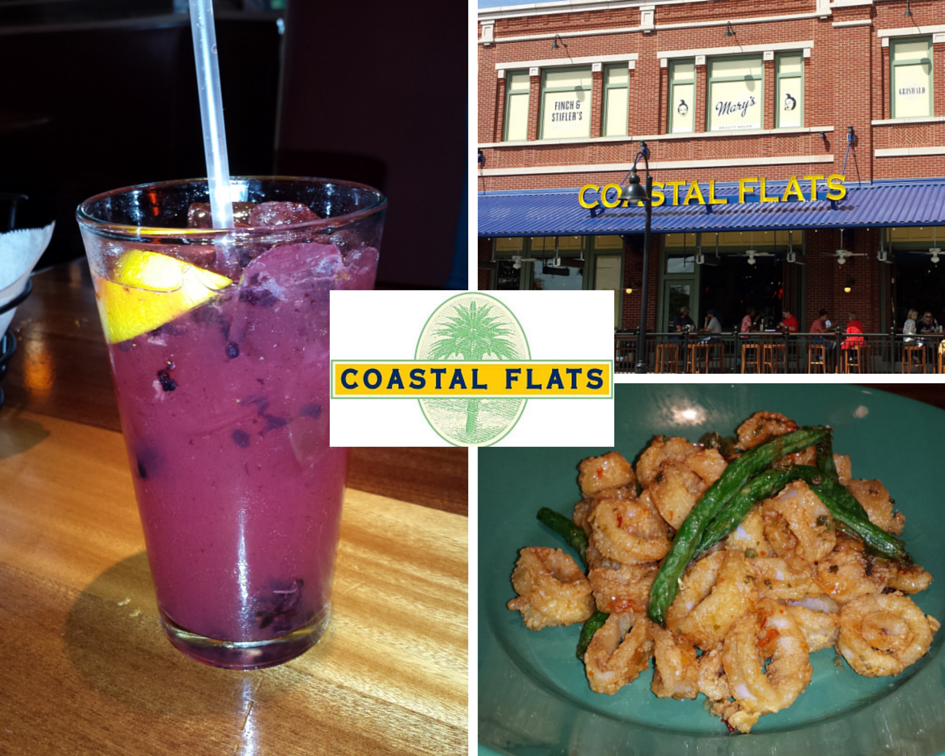 As soon as I walked through the turnstile doors I was greeted by the happiest and friendliest staff members at the front desk.  There were at least five hosts willing and ready to welcome me and my lunch partner into this new space.  Though it was lunchtime we had no wait time and were escorted to our booth and given our menus.
After a few seconds of perusing the delicious menu, our waiter Tim approached our table.  Now I have been served by many waiters over the years, but I must say that Tim left the best and longest-lasting impression on us.  He was incredibly professional, friendly, and knowledgeable of the menu and how the foods were made.  He glowed as he spoke about the chef, the food and how happy he was to be a part of Coastal Flats.
I can usually tell when an employee is lying and just going through the motions of the work day.  So it was really nice to see someone who genuinely enjoyed their work and showed pride in it.
After giving us a few more minutes to look over the menu and make a decision, we settled on the:
Sweet & Sour Calamari ($11)
Short Smoked Salmon Filet w/Cauliflower Mash ($16)
Lobster Roll Sandwich w/Grilled Corn On The Cob and Fries ($19)
Lucky Lounge Lemonade w/Muddled Blackberries-Alcohol ($9)
Lemonade ($3.25, for the designated driver lol)
After placing our order, I was ready to do the usual restroom check.

Ok hands down, Coastal Flats had the cleanest restroom I've reviewed so far.  It was pristine!  It may be because they only opened a little while ago, but for it to be lunchtime and not even so much as a sheet of toilet paper in the corner was impressive.
First to arrive at our table was their signature Ozzie Rolls basket.  This isn't your typical run of the mill table bread basket.  Oh no no no!  Prepare to experience some of the warmest, doughy, buttery and slightly sweet rolls that you have ever had.   We devoured ours in less than five minutes and while asking Tim for another round he told us that they were named after the Supervising Chef (Ozzie) and described how they were prepared.
As a Nutritionist, I usually warn people to stay away from the table bread.  But for these rolls I'll make an exception.  I say INDULGE!  They are just that good.

Next to arrive was the Sweet & Sour Calamari.  It is melt in your mouth good with a slight garlic, sweet and sour taste.  What really stood out besides the full flavor was the texture.  Most calamari dishes can take a long time to chew through.  Not the ones at Coastal Flats.  The texture is absolutely perfect.
Because we were incredibly impressed by the appetizers we couldn't wait for the main entrees.  Here's how it went…

Coastal Flats' Short Smoked Salmon Fillet is marinated in an orange, garlic and soy sauce infusion. It provided my pallet with a smokey, rich and dense flavor.  It's simply perfect.  I requested mine to be cooked all the way through as their preferred method was Medium.  I'm sure it would be tasty either way.
I'm not a fan of cauliflower BUT their cauliflower mash combined with the salmon took on a creamy and great flavor.  It's a wonderful substitute for those not wanting to go the mashed potato route.
My lunch companion had the Lobster Roll Sandwich.  It had a full pound of lobster which is great.  The only drawback is it's served cold (would have preferred it warm) and it was a little bland.  The grilled corn on the cob was really tasty and buttery though.

For a sweet liquid treat, I had to try the Lucky Lounge Lemonade and I'm so glad I did.  It's sweet with a slight tang and goes down smoooooth.  Coupled with muddled blackberries and a lemon slice, this alcoholic drink is a must try.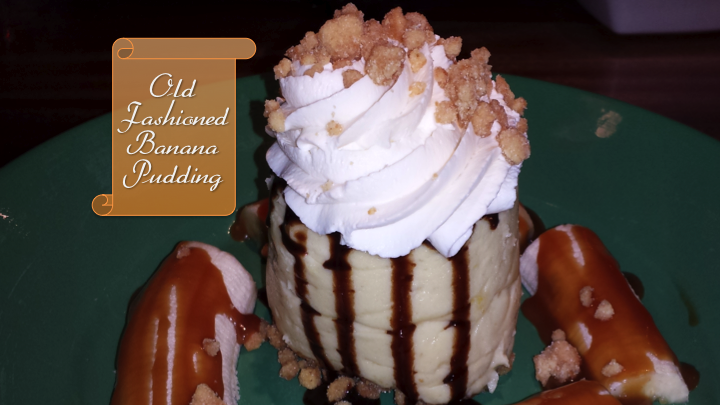 To top off the afternoon, we shared the Old Fashioned Banana Pudding.  OH-MY-GOSH.  It's sweet, creamy, crunchy and topped with caramel goodness.  Simply divine!  The creamy pudding is also infused with Creme de Banana and melted white chocolate rounding it out into one word…perfection.
I had an amazing time at Coastal Flats and look forward to many more visits.  Hope to see you there this weekend! I'll be the lady with at least five baskets of Ozzie Rolls at her table 😉
If you liked this review don't forget to share it and Like us on Facebook and Twitter.  If you've been to the new Coastal Flats in Gaithersburg, MD before, share your experience with us below and on Facebook.  Got pictures of the food?  We'd love to see those too!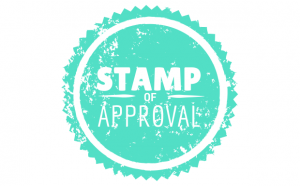 Disclaimer: When I write about a restaurant it is always coming from a place of love.  I love food, respect and admire chefs and restaurant owners.   I want you to win, excel and wow your patrons every time.  Please take my writing about my experiences at your establishment as being on your side and wanting the absolute best for you for years to come.
PS: Lot's of new restaurants are opening in downtown Crown like Ruth's Chris Steakhouse among others.  Keep your eyes peeled for next week's blog post where I will be reviewing Paladar the new Latin Kitchen and Rum Bar, opening September 19th.