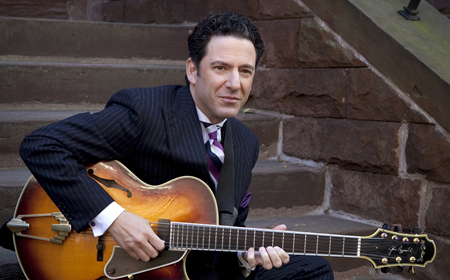 John Pizzarelli and Jane Monheit Perform at Strathmore (VIDEO)
Jazz guitarist, singer, and bandleader John Pizzarelli and jazz singer Jane Monheit perform Saturday, Feb. 14 at 8 p.m. at the Music Center at Strathmore, 5301 Tuckerman Lane, North Bethesda. Pizzarelli and Monheit will perform music from their own repertoire and latest albums before swinging to classics by Nat King Cole, Frank Sinatra, Ella Fitzgerald, the Gershwins, and The Beatles.
Make a night of it with a special Valentine's Dinner in the historic Mansion at Strathmore catered by Restaurant Associates. The four course menu, with complimentary glass of champagne or wine, is available for $95 per person. Table seating begins at 6 p.m. Reservations can be made by calling Restaurant Associates at 301.581.5220.
Jane Monheit and John Pizzarelli perform "They Can't Take That Away From Me"

Tickets to the performance start at $48 and may be purchased online at Strathmore website or by calling 301.581.5100.