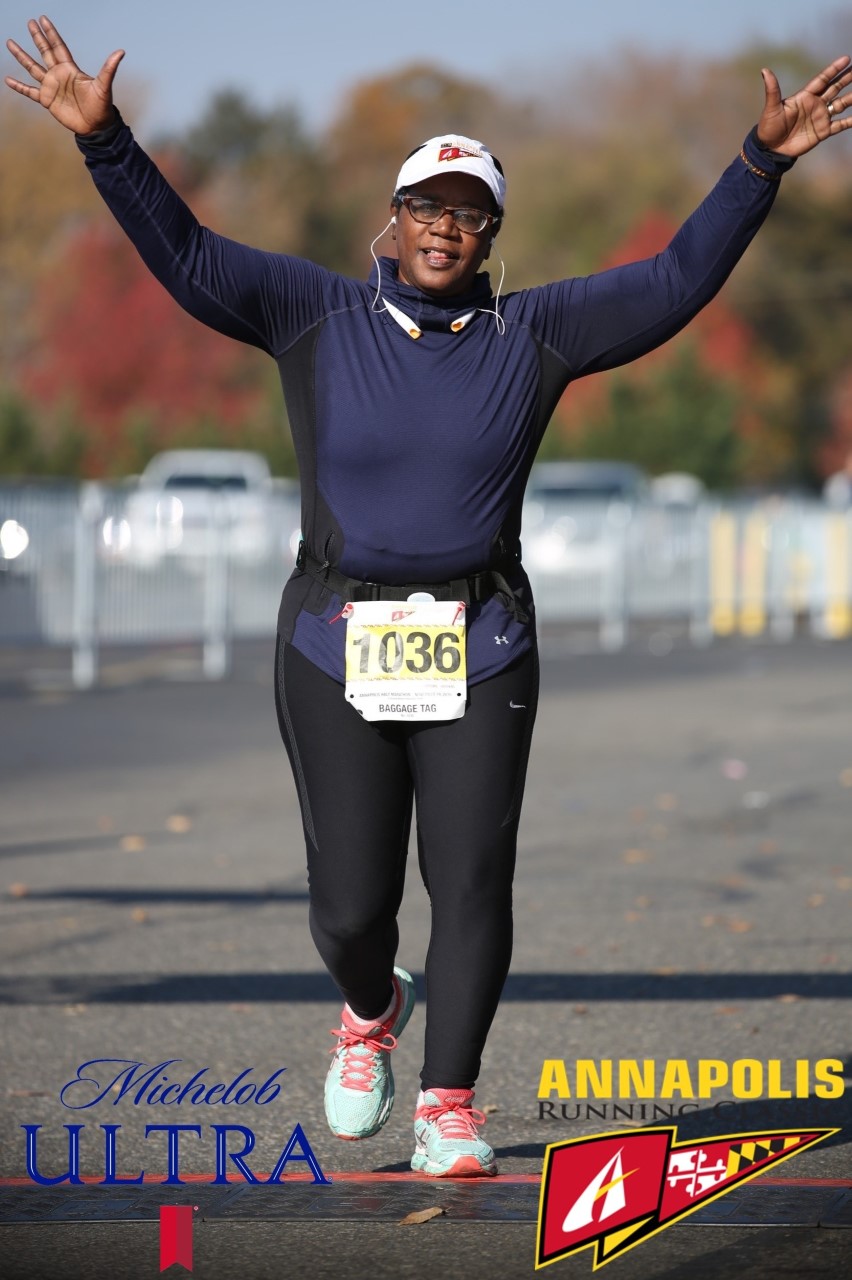 Here is Juanita Farmer's Running Journey
Montgomery County Maryland has a population of 1.04 million residents. Within that population there is a small segment of the county where a group of ladies gather to hit the pavement to combat the health disparities i.e. diabetes, hypertension, heart disease and several others associated with our race.  I am here to share with you that these ladies are not letting anything stop them and they are choosing to make a difference in themselves. Follow me to hear some truly amazing stories that will not only motivate you but inspire you to move forward.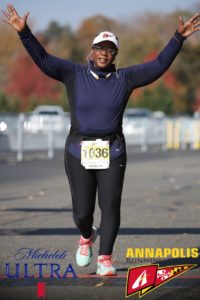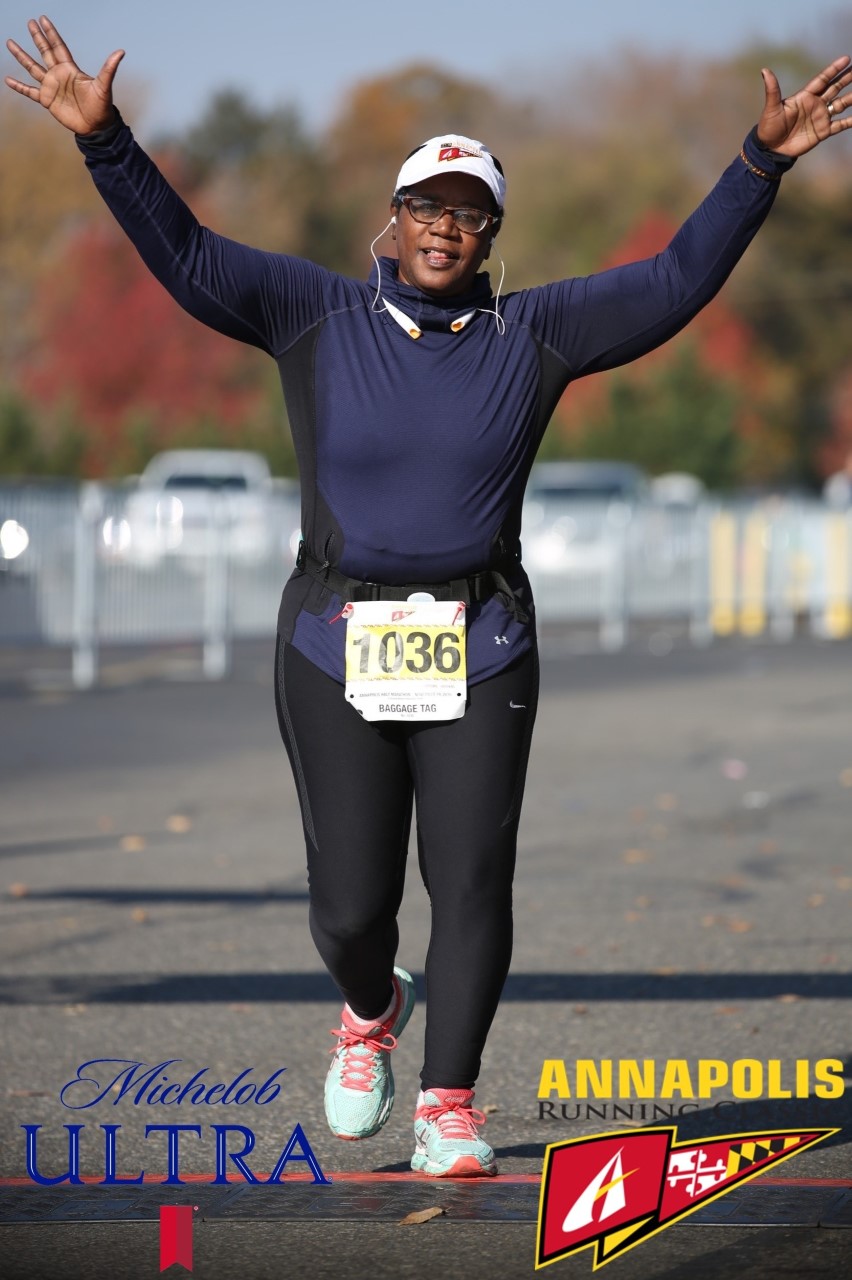 My running journey started with Black Girl Run in 2013. I had just turned 50 and wanted to jazz up my workouts with some type of outdoor activity. Running was the easiest way to start. The summer of 2013 my son Donovan kept asking me to go run with him. He was entering his sophomore college year at that time and home for the summer. I kept pushing him off, and then thought that he was not going to keep asking me and this was a good way to spend time with him.
He drove us to his elementary school's track where he ran, and then I thought, wow…he has grown so much since these elementary school days where he "had" to spend time with me and now he "wants" to spend with me and what a great way…running. Once he left for college he would call me every week and asked if I ran, so I kept going because he would check up on me…
I had a catching-up lunch with an old friend Suzanna later that fall. She mentioned she had also been running with a group called "Black Girls Run". The neighborhood run were on two different days of the week to include a Saturday early morning run. I attended one of the Saturday runs and was amazed to find a group of 15+ black women who lived in the area all ready to run various miles. Some were in training, some liked the camaraderie and some walked. It was a mixed group of fitness levels.  I enjoyed the gatherings and decided to make a commitment to come every Saturday to the runs.
At the beginning of 2014, most of the ladies in the group decided to run their first half marathon in Frederick, Md that May. I signed up…and committed to the two weekly early morning runs and the Saturday run to prepare for the half marathon.  Each week the mileage increased. The week I ran 6+ miles for the first time I was on a high that lasted quite a while. I would have never imagined running 6 miles, but I did. At that point I knew I would finish a half marathon. During the time that we all trained together knowing the commitment to meet up at O'dark thirty and in various weather conditions;  rain,hail, sleet or snow. Preparing for a run  and completing the run before we started our day was one of the best times ever. It truly showed me what I was made of.
Fast forward to January 2018 and running has become an important part of my lifestyle. My favorite type of view when I travel on vacation is the view of the water. I've started trail running and have come to really enjoy the outdoors. I have embarked on a journey to run a half marathon in all 50 states. To date I've ran 17 half's, and have conquered 13 states. Along the way, I have been able to meet some new incredible sole sistah's , go on girls road trips with my running boos's, run a half with my cousin in Detroit, step on some ground of little known black history in Martha's Vineyard Inkwell, Atlantic City Chicken Bone Beach and Tulsa's Black Wall Street. Look out 2018; my goal for 2018 is to get to 20 states by the end of the year. There is nothing you can't do when you set your sights on the mark, set yourself up and just go…Your running journey does not have to be fast but understanding where you are in your running journey will get to the finish line at every race and get your medal just like everyone else.
Running has allowed me to feel that I am so much more capable of doing so much more than I imagined. I love this quote "Follow your bliss and the Universe will open doors where there were walls."-Joseph Campbell.