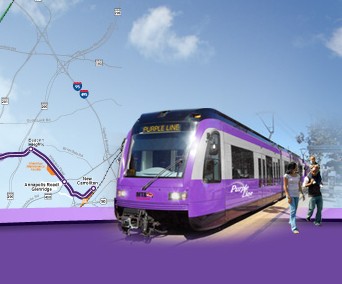 UPDATED: Leggett Disappointed with Purple Line Decision; Hogan Finds It 'Baffling'
UPDATED: County Executive Ike Leggett described his disappointment with the Purple Line decision Tuesday morning.
The judge considering a case to halt the Purple Line project has issued a ruling siding with opponents of the light rail link between Bethesda and New Carrollton in Prince George's County.
In his ruling, Judge Richard J. Leon expressed doubt Metro ridership trends would reverse, and the downward trend would affect Purple Line ridership.
Gov. Larry Hogan called the ruling disappointing, but not surprising.
"The fact that it took a federal judge this long to reach the conclusion that more study is needed is completely baffling and, if allowed to stand, will cause irreparable harm to this vital project and cost the state hundreds of millions in taxpayer dollars," Hogan said in a statement.
Hogan said federal transit officials addressed Leon's concerns with studies and public testimony more than five months ago.
"This is not a political issue – it's an important transportation and transit priority for Maryland and the region that has strong bipartisan support. The state will continue to pursue any and all legal action to ensure that the Purple Line will move forward," Hogan's statement said.
Montgomery County Council President Roger Berliner rejected the logic behind the ruling.
"It continues the canard that somehow Metro's current troubles will have a serious detrimental on Purple Line ridership in the year 2040. It is simply preposterous," Berliner said.
Berliner said he believed Leon's ruling would be reversed when it reached the U.S. Court of Appeals.
Raquel Coombs, spokeswoman for Maryland Attorney General Brian Frosh said, "We're reviewing the decision carefully to consider next steps." She would not discuss what those steps would be.
The Purple Line would be a 16-mile, east-west connection between Bethesda and New Carrollton. Proponents say it will connect jobs with housing, and help get cars off the Capital Beltway.
Purple Line Now Board President Ralph Bennett, in a statement, called the ruling "slapdash and tardy."
"Still, we are relieved to finally have a ruling, as Judge Leon has given ample grounds for appeal and we trust that the fundamental strength of the project will be vindicated in higher court," Bennett's statement read.
Stewart Schwartz, executive director for the Coalition for Smarter Growth, said Metro's riders would be a small percentage of the Purple Line's ridership.
"The Purple Line is a badly-needed east-west transit connection for access to jobs and revitalization, and significant ridership will be driven by that demand, as well as the revitalization inside the Beltway that the project will spur," Stewart said in a written statement. The statement also says Metro's ridership would recover as repairs continue.
"We're looking forward to Maryland Attorney General and U.S. Department of Justice working aggressively to help the people who need this line to get to work," said Ronit Dancis, president of the Action Committee for Transit.