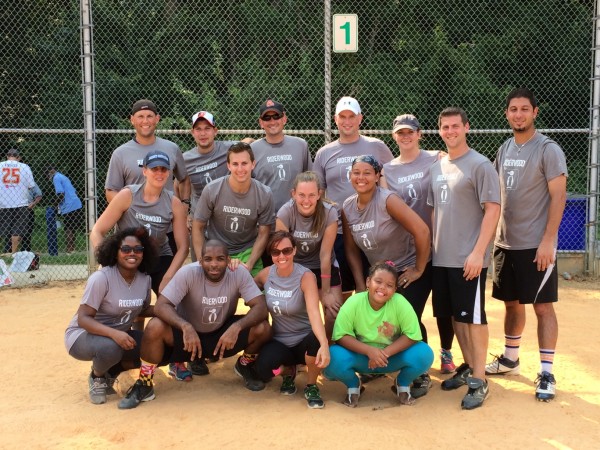 Just Who Are the Riderwood Penguins?
Many companies encourage their employees to participate in health and wellness activities, especially in the summer months, and Erickson Living, the management company of Riderwood retirement community, is no exception.
On July 12, employees from six of the retirement communities in Erickson Living's national network competed in the annual employee softball tournament in Savage, Md.  It was truly a regional event as teams traveled from New Jersey, Pennsylvania and Virginia to join their peers in Maryland.
When the dust settled, the team from Silver Spring, dubbed the Riderwood Penguins, came away with a dramatic victory in the championship game…and a rare three-peat (apologies to former Los Angeles Lakers coach Pat Riley who coined the term).
Here's a fun re-cap:
SILVER SPRING, MD–The Riderwood Penguins, the employee softball team of the Silver Spring-based Erickson Living retirement community, accomplished a feat on July 12th that the Miami Heat could not do in this year's NBA Finals: they pulled off a three-peat. 
After winning the annual Erickson Living Employee Softball Tournament in 2012 and 2013, Riderwood completed the rare achievement defeating Baltimore's Oak Crest Ostriches 7-6 in extra innings.  The win came in dramatic fashion as George Mishraky's walk-off single scored Kevin Patterson from second base. 
It was an exciting day of softball that concluded with a celebration at home plate followed by lots of Advil.  The Penguins won four consecutive games versus the Erickson Living communities of Greenspring (Northern Virginia), Anne's Choice (Philadelphia) and Oak Crest (twice).  The games were played at Savage Park in Howard County, Maryland
Following the tournament, Chip Warner, Executive Director of Riderwood stated that "this is a very exciting day for the Riderwood residents and employees.  I never thought I'd see a three-peat in my lifetime but you can never under estimate the 'Power of the Penguin', as we say at Riderwood."
The team is now preparing for a ticker tape parade through the 120-acre retirement community located in beautiful Silver Spring, MD, and team member Abby Dyjack is looking forward to it.  "You think the Macy's Thanksgiving parade was a big deal, but just wait until Riderwood has our parade.  It's going to be epic!" she said. 
Jason Longwell, Sales Director at Riderwood, serves as the team's coach.   After the trophy presentation, he put the moment in perspective.   "It was a great competition, and all of the teams played tremendously.  We had to take it one game at a time.  Now after back-to-back- to-back titles, I think you can put us in the same sentence with other three-peat champions like the Chicago Bulls, Los Angeles Lakers, Montreal Canadians, New York Yankees and the Cleveland Browns."