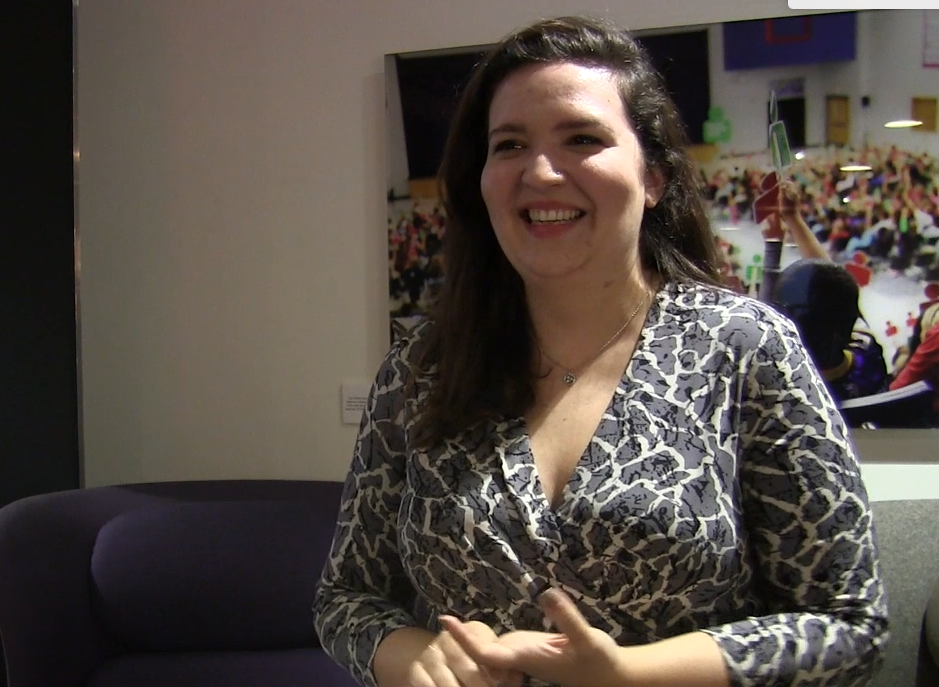 Katie Reilly from She's the First and International Day of the Girl
On October 11th, at Google HQ many empowering and strong women met to celebrate Day of the Girl, and to discuss women's rights. At the event they hosted a panel, where a few empowering women spoke about what they did about women's rights.
Before the event started, guests enjoyed refreshments and mingled. The Girl Scout Media Team of Service Unit 31-6 showed people how to make paper swans.
I had the chance to speak with Katie Reilly, a representative from an amazing organization known as 'She's the First.'
Katie officially joined the She's the First (STF) staff in 2013, but before than she was STF's very first intern. She manages their growing network of campus chapters, mentors, alumni, teachers, and interns, along with producing the annual #STFSummit.
She's the First is an organization that provides girls with scholarships. They serve 11 different countries, and have counselors in tons of high schools across the country.
Kaite says the most exciting aspect of her job is "working with young women and young men who want to make education and equality possible."
Katie says she would tell girls around the world to "Defy expectations. Whatever you want to do, you can do. And you don't need to do what everybody expects of you."
All in all, it was a great night; an event worth going to.
If you want to find out more about Day of the Girl and She's the First you can visit the links below:
"Empowerment of and investment in girls are key in breaking the cycle of discrimination and violence and in promoting and protecting the full and effective enjoyment of their human rights"
-United Nations Resolution 66/170
In 2011, as the result of youth advocacy around the world, the United Nations declared October 11 as the International Day of the Girl Child. Its mission is "to help galvanize worldwide enthusiasm for goals to better girls' lives, providing an opportunity for them to show leadership and reach their full potential." It is a day when activist groups come together under the same goal to highlight, discuss, and take action to advance rights and opportunities for girls everywhere.
Day of the Girl-US is the United States branch of this global movement. We are a 100% youth-led movement fighting for gender justice and youth rights. Our work to dismantle the patriarchy and fight for social justice is rooted in girl-led activism across the country, using October 11th as a day of national action.
October 11 is not just a day; it's a movement.
A worldwide revolution.
We want ourselves, and girls everywhere, to be seen as equals, in the eyes of others and in our own eyes.
Contributor: Jessica
For more information about Girl Scouts, visit www.gscnc.org