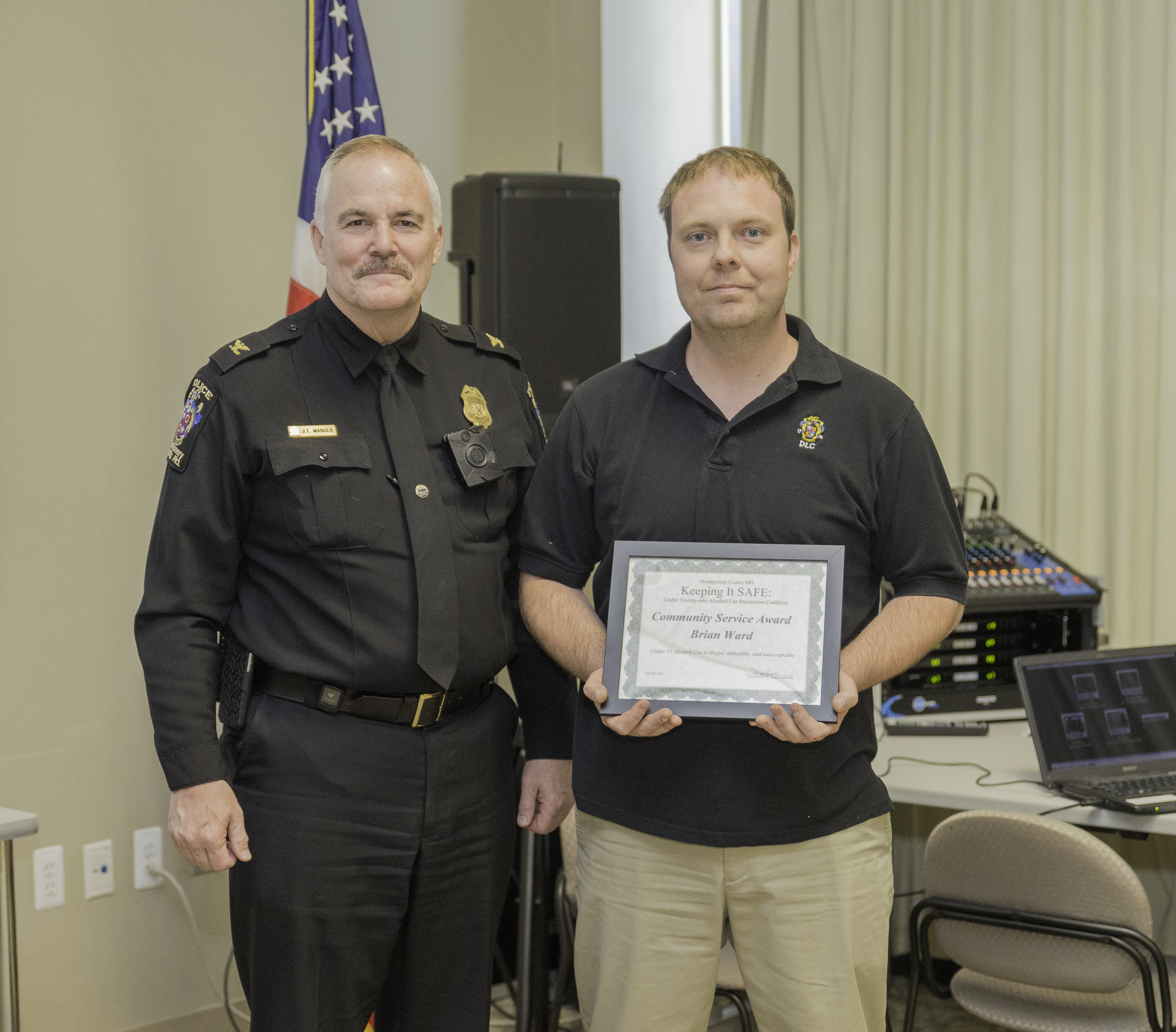 Keeping it Safe Awards Recognize Work to Prevent Underage Drinking (PHOTOS)
Three Department of Liquor Control employees were honored today for their work to deter underage drinking in the county. They each received a Community Service Award from the Keeping It Safe (KIS) coalition at an award ceremony at Police Headquarters early this morning.
Keeping it Safe (KIS) is a coalition established in 1992 with the goal to prevent underage drinking and reduce alcohol access through education, enforcement support and youth involved programs. Public and private agencies as well as concerned residents comprise the coalition.
Brian Ward manages the Montrose Liquor Store on Rockville Pike and was was honored with a Community Service Award for his work to recognize fake IDs.
Alcohol Inspectors, Guy Poirier and Tim Zywiolek, were honored with a Community Service Award for their  work with the KIS 'We Check ID's Poster Project. Through a collaboration with Richard Montgomery High School students, Poirier and Zywiolek  worked with the students to design materials for display at Montgomery County Department of Liquor Control retail stores.
"We are really proud of the work Inspector Poirier and Zywiolek do. They are well known for their proactive approach to solving community issues and mediation between businesses and surrounding neighborhoods. We applaud their efforts and support their leadership role in the community," says Kathie Durbin, Division Chief of Licensure, Regulation and Education.
Congratulations Brian Ward, DLC Retail Mgr, for winning the Community Service Award for Fake ID Recognition Efforts! pic.twitter.com/f6Oz3RQcGO

— MoCo Liquor Control (@MoCoDLC) April 20, 2016
Congrats Inspectors Zywiolek and Poirier for winning the Community Service Award for Under 21 Alcohol Prevention! pic.twitter.com/giof0LiOkA

— MoCo Liquor Control (@MoCoDLC) April 20, 2016
Happening Now! @mcpnews @MoCoDLC Keeping It Safe (KIS) Student Video Contest Awards and Community Awards! pic.twitter.com/ZXMO0ChYTG

— MoCo Liquor Control (@MoCoDLC) April 20, 2016
PHOTOS | Phil Fabrizio