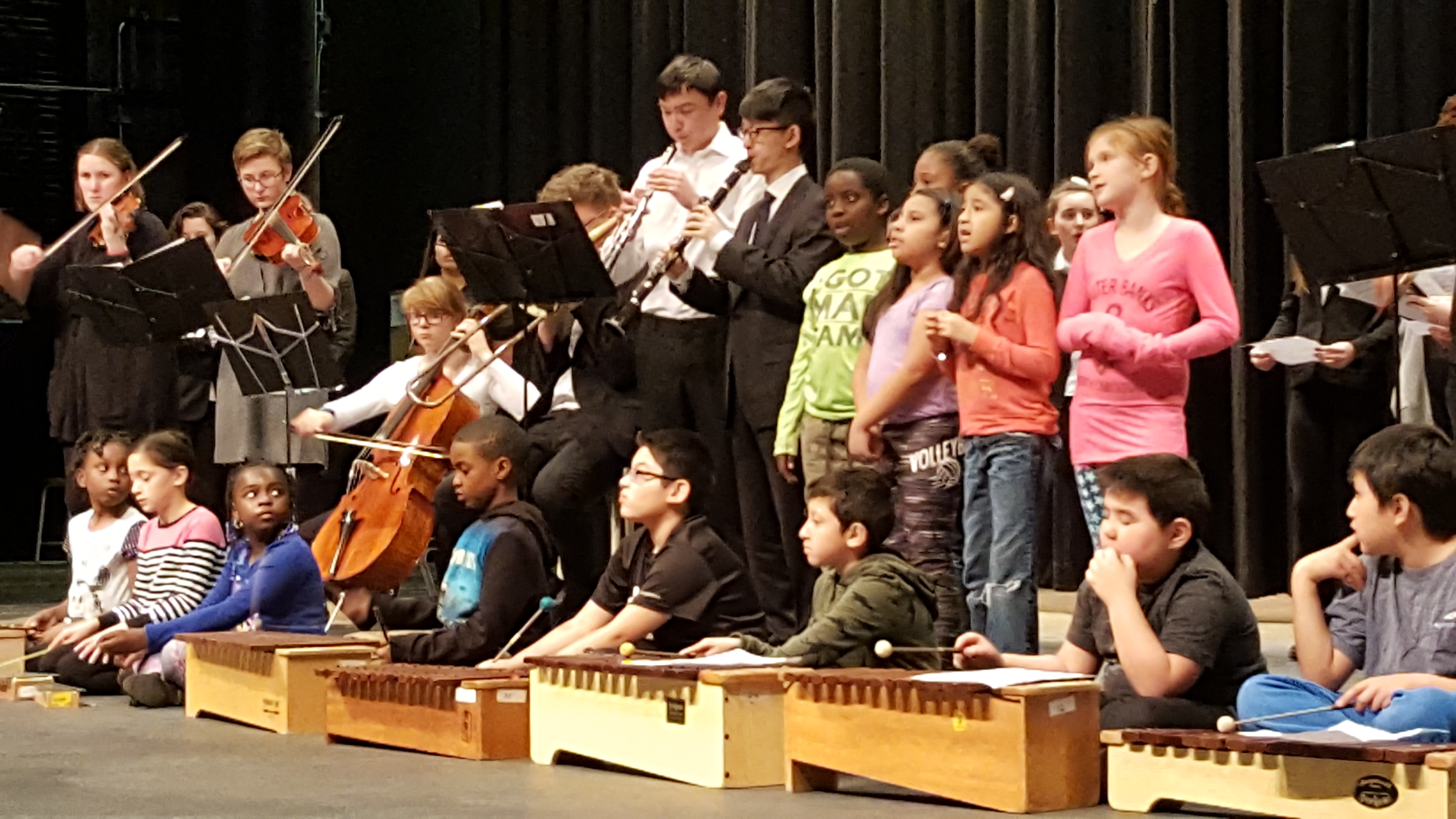 Kennedy Center Performance Canceled for Stedwick Kids Opera Company
The opera third grade students at Stedwick Elementary have worked on all school year will not be performed at the Kennedy Center after all. The Discover the Music Inside Kids Opera Company was scheduled to perform "Falling from Judgment" on May 24.  The opera company plans to put on a puppet show to share their work. Teacher Mary Ruth McGinn has been leading students through creation of opera productions for 16 years. She sent out the letter below to explain the reason for the cancellation.
March 27, 2017
Dear Friends of the Opera,
As you know, in using the creation of an original opera as the vehicle for instruction, our primary focus is the learning process. The academic, social and emotional skills acquired as a result of this rigorous and intense authentic learning journey happen only when we are faithful to the process and never lose sight of our purpose.  
This year, our creative process has taken an unexpected direction. As the company moved closer to our production dates and evaluated our progress, it became clear that the goals of a school performance and a Kennedy Center presentation of the opera could not be realized. During a company meeting, all members were in agreement that the opera could not go on as planned due to individual and collective barriers preventing them from functioning as a unified group.
When we create a classroom culture that fosters self-expression, collaboration and risk taking, we "stir up" things inside of us. We ignite and awaken undiscovered passions, gifts and potential. We also uncover and bring to the surface hidden thoughts and feelings, unpleasant truths and self-doubt. This process is never neat and tidy, nor is it predictable. It is messy and requires that we approach it with empathy and patience. A statement by our student production manager, Belinda, early in this process, resonates more powerfully than ever.
 "Follow your heart. Nobody can tell you what you can or can't do. If you make a mistake, it's okay. The good thing instead of giving up, is that you learn from your mistakes."
The members of Discover the Music Inside Kids Opera Company know it is important to move forward in sharing their powerful message about judgment through the opera story they have been working on since August. Their revised goal is to stage a puppet show to include as many elements of the opera as possible. They are determining this new course. They are at the helm. They are growing as they take ownership and responsibility in seeking a meaningful path forward.
In response to a call to action from our school system to empower the community in combating hatred through the arts, we will be submitting our theme song and opera script for a contest that serves to explore issues of diversity, bias and prejudice. Our theme speaks directly to this mission. Our message is critical.
While we are disappointed that the opera is not to be presented in its originally intended manner, we know that, because of this change, we will benefit from new growth opportunities and experiences. The profound life lessons we are learning while moving through this process will serve us well today and in the future.
We thank you for your continued support in this journey, for believing in us and for understanding the grand educational mission to which we aspire.
Our title song for the opera expresses perfectly what we are working through this year. We fall down. We get back up.
And that's what we are doing every day.
Sincerely,
Mary Ruth McGinn
Watch Ms. McGinn's third grade class performing the opera's theme song. Students from The International School of the Hague spent the morning of February 27 helping the children work on the song.
THEME SONG LYRICS 
Falling from Judgment
 Refrain
We fall from judgment.
We get back up.
We have to be strong.
We'll get past it,
But we'll have to work hard.
We have to stop judgment,
Before it stops us.
 Verse
Judgment is poison.
It makes you shut down.
It will take your power.
It will crush you inside.
Verse
Judgment can trick you.
It's stronger if you think it is.
It takes control.
It brings you to the ground.
 Bridge
Don't let judgment
Stop you from your dreams.
Discover your music inside.
It will help you be brave.