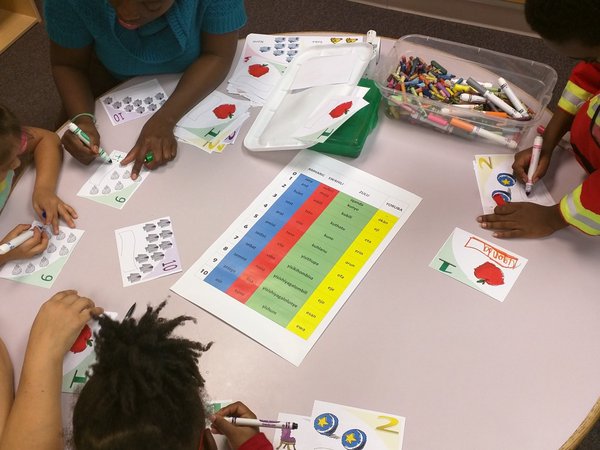 Kids Learn to Speak and Sing in Swahili (PHOTOS)
Once a month, the African Women Council (AWC) hosts AWC Story Time at the Marilyn J. Praisner Library in Burtonsville to teach local children about the many languages and cultures of Africa. The Dec. 16th lesson focused on learning Swahili through singing and repetition and lessons in counting from zero to ten in Ahmaric, Zulu and Yoruba.  There was also an opportunity for story time and a quick geography lesson on Africa.
Kenge Malikidogo-Fludd, executive director of AWC, said: "Having grown up in Montgomery County, we're originally from the Democratic Republic of Congo so we grew up here and I had the blessing of having my mother enforce speaking Swahili and speaking to us solely in Swahili because she didn't want us to forget.  Now that I have my own children and I'm an adult I see the importance of that."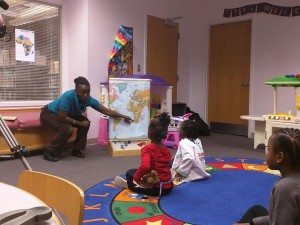 Isabel Ortega, a parent and resident of Silver Spring, said: "When I moved here in Montgomery County, the first time we came here it was story time, reading about different countries, reading about different customs, different people. So because my little one always gets involved with Spanish people because our friends and our family [are] from Mexico. So she didn't know until now that there's a lot of people from different countries."
One highlight of the evening was when everyone learned that "hakuna matata," the phrase made famous by Disney's "The Lion King," is actually Swahili for "no worries."
AWC plans to host more story time events in 2016. In addition to teaching children about Africa, the organization prides itself on assisting African immigrants in the community with an array of assistance programs. To learn more about the African Women Council, you can visit their website.
Counting in #Amharic #Swahili #Zulu and #Yoruba on tonight's agenda for AWCKids event @AWC_Maryland @mymcmedia pic.twitter.com/jLMWHQV8Jv

— Willie James Inman (@imwilljames) December 16, 2015
Part of tonight's lesson "hakuna matata" is Swahili for "no worries" @AWC_Maryland @mymcmedia pic.twitter.com/FAyAX6mzrl — Willie James Inman (@imwilljames) December 16, 2015
Children learn about different languages and cultures at @AWC_Maryland AWCKids event tonight. @mymcmedia pic.twitter.com/7NjmpycKuA

— Willie James Inman (@imwilljames) December 16, 2015