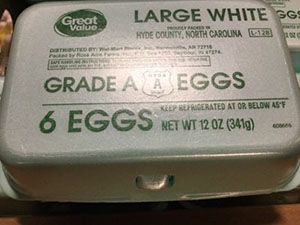 What You Should Know About the Recall of Eggs
There are at least 35 reported cases of Salmonella infections reported in nine states, according to the Centers for Disease Control and Prevention.
The Food and Drug Administration linked some of the cases to Rose Acre Farms in Seymour, Indiana.  The company voluntarily recalled more than 206 million shell eggs due to a possible contamination last month.  Recalled eggs were sold in various grocery store chains such as Food Lion, served in restaurants, and sold under the Great Value brand name.
The CDC is urging consumers to not eat recalled eggs. Instead, throw them away or return them to the store of purchase for a refund. Consumers should wash and sanitize drawers or shelves where recalled eggs were stored.
When eating eggs at home or in a restaurant, make sure eggs are cooked until both the yolk and white parts are firm.
To check for a list of recalled eggs, click here. 
Symptoms of Salmonella include diarrhea, fever, and stomach cramps that can last between 12 and 72 hours.
CDC officials said individuals should contact a healthcare provider if you think you became sick after eating recalled eggs.
Check the egg carton in your home: 200+ million eggs have been recalled. Eggs produced by Rose Acre Farms have been linked to 35 Salmonella infections reported from nine states. More information on CDC's website: https://t.co/e9WdfEaTmz pic.twitter.com/GKeRydl8CM

— CDC (@CDCgov) May 11, 2018